Wonder Wallet Review: Flat Wallet Said to Hold Twice as Much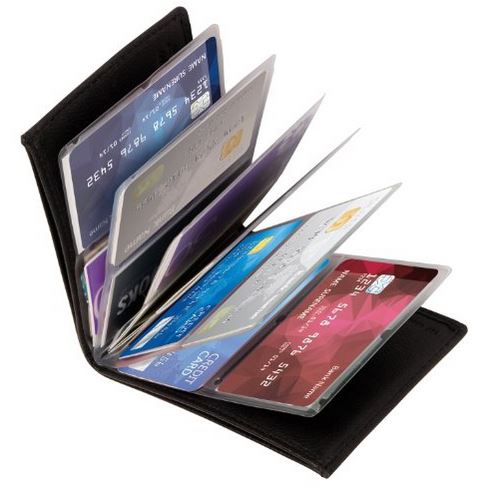 Positives
• Works as advertised: Holds items in a flatter space
• Bends in the middle, adding to comfort
Negatives
• Doesn't appear to be a women's wallet, so best for men only.
• Would not fit in smaller pockets.
• Must buy two online
Bottom Line
Wonder Wallet mostly delivers on its promise to store a larger number of cards in a flatter space. Availability is currently limited to the official website, and consumers are forced to purchase two wallets and pay shipping. Those issues aside, Wonder Wallet does a pretty good job of living up to the advertising hype.
Sponsored Links




Wonder Wallet
Wonder Wallet is an As Seen on TV wallet which claims to hold twice as much as a standard wallet, while taking up half as much space.
Sponsored Links




Claims & Features
Twice as thin as a regular wallet, but holds twice as much
RFID-blocking
Holds up to 24 cards
Lays out like a photo album
Available in black, tan, or red
Made of genuine leather
Cost & Availability
You can purchase Wonder Wallet from the official website for $19.95 plus $5.95 shipping. A second wallet is included for an additional $5.95 shipping, bringing your total to $31.85. You can't opt out of the second wallet.
We noticed if you stay on the website long enough, a $5 off window will appear, which would reduce your order down to $26.85.
Wonder Wallet is now available in stores for about $20. You can find it in the As Seen on TV section of retailers such as Walmart or Target.
Wonder Wallet Reviews
As Seen on TV wallets and organizers have been a mainstay of late night television for decades.
Bulky wallets have always been a problem, dating back to the invention of the wallet itself. With Wonder Wallet, we are told that the days of sitting on a bumpy, bulky wallet are over. While such a prospect is enticing, we first wanted to know how they would manage to fit everything into a smaller space than a standard wallet.
Sponsored Links



We were surprised to find that Wonder Wallet did manage to hold a respectable number of items in a flatter space than expected. This is achieved by two-pocket card holders, as opposed to standard card holders. These card sleeves place cards side by side, which allows you to hold a larger number of cards in a smaller space. Some reviewers have asked if the wallet actually holds cash – which it does – although the advertising barely highlights this fact. When filled with 24 cards and some cash, Wonder Wallet will measure about an inch thick, and it bends in the middle, allowing additional contouring when seated.
Wonder Wallet includes RFID blocking, which is a current buzzword when it comes to products that hold credit cards. In just the past month, we have evaluated Lock Wallet and Card Lock, both of which highlight the ability to prevent credit card skimmers from stealing vital data. Although the risk of theft via RFID technology is largely overstated, many consumers seem to want this feature, thus it is a wise addition to the product.
If we were to find fault with the product, it could be stated that, although it is marketed to both genders, Wonder Wallet has the look of a man's leather wallet, which some women may not find aesthetically pleasing. The other potential drawback is that its size of 5.25″ x 4″ may not fit well in smaller pockets.
While Wonder Wallet saves space in thickness, it increases size, which makes it a rather large accessory that may not fit comfortably in all types of pockets.
You may also have an option to "upgrade" to better wallet, which we did not do. If you purchased the upgraded wallet, please let us know your thoughts.
Television Commercial
The TV ad below has been running as of this writing.
Transcript of the television ad above:
Are you tired of bulky wallets crowding your purse? Is that wallet bump under your rump hurting your back? Sick of searching for ID, cards. and cash? Introducing Wonder Wallet, the amazingly flat wallet that's twice as thin as a regular wallet, but holds twice as much. Incredible! Go from bulky and fat to slim and compact. From so stuffed, you could bend her, to flat and slender.

Crafted with genuine leather, wonder wallet features twelve clear sleeves to hold up to 24 cards. ID, gift, credit cards, insurance, and more, plus cash. Organized and super slim. The secret is Wonder Wallet's patented design. It's laid out like a photo album, so it holds twice as many cards on each side. See everything at a glance. This wallet's overstuffed, but everything fits perfectly in Wonder Wallet! And why carry this big ol' wallet when Wonder Wallet is so thin, it all fits right in.

"Wow, does it ever hold a lot of cards!"

"It's fabulous, nice and flat. It fits perfectly in your back pocket."

"I would rather carry something like this around that is very thin and would fit everything that I have in this bulky one."

"This nice slim one fits in there. It's comfortable and kind of invisible!"

Soft supple leather flexes, so it's comfortable to sit on, even in the car! RFID blocking stops remote scanning of cards and protects private information. Ordinary wallets can cost over $100, but, get Wonder Wallet now, crafted with genuine leather, for just $19.95! Available in black, tan, or red. Order right now, and we'll double the offer, and send a second Wonder Wallet in the same color – free! Just pay separate processing and handling. That's two Wonder Wallets, an over $80 value for just $19.95! This special TV offer is not available in stores. Call or click to order Wonder Wallet now!
Epic Conclusion
Wonder Wallet is an As Seen on TV wallet which delivers on its promise to store a large number of cards in a flatter space than standard wallets. Wonder Wallet does a pretty good job of living up to the advertising hype, although you may want to purchase locally to inspect its size and design.
If you've used Wonder Wallet, please give it a star rating and comment below.
This review has been updated since its original publication in July 2015.