Jidue Review: Does This Eye Massager Work?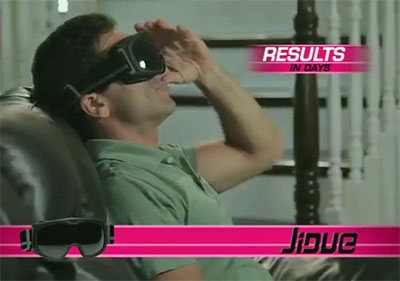 Positives
• Comfortable, pleasant massage
• Helps with temporary eye puffiness
•Relaxing
Negatives
• Uses batteries
• Poor instructions
• Not constructed of high quality materials
Bottom Line
Jidue is an eye massaging device with a list of bold claims, including better sleep, looking younger, and feeling better. At least some of these claims will be seen by consumers, although satisfaction runs the gamut. At about $100, we are not sure all consumers will be satisfied, as there are bound to be reviews on both sides of the fence here.
Sponsored Links




Jidue
Jidue is an eye massager that reduces fatigue and stress, and gives you a young and healthy facial appearance.
Sponsored Links




Claims & Features
Reduces fatigue and stress
Stimulates pressure points around the eye
Increases facial blood circulation
Alleviates eye pain
Non-prescription & non-invasive
Helps you fall asleep faster
Reduce eye puffiness and dark circles
Cost & Availability
When purchasing from the official product website (jidue.com), you can purchase Jidue for with the following options: 30 Day Risk-Free Trial – $14.99 P&H; then 3 additional payments of $33.33 or 1 full payment of $99.99 + free shipping. There is a free travel case when you opt for the pay-in-full route. Also keep in mind that the pay-in-full option is about $15 cheaper than the trial method.
Jidue also has an Amazon storefront. You can get the product there for $79.95 + Free Shipping on eligible orders.
The Jidue Facebook page posted a status stating that you could get $10 off your order with the promo code "2016" although it isn't stated how long that promotion would last.
You can contact the company at 888-906-4711, Monday through Friday, 9am-9pm ET, or Saturdays 10am-4pm. They also have social media profiles, although they are not regularly updated.
Jidue Commercial
Below is a television commercial for Jidue.
Jidue Reviews
Jidue (sometimes stylistically written as "JiDUE") made its first significant appearance online in 2013 and was followed by a marketing push in 2014 and again in 2015. According to a response to a review on Amazon, the Jidue website was under the control of ICTV Brands, Inc, which was said to be an improvement over the original website experience.
What is Jidue? With Jidue, there are a number of claims as to what the product actually does. The website seems to imply that it can work as a sleep aid, anti-aging skin device, and overall wellness product. This is all said to be achieved by combining "the ancient principles of acupressure and massage to stimulate blood circulation around your eyes, and provide relief for stressed pressure points."
Sponsored Links



Jidue looks like a virtual reality headset, but it contains 18 "pulsating nodes" which are said to stimulate pressure points around the eye to increase circulation to the area. This, they claim, helps reduce eye pain, fatigue, and stress.
There are two settings for Jidue: Mode and Timer. The Mode setting cycles through 11 massage options, while Timer allows you to set the time to 3, 5, and 10 minutes.
It is suggested to use twice per day, at night and in the morning. This would help alleviate puffiness around the eyes which tends to happen around those times of the day.
Does Jidue Work?
Although describing what Jidue is can be somewhat problematic due to its wide array of claims, ascertaining how well it works is even more difficult. You'll find reviews which heap accolades onto the product alongside those which call it a ripoff. And, as we expected, our evaluation tends to fall somewhere in the middle.
Consumer satisfaction with the product tends to be tied to that person's expectation of Jidue. And because there are so many uses presented, not everyone has the same expectations.
If you are looking for an eye massager, we can confidently say that Jidue does deliver. It does a fine job of providing gentle massage around the eye which many find to be relaxing and pleasurable, and may help with temporary eye puffiness.
Does it help you fall asleep faster? This is something which is highly subjective and no two people will have the same experience. Some may find the sensation relaxing enough to help them fall asleep, while others may not be able to fully relax while wearing a device around their heads.
Does Jidue help you look younger? This is another subjective area, although massage around the eyes will only help with temporary puffiness and water retention in the eye area. It will not affect wrinkles or long-term bags, which are often the product of genetics. Do you suffer from puffiness in the morning or at night? Jidue may help. If you have chronic bags, it probably won't.
Is Jidue helpful for stress headaches or facial and eye tension? Generally, we feel most consumers will say that it does provide some level of relief here, although once again results will be subjective.
There are two Jidue units on Amazon, the pink and black versions. Both have 3 star ratings, with both pro and con reviews.
Other Observations
Jidue comes with minimal instructions which some consumers have said were not helpful in understanding how to properly use the device. There is also little information on the product website, and reps for the Jidue social media accounts do not respond right away.
Jidue requires AAA batteries, which we feel is an unfortunate design flaw. Because most consumers will use the product in bed or a chair, one would think that an AC adapter would at least have been a nice option to include. Having to replace AAA batteries regularly is definitely a "con" with Jidue. Note that some early reviews claim that batteries weren't included, which the makers began to include due to consumer complaints. The Jidue FAQ claims that you can use the device while sleeping, but doing this would likely drain the batteries after only a couple of uses.
ERSP Recommendation
In 2014, the Electronic Retailing Self-Regulating Program (ERSP) recommended that the advertising for Jidue remove a number of claims.
Following its review of the evidence in the case record, ERSP did not object to the general description of Jidue, i.e., "Jidue's patented 18 acupulse massagers stimulate your acupressure points that date back over 1000 years, including qingming for eye fatigue and pain, qiuhou that focuses on dry eye and inflammation, and zanshou and yuyao for stress headaches," or that the product can provide a relaxing massage.

However, ERSP determined that the marketer did not provide adequate support for claims that included:

"clinically proven" results
"Helps you sleep through the night"
"Reduce wrinkle development"
"Reduces puffiness and dark circles"

ERSP recommended the marketer modify or discontinue the claims in the context in which they were communicated.
It appears that at least a few recommendations were (somewhat) observed, as "helps you sleep through the night" is now worded as "fall asleep faster."
Similar Products
You can find a wide variety of eye massagers online and in stores, many of which provide similar claims and are met with about the same user satisfaction. There are eye massagers by Breo, for example (such as the iSee4, iDream3S), which offer many of the same claims. Their products range from half that of Jidue to well above it, but maintain rather high consumer satisfaction. It will pay to shop around.
Epic Conclusion
Jidue is an eye massaging device with a list of bold claims, including better sleep, looking younger, and feeling better. At least some of these claims will be seen by consumers, although satisfaction runs the gamut. At about $100, we are not sure all consumers will be satisfied, as there are bound to be reviews on both sides of the fence here.
If you've used Jidue, please give it a star rating and comment below.