Omax3 Reviews: Is it Really "The Best Omega 3"?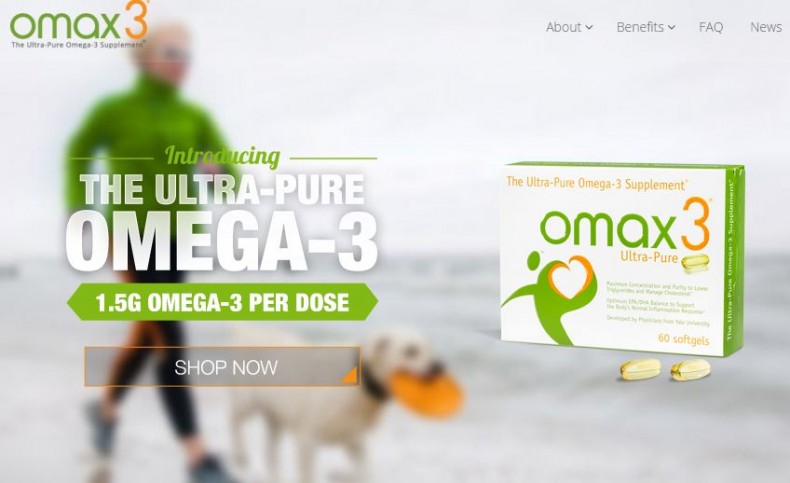 Positives
• Blister packed
• High dose of omega-3's
Negatives
• Expensive
• Results subjective, and may not be obvious
Bottom Line
Omax3 offers a solid product, albeit on the expensive side of the spectrum. Omax3 should be on your short list to consider if you are contemplating an omega-3 regimen, especially if cost is not a factor.
Sponsored Links




Omax3
Omax3 is an omega-3 supplement advertised on television, offering a patented blend said to be superior to standard omega-3 supplements.
Sponsored Links




Claims & Features
Pharmaceutical strength
Patented delivery system with 4:1 EPA/DHA Ratios
Lower cholesterol and triglycerides in 30 days
Sharpens mind, mood, and memory
1.5g of omega-3 per dose
0 Impurities
Blister packed for protection
Nearly 100% omega-3 in each soft gel
Cost & Availability
Omax3 is available from the official website for about $48 for a one-month supply. Purchasing multiple boxes reduces the price: 3 boxes cost $32 per box, while 6 boxes total $30 per box.
Omax3 Reviews
Omax3 can be seen in infomercials entitled "The Best Omega 3!" Although there are a wealth of omega-3 products available, the powers behind Omax3 want to persuade consumers that their product is superior due to its high dose and a 4:1 EPA/DHA ratio.
A serving of Omax3 is two soft-gels which contain 1.5g of Omega-3 fatty acids, broken down to 1.125g of EPA and 275mg of DHA. This 4-to-1 ratio, they tell us, is part of what makes Omax3 special.
Sponsored Links



Fortunately for the consumer, the Omax3 website is quite transparent, offering the product label and clinical data in a visible location. (Some supplement vendors practically hide the label from consumers).
Perhaps an underrated feature of Omax3 is that it is blister packed, rather than sold in a bottle. Many consumers store supplements in the bathroom or kitchen where humidity and smoke could affect a bottle that isn't airtight. Blister packs offer a hermetically-sealed environment for the supplements, keeping them fresh until used.
One complaint on older review sites is that of an auto-ship program, which no longer appears on the official website as of June 2015. You may run across a site such as tryomax3.com, which still offers an auto-ship program, but this is no longer featured on the official website. If the company brings back the auto-ship program, we highly advise avoiding it, as such programs rarely work in the consumer's best interest.
Unlike other consumer products – where it can be easily determined if the product works or not – an omega-3 supplement may offer benefits ranging from undetectable to significant. Thus, consumer reviews are likely to vary wildly based on the subjectivity of the user. On Amazon, for example, Omax3 currently holds a 3.5 star rating with varying opinions on its effectiveness.
Similar Products
There are countless omega 3 products on the market. Perhaps the most visible competitor to Omax3 in terms of advertising campaigns is Omega XL. In fact, as of this writing, a Google search for "Omax3" will yield an ad for Omega XL in the results.
Although both of these products are advertised in the omega-3, category, they are quite different in what supposedly makes them unique. An Omega XL vs Omax3 comparison shows that Omax3 tends to highlight its high dosage and 4:1 EPA/DHA ratio, while Omega XL is focused on its purity, having a single source, the Green Lipped Mussel of New Zealand.
There are also other omega-3 products available online which offer a 4:1 EPA/DHA ratio, with prices both above and below that of Omax3. Very few, however, offer blister packaging as Omax3 does.
Epic Conclusion
The health benefits of omega-3 fatty acids are established and far-reaching, affecting such conditions as asthma, cholesterol, depression, and arthritis. Getting more omega-3's in your diet has been the mantra of the medical community for the past decade. We feel Omax3 does offer a solid product in this category, albeit on the expensive side of the spectrum. Omax3 should be on your short list to consider if you are contemplating an omega-3 regimen, especially if cost is not a factor.
If you've used Omax3, please give it a star rating and comment below.