Wobble Wag Giggle Reviews: Do Dogs Love It?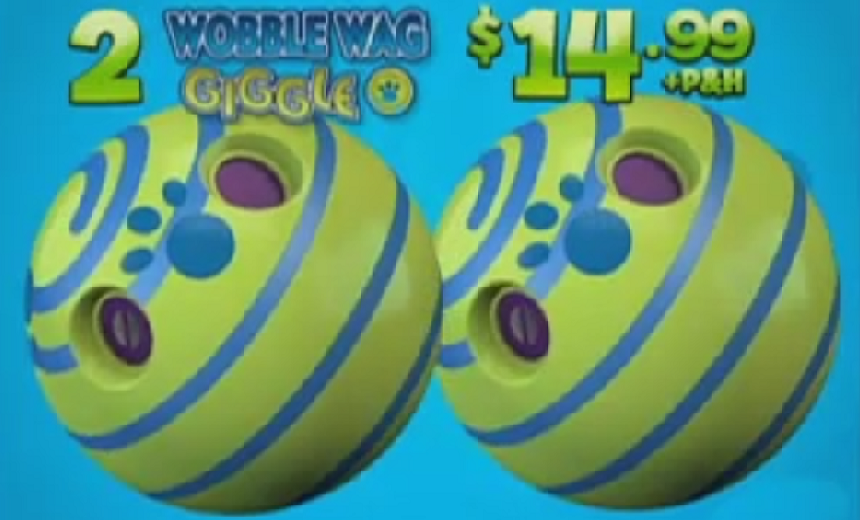 Sponsored Links




Review of the Wobble Wag Giggle, a toy ball for dogs which produces sounds when set in motion. It is said to be designed to hold the attention of dogs better than standard toys.
Sponsored Links




Wobble Wag Giggle Ball
Wobble Wag Giggle Ball is an As Seen on TV pet toy marketed on television. The ball is constructed of sturdy vinyl, and is covered with six "clutch pockets" which allow canines of various sizes to pick up and carry it. When nudged, rolled, or shaken, the ball emanates sounds which supposedly emulate human laughter (hence the word "giggle" in the name). These sounds, along with the ball's color and movement design, are supposed to hold the instinctual attention of dogs.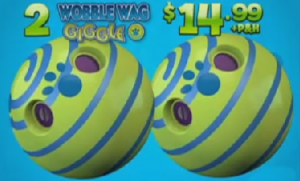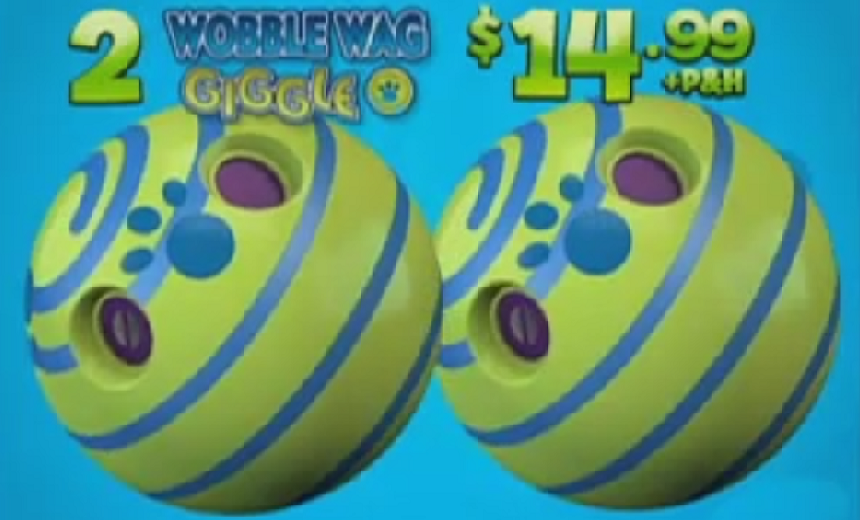 Wobblewagiggle.com is the official product website.
Cost and Availability
Wobble Wag Giggle Ball is available to order from the product website.
The website currently features a double offer (two Wobble Wag Giggle Balls) that customers apparently can not opt out of. Customers are simply asked, "How many Double Offers would you like?" Setting the quantity to zero fails to activate the site's shopping cart.
There were originally two sizes of Wobble Wag Giggle Ball, although as of January 2016, only the 5.5″ ball is shown on the site:
Medium size (no longer shown on site): recommended for dogs under 35-40 pounds (4.5″)
Large size: (Originally recommended for dogs over 40 pounds, but that recommendation is now longer shown) (5.5″) – $14.99 plus $6.95 P&H and an additional $4.95 for the Double Offer = total of $26.89.
A sales tax is added to orders shipping to California, Connecticut, Nevada, and New York.
Orders originating in Canada, AK, GU, HI, PR and/or VI are subject to a $10.00 surcharge.
Sponsored Links
Purchase of the Wobble Wag Giggle Ball comes with a 30-Day Money Back Guarantee which does not include a refund of P&H charges.
We have seen Wobble Wag Giggle in stores for about $15.
Claims and Features
Enjoyable toy ball for dogs
Generates sounds while moving, which encourage dogs to play with it
Does not require batteries
Suitable for both outdoor and indoor play
Safe for pets (made of vinyl free of Phthalate)
Wobble Wag Giggle Ball TV Commercial
Wobble Wag Giggle Ball Review
Overall, user reviews of the Wobble Wag Giggle Ball are somewhat mixed. Potential shoppers may want to browse additional reviews of this product on Amazon and the HSN website to decide if the toy is right for their pet. With over 700 customer reviews at Amazon, it has a 3.5 star rating as of January 2016.
Those who give it positive ratings state that the Wobble Wag Giggle Ball works as advertised, and that the toy continues to be a source of entertainment for their pet (as well as a source of amusement to some observing human bystanders). On the other hand, those giving it a thumbs down – an ample number of customers – typically offer two primary complaints:
Some claim that their dogs were able to destroy or tear holes in the Wobble Wag Giggle Ball.
Some claim that their dogs were frightened by, or indifferent to, the Wobble Wag Giggle Ball.
A small number of pet owners have reported that smaller dogs had difficulty grasping and carrying the toy.
Another point of contention from some consumers is the ordering process on the website, and the fact that you can't opt out of the "Double Offer" – meaning you must pay a total of $11.90 in non-refundable shipping. This problem can be avoided by simply purchasing the product at a local retailer.
Video Review
Below is a video review of Wobble Wag Giggle.
Epic Conclusion
Wobble Wag Giggle Ball is a dog toy that creates sounds that resemble giggling when it is played with. Online reviews of the ball seem to be considerably varied. It may be best suited for nondestructive dogs that enjoy toys which produce noise. We recommend purchasing locally to avoid shipping charges and delays, and to give you a chance to evaluate the product more closely before making your final purchase decision.
Updated January 20, 2016