Shimmer Jewelry Tattoos Reviews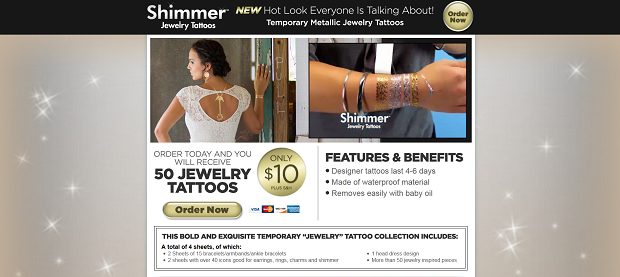 Sponsored Links




Our reviews of Shimmer Jewelry Tattoos, temporary designer tattoos that last for days and have the appearance of gold and silver metallic jewelry.
Sponsored Links




About Shimmer Jewelry Tattoos
Shimmer Jewelry Tattoos are a line of temporary tattoos that have a golden and silvery metallic look. They come on sheets and are applied to the skin similar to a sticker. According to the product website, Shimmer Jewelry Tattoos come in a variety of designs which include arm bands, bracelets, ankle bracelets, earrings, rings, charms, and a head dress.
The Shimmer Jewelry Tattoos website can be found at shimmerjewelry.com
Sponsored Links
Cost and Availability
Shimmer Jewelry Tattoos can be purchased from the product website. The website is currently offering a buy one get one free special. This deal includes 50 Shimmer Jewelry Tattoos for $10 plus $5.99 shipping and handling (S&H) for a total of $15.99.
Sales tax is added to orders originating in CA, NJ and NV.
There is a 30-Day Money Back Guarantee (minus S&H) provided by the website.
According to the Toys R Us website, Shimmer Jewelry Tattoos are also available in their stores. They currently list the product for $9.99. We have verified that some As Seen on TV stores are now carrying Shimmer Jewelry Tattoos for about $12.99.
Claims and Features
Gold and silver colored temporary tattoos that last 4-6 days
Impervious to water
Removable with baby oil
Non-toxic and works on all skin types
Shimmer Jewelry Tattoos Commercial
Below is a Shimmer Jewelry Tattoos commercial that has been airing since August of 2014:

Shimmer Jewelry Tattoos Reviews
As with any products that are fairly new to the market, there is an accompanying lack of user reviews to be found online. Nonetheless, temporary metallic tattoos seem to be a fashionable phenomenon right now, and there are similar products available that are well-rated on sites like Amazon and Etsy. These include brands such as Flash Tattoos, Lulu DK Jewelry Tattoos, ShimmerTatts, Hot Jewels, and Shimmer Glitter Tattoos.
In July of 2014, Vogue published an article on temporary metallic tattoos. The article advises layering the temporary tattoos alongside real jewelry as to create an illusion which causes people to ask, "is that your jewelry or is that a tattoo?"
Epic Conclusion
Shimmer Jewelry Tattoos are like stickers that are placed on the skin to create a temporary tattoo that resembles jewelry made of metal. It is claimed that these designs last 4-6 days, are waterproof, yet are easily removed with baby oil. Although there are currently a lack of reviews online, temporary metallic tattoos are quite popular, and there are a number of highly-rated products on the market which are similar to Shimmer Jewelry Tattoos.
Posted November 29, 2014
Modified December 4, 2014