Purse Pouch Reviews: Does it Work?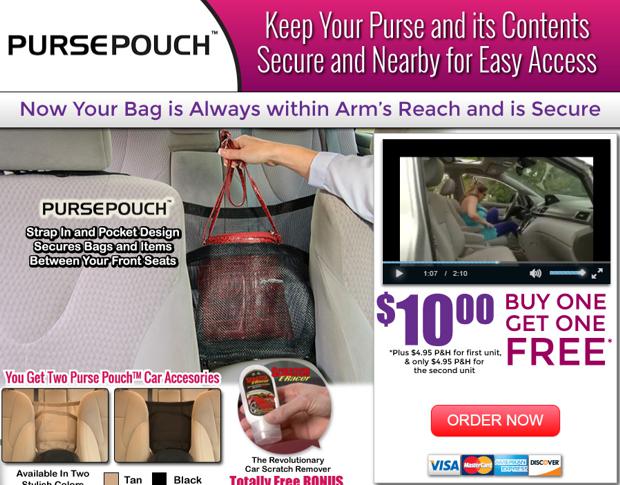 Sponsored Links




Purse Pouch is a product for autos which allows for storage and easy access of purses and other items. Read our Purse Pouch review.
Sponsored Links




PursePouch
This review was first published in March 2015. It has been updated to include current information as of September 2016.
I first noticed PursePouch (or is it two words "Purse Pouch"?) on HLN on March 7, 2015. The product is advertised as a way to store items (namely purses) securely in the car, without worrying about them falling over, and to provide easy access while driving (Is that even a good idea?). The official website is buypursepouch.com, which has a registration date of May 2014. It is available in two colors: tan and black.
Cost and Availability
Purse Pouch is advertised with a price of $10 plus $4.95 shipping. You can get a second unit for another $4.95. Actually, you have no choice but to buy a second "free" one for another $4.95, so you will be ordering two for a price of $19.90. A scratch eraser is also included. As with most As Seen on TV products, this item does not appear to be in stores yet.
You can now find Purse Pouch in stores such as Walmart or Bed Bath and Beyond for about $10.
Commercial
The commercial for Purse Pouch below aired a handful of times in 2015, and more prominently in 2016.
Observations
The website and the advertising remind me of a product which was also briefly marketed in 2014 called Touch Purse. While that product did not function the same as Purse Pouch, the website and fonts used were quite similar. Regarding function, Purse Pouch seems to bridge the gap between a couple of other As Seen on TV car products which have advertised in recent months: Catch Caddy and Grab Bag. Catch Caddy prevents items from falling between the seats, and also is advertised as a way to create extra storage. Grab Bag is a reusable grocery store bag, but it has also been advertised as a way to store items in the car. A comparison of the website design of Catch Caddy with Purse Pouch will yield striking similarities.
Sponsored Links



The primary function of Purse Pouch is storing and securing items in the car, while still allowing easy access. The product "hammocks" between front car seats, providing an area where purses or other items can be placed.
For those considering purchasing this product, several considerations come to mind.
Does it fit most car types, or is it limited to a specific design?
Is it durable or cheaply made?
Does it provide benefits as advertised?
Are there unexpected limitations or drawbacks?
Does it hold gym bags, laptops, and briefcases as claimed?
Let's take a look at the questions above.
It does not fit all car types. As the inventor notes in the comments below, "The Purse Pouch requires a center console with a lid that opens from the front."
I would categorize this as durable and working as advertised. I have experienced no issues with the product in my tests, nor have commenters complained about either of these concerns here and elsewhere online.
The primary drawback is that it may not fit your vehicle. It requires headrests and a center console. If your vehicle does fit the requirements, I'm confident that it will work as advertised.
It does a pretty good job of holding gym bags, laptops, purses, etc.
Epic Conclusion
Purse Pouch does an excellent job of creating a barrier between console seats while storing a variety of items. It is limited to vehicles with a center console and headrests, so be sure it will fit your car before making your final purchase. Buy locally to avoid shipping costs and delays.
Have you ordered or used Purse Pouch? Please tell us your experience in the comments below.
Updated September 3, 2016