Grab Bag Reviews: Does it Work?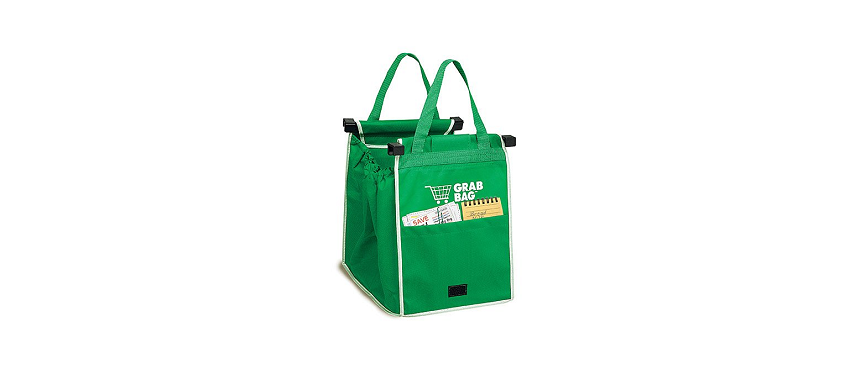 Sponsored Links




Review of Grab Bag, a reusable grocery bag created from recycled material featuring clips that attach to your shopping cart and a 40 lb weight capacity.
Sponsored Links




Grab Bag
Grab Bag is a brand of reusable shopping bag that can be secured to a grocery cart to prevent the bag  from closing while shopping. Compared with standard plastic grocery bags, Grab Bag is marketed as being more efficient and reliable with a significantly greater carrying capacity.
Each bag is green in color, contains a sizable frontal pocket, and has a weight capacity of 40 lbs. On Amazon.com, Grab Bag dimensions are listed as 11.25″H x 7.5″W x 2.62″D. The insulated Grab Bag is blue.
Though the commercial and website never say what material Grab Bag is made from, it is claimed that the material is sturdy and environmentally friendly. Other potential uses for Grab Bag include implementation as a laundry bag, toy bag, clothing/dry cleaning bag, and/or beach bag.
The official product website is grabbag.com
Cost and Availability
Grab Bags are available to order online from the official product website and also from a number of other online vendors. They also appear to be available in some stores.
The official product website is currently offering one Grab Bag for $14.99 plus free shipping. Grab Bags were originally only sold in sets of two, but this was changed in 2015.
You can also add an insulated Grab Bag to your order for $19.99, but it does not appear to be available to purchase by itself.
A sales tax is added to orders shipping to New Jersey and California.
There is a 30-day money back guarantee (minus shipping and handling).
Claims and Features
Reusable and durable bag (holds 40 lbs) which attaches to shopping cart
Made from "earth-friendly" material which is resistant to mold and mildew
Easily cleanable
Front pocket which is large enough to contain wallets, cell phones, and coupons
Folds down flat to be stored in small places
Television Commercial
Transcript of the commercial above which began airing in 2014. Note that the original version shown below shows mentions a price of $12.99. That has since been increased to $14.99:
Today's grocery bags leave a lot to be desired. They dig into your hands when you carry them. They spill open when you're driving, and they're so small, unloading them requires endless trips back and forth to your car. You need a better solution. You need a Grab Bag.

You'll start loving your Grab Bag the minute you reach the checkout aisle because they clip right into your cart and stay open. You can easily fill them after items are scanned. Then when you get to the car, they simply lift out and go right in your trunk. And it gets even better. Grab Bags have a broad base and a securing flap so they sit up nicely in the back of your car. And won't spill all over when you're driving home. Plus they expand to hold several times what a regular shopping bag can hold. Amazing! Imagine being able to unload your car in a single trip.

Ever have something heavy rip right out of a plastic bag and smash on the ground? Not with Grab Bag. Even this 40 pound dumbbell is no match for its super sturdy construction, and that's a lot more weight than most people will ever need to carry.

Grab Bags are made of earth-friendly material that's mold and mildew resistant. They easily wipe clean with just a damp cloth. Even better, they fold flat when you're done, so you can store them in your kitchen or in your car. Every Grab Bag even has a generous front pocket with plenty of room for wallets, coupons, even cell phones. And Grab Bags aren't just for groceries. Use them at the laundromat, to store and carry toys and stuffed animals, or even on picnics and trips to the beach.

Call now and through this special TV offer you can get two Grab Bags for just $12.99. And there's more. For a limited time you can receive our insulated Grab Bag. Use it to keep frozen foods from defrosting on your way back from the store. Or use it to keep hot food ready to eat when you get home. That's three Grab Bags for the special low price of $12.99. Here's how to order.
Reviews
Grab Bag first appeared on television and internet advertising in late 2014. As of January 2016, it still can be seen in advertisements, making it a rather long campaign for an As Seen on TV product.
With claims that Grab Bag is composed of "earth-friendly" and flexible material, some customers may be curious as to exactly what this material is, and how durable it is. This is the main question we have in regards to Grab Bag. We have interviewed several consumers we spotted using Grab Bag since the original version of this review was posted in early 2015. The consensus among those customers were that they were satisfied with the purchase. Indeed, Grab Bag as of this writing holds a solid 4.3 star rating on Amazon, with the majority of consumers expressing positive experiences.
Sponsored Links



Our product researchers have tried Grab Bag, and feel that it works generally as advertised. It is sturdy, durable, and is capable of holding a large number of items without breaking. Most grocery stores offer their own reusable grocery bags for as little as $2. These generic bags likely do not have some of the features that Grab Bag has, such as grocery cart clips and a central pocket, yet they work very well for the price.
It is up to the consumer to decide if the price increase of reusable store bags justifies the small number of advantages.
Epic Conclusion
Grab Bag is a shopping bag with a 40 lbs weight limit that can be used over and over again. It features strap handles, a center pocket, and clips that hook up to grocery carts to prevent the bag from closing while it is being filled. While Grab Bag appears to be a reliable reusable bag, many similar bags can be purchased locally for a fraction of the cost.
If you've tried Grab Bag, please give it a star rating and leave a comment below.