Renumax Review: Scratch Remover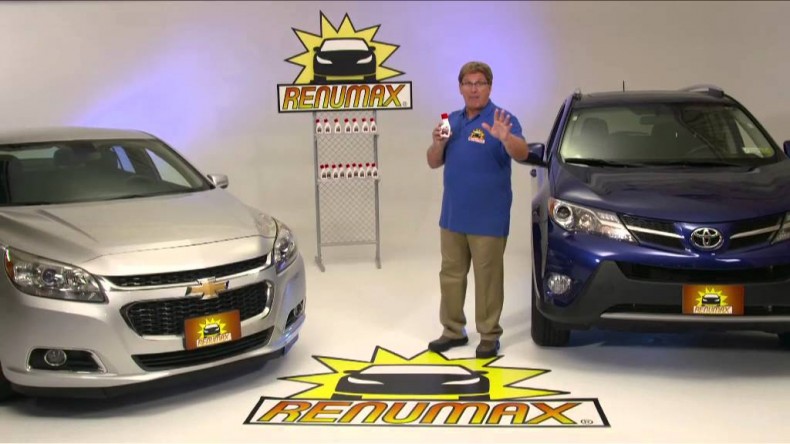 Negatives
• Small amount for cost
• Less expensive competitors
• Did not work for us
• Exorbitant non-refundable shipping
Bottom Line
Renumax is not ready for prime time. The product in our tests did not match the lofty promises and impressive results shown in the advertising. In fact, Renumax didn't even perform as well as other scratch removers which can be found locally for less. The current TV offer with paltry extras and exorbitant shipping leaves much to be desired.
Sponsored Links




Renumax
Renumax is an As Seen on TV car scratch remover for vehicles. Read our Renumax review.
Sponsored Links




Claims & Features
Professional results in seconds
Works on all colors and finishes
Easy to use and apply
Great for cars, boats, caravans, motorcycles, and more
Saves you money on repairs
Produces a smooth shine
Lasts for years
Cost & Availability
You can purchase Renumax from the official product website buyrenumax.com for $19.95 plus $13.95 S&H. You can't opt out of bonus "free" Car Vac for an additional $13.95 S&H, which brings your total purchase price to $47.85.
There is a 30-day money-back guarantee, minus shipping costs. Keep in mind that you are paying $27.90 in shipping costs for their current offer, none of which is refundable. As of this writing, Renumax is not available in stores.
Renumax Commercial
The TV commercial below has been airing as of this writing.
Renumax Reviews
As Seen on TV car scratch removers have graced the airwaves for years. With Renumax, we are told that it is a "revolutionary formula" that removes scratches and scrapes, without buffing or polishing. You simply apply the formula and the scratches are said to disappear with no additional effort on your part. The formula is applied via a sponge tip, meaning that even difficult angled areas can be effectively treated. We are told that the proprietary formula fills scratches with "millions of micro-particles" which dries to leave the paint looking scratch free.
It is often difficult for paint scratch removers to garner high reviews because the advertising hype often exceeds the capabilities of the product. In general, those who purchase paint scratch removers for very fine scratches will often find satisfactory results if their expectations are not terribly high.
With Renumax, we have an entire infomercial full of impressive results and lofty promises, such as a demonstration that erases a large scuff created by sandpaper. We have had numerous questions from readers about scratch removers in general, as the idea behind them – a $20 bottle of magic saving an expensive repair job – can be enticing. Does it work? Is it available in stores? Are there other products that work better? Is the advertising a realistic presentation of how Renumax performs?
To use the product, you simply shake the bottle and glide over the affected area with the spongy applicator tip. When applied, it has a white "soapy" appearance which is said to be "micro-particles" filling in the scratch.  A microfiber cloth is used to remove the excess (a step which, oddly, isn't shown in the advertising). It takes a few minutes to dry, and this we are told, is when the scratches will disappear. Any type of car and any color is said to benefit from this process.
Keep in mind that the product uses a proprietary formula, meaning we have no idea what's under the hood. Is it barely different than other scratch removers, or something completely unique? There's no way to know.
Sponsored Links



Perhaps the first point of skepticism we had while viewing the Renumax commercial is that type of scratch was barely mentioned. There is a wide variety of scratch types, and not all can be repaired in the same manner.
A car's surface typically has four layers: clear coat, base coat, primer, and metal. Scratches which reach down to the primer will be far more problematic than those which affect only the clear coat. The best scratch removers we have encountered typically require a bit of "elbow grease" in order to properly buff out a scratch. Not all scratches can be repaired without professional help.
If and when scratch removers work, they are worth the investment when compared to that of a repair shop. So how well does Renumax work?
We tested the product on two vehicles, one red and one white, both of which had a number of scratches of varying sizes. Applying Renumax is easy and as advertised. You simply shake and rub it on the scratch. It does dry in a relatively short period of time, but we did not find it to be completely invisible when dried. In fact, in the infomercial, you can see Renumax residue on the black car demonstration. Although it eventually "disappears" in the infomercial, it did not disappear like that for us. This, in turn, required us to scrub the area to remove the residue left behind.
When all was complete, our scratches appeared unchanged, regardless of their size. From deep scratches to surface scratches, Renumax did not present a compelling result. We saw virtually no improvement, which is a far cry from the lofty advertising claims.
We were hard-pressed to fill in any "pros" for the product in the list above. It is easy to apply, although that doesn't mean much when the product doesn't work.
Additional "cons" related to Renumax include the size of the bottle, which seems microscopic compared to competing products (see below). When you combine that with shipping costs and obligatory extras – which also include non-refundable shipping – Renumax becomes a rather hefty investment for a small amount of product that we couldn't get to work.
It is quite unnerving to see a product advertised for $19.99 but with a final price that turns out to be $47.85 when you factor in an astonishing $27.90 in shipping costs. Further, shipping is non-refundable, so even if you attempt to get your money back, you'll still be out nearly $30.
You can view trademark information for Renumax on Trademarkia, which was filed in September 2015. It is categorized as "Varnish paints, namely, for bodies for vehicles."
As we have said in our evaluations of other scratch removers, we don't feel that any such product will ever receive ratings approaching five stars because the expectations are simply too high. A quick and easy solution to removing deep scratches does not yet exist, and Renumax, in our tests, certainly wasn't it.
Unlike the majority of As Seen on TV products we have reviewed, it appears that Renumax was first advertised in other countries before being marketed in the U.S.
Similar Products
As noted above, paint scratch removers are quite easily found locally and online. In recent months we have reviewed a few other scratch removers which have advertised on television. Nu Finish Scratch Doctor we found to be adequate for removing fine scratches, as was Quixx Paint Scratch Remover. Both of those products can be found locally for $15 or less (and no shipping).
There are dozens of scratch removers to choose from on the market, with all of the big players such as 3M, Turtle, and Simoniz offering their versions. Most scratch removers have mixed 3 to 3.5 star ratings, with some consumers unhappy due to unrealistic expectations.
Epic Conclusion
Renumax is not ready for prime time. The product in our tests did not match the lofty promises and impressive results shown in the advertising. In fact, Renumax didn't even perform as well as other scratch removers which can be found locally for less. The current TV offer with paltry extras and exorbitant shipping leaves much to be desired.
Have you tried Renumax? Please give it a star rating and comment below.