Quixx Paint Scratch Remover Kit Reviews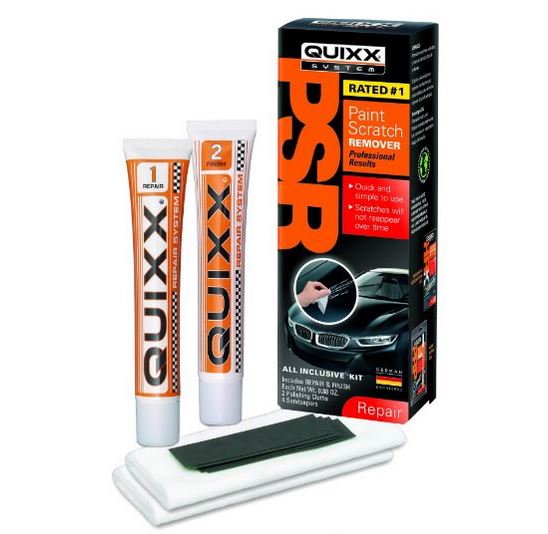 Positives
• Works well on most scratches and cars.
• Highly rated among consumers, especially those with reasonable expectations.
Negatives
• Customer expectation may be too high based on advertising hype.
• Requires some labor to adequately sand or buff out the scratch.
Bottom Line
No scratch remover can perform miracles, but Quixx does as good as a job as any at removing or lessening car scratches. It is competitively priced and readily available.
Sponsored Links




Quixx Paint Scratch Remover
The Quixx Paint Scratch Remover is advertised as a way to quickly and permanently remove vehicle scratches.
Sponsored Links




Claims & Features
Permanently removes scratches, marks, and scuffs
Scratches do not reappear over time
Works on all gloss paints and colors
2-step process
Does not harm finish
Made in Germany
Plastic deformation technology
Cost & Availability
Quixx products can be found in retailers and auto shops such as Walmart, Rite Aid, Auto Zone, and Pep Boys for about $15. Their products can also easily be found online, such as the official Quixx Amazon storefront.
Quixx Paint Scratch Remover Commercial
The TV commercial below has been airing as of this writing.
Quixx Paint Scratch Remover Reviews
Vehicle scratch removers belong to a competitive category of automotive products. The Quixx Paint and Scratch Remover (sometimes referred to as "PSR") is occasionally advertised on television as a permanent solution to small vehicle scratches.
As with virtually any scratch remover, customer satisfaction is guaranteed to vary greatly because no two scratches are the same. Quixx actually provides a pretty good visual of scratch depth, and which products they offer to address each of those. PSR is said to work on all types of scratches, although deep scratches down the primer also require touch up paint.
Sponsored Links



Many customers have pointed out that removing a scratch will typically require a little elbow grease in terms of light sanding and buffing to provide the results depicted in the advertising. We have encountered some negative reviews by people who were unsatisfied with the product despite the fact that they did not follow the directions regarding this aspect of the scratch removal.
And, of course, there are some scratches which are simply too deep to repair with this type of product. For shallow marks and scuffs, Quixx does an excellent job, and can hang with the best of the products on the market.
Similar Products
There are dozens of scratch removers to choose from on the market, with all of the big players such as 3M, Turtle, and Simoniz offering their versions. Perhaps the most visibly advertised scratch remover in recent years was Scratch-dini, which was heavily promoted over the airwaves in 2014. Most scratch removers have mixed 3 to 3.5 star ratings, with some consumers unhappy due to unrealistic expectations. Another popular scratch remover which has been advertising heavily in mid-2015 is the Nu Finish Scratch Doctor, which we have reviewed here.
Epic Conclusion
No scratch remover can perform miracles, but Quixx performs as well as any we've encountered at removing or lessening car scratches. It is competitively priced and readily available. If you have reasonable expectations and don't mind doing a little work, you should be pleased with the results. If you expect complete removal of deep scratches with little effort, you may want to consider other options.
If you've used Quixx Paint Scratch Remover, please give it a star rating and comment below.