DashCam Pro Reviews: Does it Work?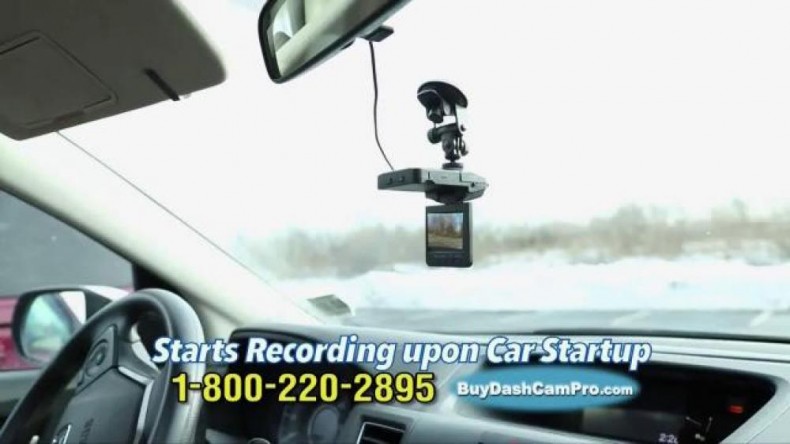 Positives
• Easy to install
Negatives
• Instructions difficult to follow
• Slow shipping
• Questionable durability
Bottom Line
DashCam Pro is a good idea, poorly executed. The product's durability is questionable, and there are competing products for the same price or less with higher customer satisfaction.
Sponsored Links




DashCam Pro
DashCam Pro is a camera which records video and audio as you drive.
Sponsored Links




Claims & Features
Full HD wide angle video
Records audio and video
Pivoting mount
Automatically adjusts according to brightness
Motion detection
Time/Date stamp
Starts upon ignition
14 hours of record time
Endless loop recording
Cost & Availability
You can purchase Dashcam Pro from the official product website for $39.99 + $6.95 P&H; if another DashCam Pro is added to an order, shipping is free; can opt out of additional cam.
DashCam Pro Commercial
The TV commercial below has been airing as of this writing.
Transcript:
"The driver in the other car said you ran a red light and hit him."

"Oh yeah officer? Let's go to the DashCam Pro. "

"She crossed over the yellow line and hit me."

"Oh yeah? Let's go to the DashCam Pro."

Yep, they're out there, driving recklessly, causing accidents, and driving up your insurance rates. Now protect yourself and capture it all in full high definition video with DashCam Pro, the personal security camera for your car. DashCam Pro easily attaches anywhere in your car and automatically records both audio and video of everything that happens for as long as your trip lasts.

"When I had gotten into an accident with a border control van, I really didn't remember anything. The officials said I had run a red light and that I was ticketed. When I felt better, I reviewed the footage. It turns out the light was green. My DashCam Pro captured it all, saved me thousands of dollars in legal hassles, insurance claims, and lawsuits."

With our exclusive pivot mount, you can turn DashCam Pro around and flick the screen to capture all those special moments inside the car. Great for road trips. The 120 degree view wide angle lens captures crystal clear video and automatically adjusts from dark shadows to bright sunlight so your video looks great even at night. You can review your video immediately right from the unit or download onto a computer or flash drive to easily share or save. DashCam Pro is loaded with high-end features including motion detection, image stabilization, optional time and date stamp, picture mode, automatic start up upon ignition with the included car charger.

The built in SD card slot allows for up to 14 hours of recording time with the option to set video for endless loop recording. Similar quality dashcams sell for over $100, but order today and you won't pay $100. You'll get the HD DashCam Pro for only $39.99. Call now to find out about free shipping. It's the most important tool you'll ever own for your car, so call or click now.
DashCam Pro Reviews
While most people are accustomed to seeing police dashcam video, the idea of regular citizens mounting their own dashcams is becoming something of a new trend. Enter DashCam Pro, a consumer-level As Seen on TV product which promises to deliver your own dashcam videos.
The television commercial shows defiant drivers proving themselves innocent in a variety of incidents such as accidents or red lights. Indeed, possessing a record of one's driving could potentially bolster any such claims when in doubt, however it's unlikely to gain a conciliatory response from a police officer when used in the manner shown in the video above.
Sponsored Links



At a little under $50 when shipping is included, DashCam Pro is not made of the highest quality materials. Those expecting a GoPro quality video may be somewhat disappointed. Some internet consumers have expressed displeasure with the slow shipping process, while others have stated that the product arrived in a non-working condition, especially those who can't get it to record, despite seeing a live video.
Further, while action cams feature a rather wide field of view, the 120-degree lens on the DashCam Pro seems a bit stingy, and may not seem sufficient to capture everything necessary to show the full details of an accident. If you can get it to work, you may find it to be an acceptable purchase. That, however, is a big "if."
The product can hold an SD card up to 32 gig, which is said to be sufficient for 14 hours of record time, which is set on "endless loop." In our experience, the card filled up and the looping did not work. We were unable to stop this from happening, and attempts at remedying the problem were futile. Finally, the video that was captured was somewhat low quality, not up to the same standards of a smartphone or high end action cam. You may want to invest in an SD card which is video friendly, as some consumers have tried low quality cards and had poor results.
Are Dash Cams a good idea? Popular Mechanics addressed this topic in 2013 and noted that, while cameras will not lower your insurance premiums, footage captured by them are admissible in court. This of course assumes that everything relevant to the evidence presented is captured in the frame.
Motorists.org notes that dashcams are legal, provided they don't obscure your vision, although different laws in different states present different restrictions. It also suggests that police can (and have) seized personal dash cams as part of an investigation. "And like a black box," they write, "the information could help exonerate you or land you in deeper trouble."
We expect to see these in the clearance section by 2016.
Similar Products
There are other dashcams out there which sport many of the same features, but have a higher consumer rating. The OJOCAM Pro Mini 0801 holds a 4.5 star rating online, while you can find the Zuma HD locally at stores such as Walmart.
Epic Conclusion
DashCam Pro is a good idea, but poorly executed. The product's durability is questionable, and there are competing products for the same price or less with higher customer satisfaction.
If you've used DashCam Pro, please give it a star rating and comment below.
This review has been updated since its original publication in November 2015.