Zipit Bedding Review: Does it Work?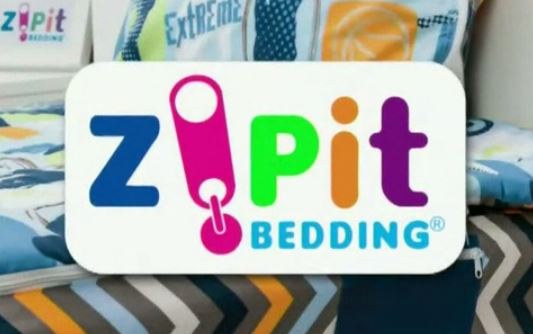 Positives
• Variety of patterns
• Innovative design
• Keeps beds made easily
Negatives
• Cost
• Shipping delays
• Some complaints of proper fit
• Comforter is thin
Bottom Line
We found the product to work generally as advertised, but it is rather expensive after shipping is factored into the cost. The inventors claim that it should be available in stores soon, which will increase the product's value as the price (hopefully) drops to a more reasonable number.
Sponsored Links




Zipit Bedding
Zipit Bedding is a zippered comforter and fitted sheet which works like a sleeping bag, allowing bedding to stay in place, easier bed making, and helping kids stay tucked in all night.
Sponsored Links




Claims & Features
Bed can be made in seconds
Stay tucked in and warm all night
Soft and durable
Works on many types of beds
Zippered side pocket for storage
Designs include Outer Space, Rock Princess, Fantasy Forest, Extreme Sports, Sweet Dreams, Wild Animals, and designs for teens which include navy/strips, pink/clovers, and gray/stripes.
Glow in the dark "deluxe" sets available
Cost & Availability
Zipit Bedding is available online and in stores such as Walmart. From the product website, a twin set costs $59.99 plus $14.99 shipping, for a total of $64.98. A full/queen is $79.99 plus $14.99 shipping for a cost of $94.98. A mysterious $1 "web service fee" is also added to all orders.
Note that at some point in 2015 the price was raised from $49.99 to $59.99 for twin and from $69.99 to $79.99 for full/queen.
It is unclear when Zipit Bedding will become available in stores, although a post on the product's Facebook page in April 2015 stated that "We are in the process of expanding, making it so Zipit Bedding can not only be made more available online but in stores across the Nation and over seas."
You can find Zipit Bedding in stores such as Walmart for about $50-$60, although it is often priced at $49.99.
Zipit Bedding Commercial
The TV commercial below has been airing as of this writing.
Zipit Bedding Reviews
Zipit Bedding first caught consumer attention in early 2014 when it was featured on the television show Shark Tank. It features a sleeping bag-like design which fits over a mattress. While Zipit Bedding seemed to initially lag behind a knockoff in marketing and production, it seemed to reach an advertising peak in mid-2015 and surpass its knockoff.
The design of Zipit Bedding is simple yet ingenious. We give the product high marks for its design, and for fulfilling the promises it makes, such as easy bed making, and keeping kids tucked in at night. The product we evaluated was of an acceptable quality and softness. Some reviewers have said the material felt rough to them, but we didn't find this to be the case. Because it is available in stores, you may want to evaluate the material firsthand before making a final decision.
Sponsored Links



While Zipit Bedding does work generally as advertised, there are a few caveats. The most common complaint about Zipit Bedding is that of slow shipping when ordered from the product website. The product's Facebook page was initially plagued with comments regarding shipping delays, and the company even posted a message about this in April 2015. A few consumers have reported that the product didn't fit their beds properly, but this doesn't seem to affect everyone. We did not find it to be an ill-fit to the twin size mattress that we evaluated.
At a cost of about $95 for a full/queen set (when shipping is included), some consumers may feel it is just too expensive, despite its clever design. You will definitely want to opt to pick this up locally, as the shipping costs along is $15. Buying locally will also allow you to give it a closer inspection.
Now, back to that Shark Tank appearance…
The Zipit Bedding website prominently states that the product was featured on Shark Tank, which could lead some viewers to believe that the television show helped bring the product to the marketplace – but that is not the case. While the show's investors (aka "sharks") did seem to like the design, the stubbornness of the inventors to budge on their marketing and distribution ideas led all of the investors to reject the product. Toward the end of the discussion, several investors even laughed out loud at one statement regarding marketing by one of the inventors.
This zealous – and perhaps reckless – approach toward marketing by the inventors could be one reason that a knockoff was able to out-market the original in late 2014.
Overall, Zipit Bedding maintains around a 4-star rating among consumers around the internet. The minority of complaints involve zippers not staying in place, colors fading, and the end not zipping up. Otherwise, satisfaction runs rather high. We wouldn't say it's the thickest comforter we've seen, but a clever design nonetheless.
Similar Products
Only a few months after Zipit Bedding appeared on Shark Tank, a similar product called Zippy Sack began advertising on television. Zippy Sack has a similar design and offers many of the same features as Zipit Bedding. Zippy Sack targeted younger children with its child-friendly designs, while Zipit Bedding seemed to encompass children and young adults. Zippy Sack is less expensive, at about $40-$50 including shipping for twin and full sizes, but it does not include the matching pillow case. Zipit Bedding is also a full bedding ensemble, while Zippy Sack still requires a separate fitted sheet.
As you can see from the Google Trends chart below, it does appear that Zipit Bedding was first on the scene, although Zippy Sack surged in popularity during its initial advertising campaign.
Epic Conclusion
Zipit Bedding is an ingenious design which first came to prominence on Shark Tank in early 2014. While we found the product to work generally as advertised, it is rather expensive after shipping is factored into the cost. Now that you can find the product in stores, it is a more reasonably priced investment. Kids seem to like the product, and that is a point which cannot be ignored by adults.
If you've used Zipit Bedding, please give it a star rating and comment below.
This review has been updated since its original publication in June 2015.