Miracle Bamboo Pillow Reviews: How Does it Hold Up?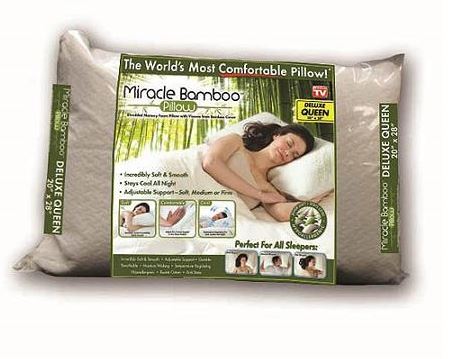 Positives
• Those who like it praise it for its comfort and support.
• The pillow case is very soft and comfortable.
• Great head and neck support, especially when sitting up in bed.
Negatives
• The most common complaint is that the pillow is too hard for some people's tastes.
• It is very heavy, diminishing its usefulness as a travel pillow.
• It is debated how cool the pillow actually stays.
• May not be as soft as some consumers expect.
Bottom Line
Overall, reviews for Miracle Bamboo Pillow appear to be positive, with most consumers praising it for its support and comfort.
Sponsored Links




Miracle Bamboo Pillow is an As Seen on TV pillow which is advertised as a comfortable memory foam pillow which stays cool all night.
Sponsored Links




Miracle Bamboo Pillow
Miracle Bamboo Pillow is claimed to stay cool all night and provide support in any sleep position. Consumers are told they can shape the pillow in a variety of ways to provide maximum comfort.
Cost & Availability
If you purchase from the official website, you can expect to pay $29 plus $9.95 shipping, for a total cost of $39.90. You can get a second one for another $9.95 shipping, bringing your total to $49.85. You can also upgrade to a king sized pillow for another $10 each, make it $49.90 for one, or $59.85 for two.
Includes a travel bag per pillow and a 10 year warranty.
Miracle Bamboo Pillow is available in stores such as Walmart for about $30 for the queen sized pillow. Some readers have reported finding it at Ross for as low as $20.
Claims & Features
Bamboo fabric, softer than cotton
Temperature regulating, keeps cool
Filled with shredded memory foam
3-in-1 design
Endorsed by the American Sleep Association
Anti-Static
Hypoallergenic
Miracle Bamboo Pillow Commercial
The TV commercial below has been airing as of this writing.
Miracle Bamboo Pillow Reviews
The name alone – Miracle Bamboo Pillow – combines three familiar As Seen on TV elements: Miracle, Bamboo, and Pillows. There have been dozens of "miracle" products over the years, from Miracle Peeler to Miracle Socks. Some of you may recall the Bamboo Carbon Belt or even the Bamboo Steamer. Finally, we have encountered My Pillow, Buckwheat Pillows, and the Sobakawa Cloud Pillow, to name a few.
Sponsored Links
So how does Miracle Bamboo Pillow hold up?
Fortunately, because it has been available for some time, online reviews are readily available, and are generally positive. At Carol Wright Gifts, Miracle Bamboo Pillow boasts a solid 4.7 star rating, while at Amazon it is 3.7 stars – although when this review was first published, its Amazon rating was 4.8 stars.
And, while the chorus of praise seems to be overwhelming, there are certainly those who were not satisfied with the product, as evidenced in the "cons" listed above. Overall it is a comfortable pillow, and because you can find it in stores, you may want to evaluate it in person before making your final decision.
Similar Products
There are countless options of memory foam pillows on the market. Perhaps the most popular As Seen on TV pillow is My Pillow, which is considerably more expensive.
Epic Conclusion
It is difficult to present a truly objective review of something as subjective as the comfort of a pillow. Some consumers like paper thin pillows, while others like large fluffy pillows. With that in mind, it seems unlikely that all consumers will like any single pillow design.
Because it is available in stores, you would be best served to purchase it locally. This will give you a chance to evaluate it before buying, and will also allow you to avoid shipping costs and delays.
If you've used Miracle Bamboo Pillow, please give us your thoughts along with a star rating below.
This review has been updated since its original publication in May 2015.