Copper Fit Step FX Review: Fitness Tracker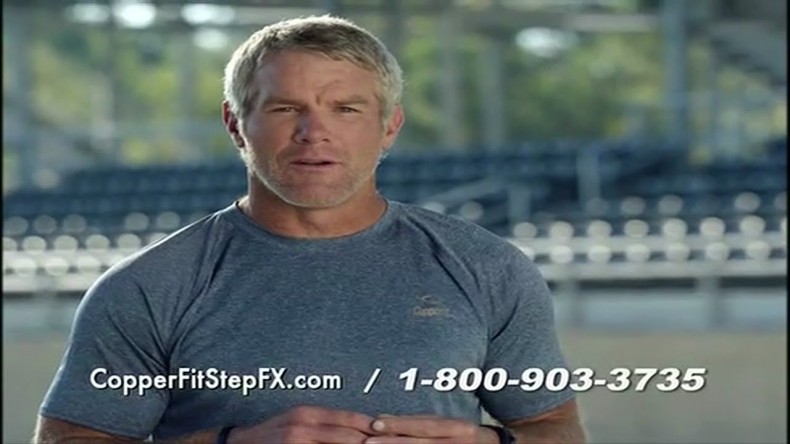 Positives
• Stylish
• Inexpensive
• Adjustable stride length
• Batteries included
• Simple to use
• Free shipping
Negatives
• Does not monitor heart rate
• Limited stats monitored
• No deep stat analysis
• Battery must be replaced
Bottom Line
Copper Fit Step FX is a fitness tracker which features Brett Favre in its television and internet advertising. The device tracks calories, steps, and distance in a 7-day rolling count. It does not feature many of the bells and whistles found in more expensive options, but it is probably suitable for those who only require minimal tracking.
Copper Fit Step FX
Copper Fit Step FX is a fitness activity tracker which helps people attain their fitness goals.
Sponsored Links




Claims & Features
Easy-to-use technology
No app, smart phone, or software required
Easy to read digital display
Tracks steps, distance, and calories
Automatically tracks and records movements
Simple, durable, and affordable.
Cost & Availability
Website: $24.99 + Free Shipping. There is a 30-day money back guarantee, although you will be responsible for paying to have it shipped back if you aren't satisfied.
We noticed Copper Fix Step FX in a local Kmart here in the Las Vegas valley in February 2016. It's unclear if the product has rolled out everywhere, but it does appear to be in some stores for a cost of about $20.
Customer service can be reached at 855-818-8300, or [email protected]
Idea Village
Copper Fit Step FX is brought to you by Idea Village, one of the major players in As Seen on TV marketing. The company currently holds an A+ rating with the Better Business Bureau. It appears that the majority of the (resolved) complaints about Idea Village are related to advertising and sales, billing, and problems with the products.
In addition to the Copper Fit line, Idea Village has also marketed products lines by Finishing Touch and Micro Touch. They have been able to lure heavyweight spokespeople such as Rick Harrison of Pawn Stars, Brett Favre, and Fran Drescher. Partner retailers include Toys R Us, Walmart, Kmart, and Bed Bath and Beyond.
If you have seen an As Seen on TV commercial, you have probably seen a product from Idea Village.
Copper Fit Step FX Commercial
The TV commercial below has been airing as of this writing.
Copper Fit Step FX Reviews
Copper Fit Step FX is the latest As Seen on TV product to sport the endorsement of Brett Favre, who has been seen in recent ads for such products as Tough Blade and Micro Touch Max. With Copper Fit Step FX, we have a "Fitness & Activity Tracker" which counts steps, distance, and calories burned.
The Copper Fit brand has been actively advertising on television in recent years, primarily promoting its compression wear, such as Copper Fit Back Pro and Copper Fit Socks. Those products are geared toward pain relief and athletic support.
Sponsored Links



It would appear that with the popularity of such devices as FitBit, Idea Village has thrown the Copper Fit gauntlet into the arena by offering its own fitness tracking incarnation. And, although Copper Fit Step FX has some overlap and similar functions as FitBit, it would not be fair to compare them side by side, as the latter employs a much higher-tech design. While Copper Fit Step FX tracks three different stats, it does not track what some people feel are vital categories such as heart rate, active minutes, or floors climbed.
To use Copper Fit Step FX, you'll first install the included button battery, set the time and date, and strap it on. As you wear it throughout the day, you can check key stats by pressing the Mode button. This will allow you to scroll through the time, date, steps, distance, and calories. A total of 7 days are tracked. On Day 8, stats from your first day will disappear.
If you find that the device isn't performing optimally, the makers have built in the ability to adjust your personal criteria, which allows you to set a more accurate stride length. You may want to carefully evaluate the first few sessions to make sure that the readings are accurate. If not, stride calibration should fix the problem.
Unlike some of the higher-end fitness trackers, Copper Fit Step FX doesn't connect to external software in order to present a long-term fitness display. There is also no GPS or wireless connectivity. It is essentially a high-tech pedometer which is also able to perform simple math to calculate distance traveled and calories burned. Calories burned is a combination of rest calories accumulated throughout the day plus whatever calories you burned based on number of steps taken.
Keep in mind that calories burned may not be accurate if you are walking uphill, running, or performing high-intensity exercise that isn't factored into the equation.
This may be seen as a positive or negative by some users. There are those who feel that the complexity and number crunching of something like FitBit may be more than they desire. In this case a more streamlined product like Copper Fit Step FX could be an excellent choice. For those who prefer to dig deep into the numbers, they may find that the product's 7-day rolling stats are simply not enough to track long-term progress.
A few other features to note:
Display – The band offers an easy-to-read display with bold black letters over an amber background. There is a single button on the face which allows you to toggle through various display modes.
Battery – Copper Fit Step FX uses a replaceable CR1620 battery, which is included. Many expensive fitness trackers have non-replaceable batteries which are charged via USB connectors. The product FAQ, however, notes that this battery is only expected to last about 2.5 months.
Splash Resistant – Although the unit is not waterproof, it is considered splash resistant. This designation is common of sports electronic devices and should be suitable for most use. FitBits are considered water-resistant, which appear to have a higher tolerance for water exposure.
Distance and Altitude – Some higher end fitness trackers can measure distance and altitude. Copper Fit Step FX does not, however, offer this feature. While users of expensive fitness trackers can measure steps taken or distance ridden on a bike, this cannot be tracked with this device. Riding a bike where your arms are stationary, for example, will not register on Copper Fit Step FX, as it measures movement. Further, if you use it on a treadmill where you are holding handles, it is not likely that your movement will register.
Deluxe Unit – The product FAQ also discusses a Deluxe Unit. The upgrades available with that unit are a rechargeable lithium ion battery and charging via USB cable.
Keep in mind that the information tracked is not 100% accurate. The official website concedes:
These devices rely on sensors that track the user's movement. The data provided is a close estimation, but may not be completely accurate in step, distance, and calorie information.
Do Fitness Trackers Help?
The rise in fitness trackers have led to a conversation about whether or not these devices provide any discernible advantage to the wearer. An article in Shape discusses the pros and cons of using fitness trackers. Obvious advantages include the ability to keep yourself honest about the amount of exercise you have actually performed. They also eliminate the need to manually keep track of progress.
Potential downsides to fitness trackers are that those who become obsessed with monitoring can become overwhelmed to the point that fitness goals become overlooked or even secondary.
Those downsides could actually be an advantage for a more minimal product such as Copper Fit Step FX, which does not seek to track, monitor, and log all the minutiae of a daily regimen.
Similar Products
As stated earlier, FitBit is currently the industry standard fitness tracker, and it offers a much more robust system for tracking a variety of stats. There are currently thousands of fitness trackers available on Amazon, ranging from $25 up to hundreds.
Epic Conclusion
Copper Fit Step FX is a fitness tracker which features Brett Favre in its television and internet advertising. The device tracks calories, steps, and distance in a 7-day rolling count. It does not feature many of the bells and whistles found in more expensive options, but it is probably suitable for those who only require minimal tracking.
In the end, wearing a device such as Copper Fit Step FX can help wearers achieve their fitness goals if those goals are in mind. There are those who would prefer to have deep analytics with complex analysis, and this device may not be a good fit in those cases. For simple fitness tracking, Copper Fit Step FX is moderately priced and certainly a capable offering.
Now that Step FX is available in some stores, you may want to go that route when purchasing to avoid shipping delays, and to facilitate the return process, if necessary.
If you've used Copper Fit Step FX, please give it a star rating and comment below.
Updated February 19, 2016