Fast Filling Balloons Battle it out in 2015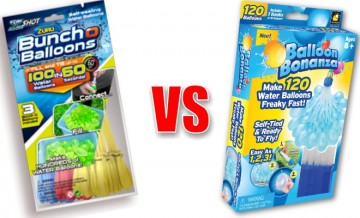 Sponsored Links




Four of the top five "Hot New Releases" in Amazon's "Toys & Games" category are fast-fill balloon products: Crazy Balloons, Balloon Bonanza, Bunch O Balloons, and Magic Balloons. Today I'll compare and contrast these four similar products and offer my recommendation for the one you should purchase.
Sponsored Links




Fast Fill Balloons
History
The idea of a fast-filling and automatically tying balloon has long been the Holy Grail of balloon fights. An immediate precursor to the current breed of fast filling water balloons was probably the Tie-Not. That product was featured on Shark Tank in May 2014, and there are videos posted online which date back several years earlier than that. That product allows quick filling and semi-automatic tying of a single balloon.
In July 2014, a Kickstarter campaign was created by Josh Malone for his invention Bunch O Balloons. He raised 80 times his initial goal for the product which could fill and tie 111 balloons simultaneously.
Sponsored Links



Five months later, As Seen on TV giant Telebrands began marketing a remarkably similar product called Balloon Bonanza. In June 2015, a patent infringement lawsuit was filed against Telebrands and retailer Bed Bath and Beyond by the makers of Bunch O Balloons. That case has yet to be settled.
While those entities battle it out in court, it appears that even more knockoffs have entered the scene and risen to the top 5 on Amazon's Hottest New Toys. Two such knockoffs include Crazy Balloons, and Fast Fill Magic Balloons. The packaging for those products look similar, and it is not clear if they are related in some way. For the purposes of this article, I will consider them separate. There are even more knockoffs not covered here, such as Krazy Kool Water Balloons.. and the list seems to grow almost daily.
So with so many choices, which product should you buy? Let's first take a look at some of the details in the Bunch O Balloons vs Balloon Bonanza vs Crazy Balloons vs Fast Fill Magic Balloons tale of the tape.
Design
The current design sported by all four products features a hose connector that branches into small tubes which fill multiple balloons at once. The balloons then snap off and remained sealed, ready for a balloon fight.
Balloons Included:
Balloon Bonanza: 120
Crazy Balloons: 111
Fast Fill Magic Balloons: 111
Bunch O Balloons: 105
Cost:
Fast Fill Magic Balloons: $15.99 (14.4 cents each)
Balloon Bonanza: $18.98 (15.8 cents each)
Crazy Balloons: $18.80 (16.9 cents each)
Bunch O Balloons: $18.98 (18.1 cents each)
Keep in mind that the costs above are "official" prices. You may be able to find them on sale for less – often as low as $10.
In Stores?
Balloon Bonanza: YES
Crazy Balloons: NO
Fast Fill Magic Balloons: NO
Bunch O Balloons: YES
Popularity
Amazon
As of this writing, the four products listed here occupy of 4 of the top 5 spots in Amazon's Hot New Releases in Toys & Games. The order on Amazon as of June 25, 2015 is:
1. Crazy Balloons (4 star rating/83 reviews) – This has since been removed
2. Balloon Bonanza (2 star rating/46 reviews) – This was removed in December 2015
3. Bunch O Balloons (4 star rating/155 reviews)
4. Fast Fill Magic Balloons (5 star rating/4 reviews) – This has since been removed
Google Trends
As you can see from the Google Trends chart below, search popularity seems to be highest for Bunch O Balloons and Balloon Bonanza, which have each held the top spot over the past year.
Conclusion
From this writer's perspective, Bunch O Balloons appears to be the best choice among the products discussed above. Although one may assume based on appearance that all of the products above perform similarly, in the case of Balloon Bonanza, it has received significant negative feedback that the others have not. Complaints include pinhole leaks and incomplete filling before the balloons fall off the stems. Crazy Balloons and Fast Fill Magic Balloons, while receiving relatively positive ratings, are not available locally.
That leaves Bunch O Balloons, which is the original invention from which the others were inspired. It also appears to be more durable and better constructed for nuances such as proper filling. The minor savings in cost by going with another product is not a bargain if balloons start leaking or are not filled properly.
Have you tried one of the products listed here? Tell us what you thought in the comments below.