Baseboard Buddy Reviews: Does it Work?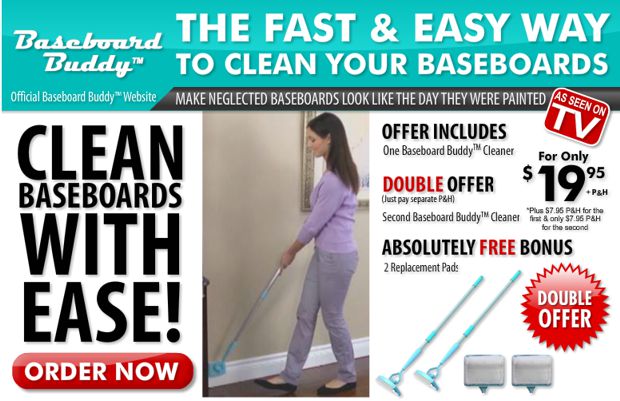 Baseboard Buddy is an As Seen on TV product which allows consumers to clean their baseboards without bending over.
Sponsored Links




Baseboard Buddy
This As Seen on TV product promises to alleviate the chore of cleaning baseboards with a broom-like device. It is marketed by APG, which has brought other popular As Seen on TV products to the airwaves, such as Catch Caddy or Cat's Meow.
The product website is baseboardbuddy.com.
Cost & Availability
When you order online, Baseboard Buddy costs $19.99 plus $5.99 shipping. This includes the Baseboard Buddy and 2 pads. A second set is included for another $5.99 shipping, and you cannot opt out of this offer. This brings your total order to $31.97. There is a 30 day money back guarantee, but shipping is not refundable. A "deluxe" model is also offered for $5 extra per unit.
As of this January 2017 update, you can find Baseboard Buddy in stores for about $20.
Claims & Features
Can be used wet or dry
For routine or deep cleaning
Conforms to shape of the baseboard
Baseboard Buddy Commercial
The following television commercial has aired since 2015.
Transcript of the commercial above:
Baseboards shouldn't look like that, but cleaning them breaks your back. Rubbing and scrubbing on hands and knees. Now there's a better way to clean baseboards with ease. Introducing Baseboard Buddy, the easy reach baseboard cleaner. Forget bending over, with Baseboard Buddy, you don't even need to lean to get baseboards clean. Just walk and glide. Baseboard buddy cleans for you.

The secret is the Flex Head Design, it conforms to any baseboard, while the plush fibers grab dust and dirt. Buffing the woodwork so they look like new. You clean your furniture and floor, but what about that baseboard? Baseboard Buddy completes the job in no time. Turns cleaning baseboards from grueling to glamorous. Make it your best cleaning buddy.

Use dry for anytime cleaning. Use wet to scrub stubborn dirt. Dirt is gone, just like that. Just rinse and clean when done. The swivel action lets you clean and buff baseboards from any angle. No sweat at all. And look, the telescopic handle reaches high to clean tops of door moldings, how convenient. Babies love to play on the floor, with Baseboard Buddy, there's dirt no more. Remove allergens in bedrooms, germs and bacteria in bathrooms, make the living room picture perfect before guests arrive. No wonder Baseboard Buddy was featured on Good Morning America and it's one of Martha Stewart Living go-to tools.

Stop breaking your back, clean baseboards in a snap. Order Baseboard Buddy now for just $19.95. Order right away and we'll send a second Baseboard Buddy free, just pay separate processing and handling. You'll also receive two replacement pads absolutely free. You get it all. Two revolutionary Baseboard Buddys, two replacement pads all for just $19.95. This offer is not available in stores. Call or click and order now. To order your Baseboard Buddy call 1-800-573-8417. That's 1-800-573-8417 or go online on at BaseboardBuddy.com. Call or click today.
Baseboard Buddy Review
The marketing campaign for Baseboard Buddy has the difficult task of convincing consumers that a ~$32 investment (with the double offer) for a baseboard cleaner is warranted. It is further complicated by the fact that Baseboard Buddy looks like a small mop, which can be found in stores for much less. That said, Baseboard Buddy does include some features upon closer inspection which make it superior to many of the other baseboard cleaning options available.
The design, while at first glance appears to be that of a small mop, includes a cleaning brush with a lip on top that can clean the tops of the baseboards. The head swivels, allowing you to clean from a standing position, and either right or left handed. You simply hold the unit against the wall and walk while holding it in place. It is best used dry for dusting, or wet for deeper cleaning.
Sponsored Links



It does appear that Baseboard Buddy works generally as advertised for the majority of baseboard types. It may not be able to fully encompass very tall baseboards, and it is unclear if certain textures of flooring – namely shag-type carpet – may slow down the process of gliding the product along the baseboard and floor.
If you use it in a carpeted area, be sure that your carpet can handle any cleaner you put on the padding.
We found it to work excellently for dusting high, hard to reach places. For deep scrubbing, results were no better than that of a cloth and all-purpose cleaner. If you have weak knees or a bad back, this could help prevent bending that is usually required to clean baseboards.
The pad seems to wear quite quickly, but a second pad is included in the box sold in stores, so that should help extend the life of the product without having to purchase additional pads.
Consumers will probably be divided on Baseboard Buddy. In the conclusion of the review below, "It's OK."
Video Review
You can see a full hands-on review of Baseboard Buddy in the video below.
Similar Products
There are an untold number of solutions to cleaning baseboards. This excellent list at Apartment Therapy offers several ideas, while Bob Vila also offers advice on various ways to clean baseboards.
A cursory search of Amazon for baseboard cleaning products yields a large number of results, with prices that range higher and lower than Baseboard Buddy.
Epic Conclusion
Baseboard Buddy is an As Seen on TV product which offers the ability to clean baseboards from a standing position. While it appears to work for the majority of customers, baseboard and carpet styles may affect its efficiency. There are other solutions to cleaning baseboards on the market, so it might pay to shop around before making your final decision.
If you've used Baseboard Buddy, please give it a star rating above and a comment below.
Updated January 2017