Monte Carlo Las Vegas Reviews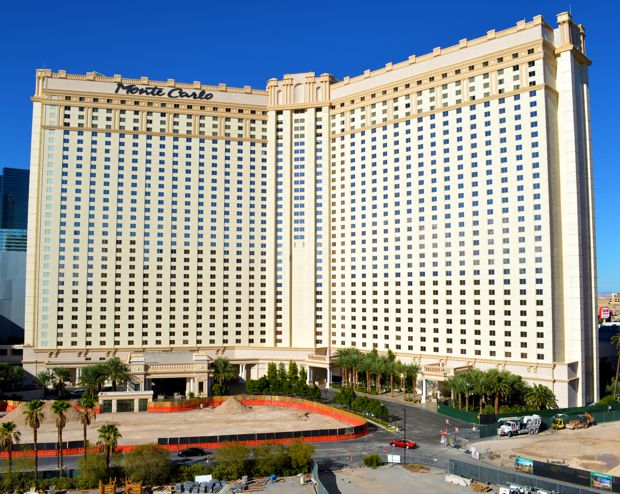 Positives
• Prime location on The Strip.
• Hotel32 suites.
• Food court, shopping, and shows all on the property.
• Staff has generally high ratings.
Negatives
• Less attractions than some of its neighbors.
• Some rooms are showing their age.
• Check-in line can back up on busy days.
Bottom Line
While not as flashy as some of its neighbors, Monte Carlo offers prime location on The Strip with competitive prices.
Sponsored Links




About the Monte Carlo Las Vegas
The Monte Carlo is an opulent hotel located at Tropicana and Las Vegas Boulevard, with a host of iconic tourist attractions at its doorstep.
The luxury hotel is a welcomed retreat for the adult tourist seeking pleasure and relaxation. Every imaginable comfort and facility is offered within the 2,992 rooms and 256 suites at the Monte Carlo resort. Deluxe, High Floor Deluxe, Strip View Deluxe, Hotel32 Studio, Monaco Suite, Spa Suite, and Standard Diamond Suite are the range of superb luxury room types that are ready to offer guests the finest accommodations along with state-of-the-art facilities.
Sponsored Links




The spacious rooms are categorized as Deluxe, High Floor Deluxe, and Strip View Deluxe. Rooms feature a washroom with premium Italian marble, Gilchrist & Soames toiletries, and every other modern facility to offer you a comfortable stay. Strip View Deluxe and High Floor Deluxe rooms are perched on the 23rd story or higher. Strip View Deluxe rooms face the Strip and offer a breathtaking view of the city. The Standard Diamond suite is equipped with all the amenities of the Deluxe room, but offer more space. These suites are located on the 16th floor and higher.
Hotel32 studio is an exclusive hotel-within-a-hotel that is equipped with ultra modern facilities and comforts. The studio resides on the 32nd story (topmost floor) with a panoramic views of the Strip. It has a separate elevator, private check-in, and many other special services to make the guests' stay memorable. The Monaco Suite and Spa Suite are for those who seek something more than an ordinary hotel room.
In 2014, Monte Carlo unveiled its Blvd Plaza, an open-air "social gathering place" with dining, live entertainment, and yoga. The resort often uses the hashtag #BLVDPlaza to promote events there. Blvd Plaza will be part of a larger park and arena set to open in mid-2016.
Sponsored Links



Monte Carlo Resort Fast Facts
Year opened: 1996
Original Cost: $344 million
Recent renovation: 2009
Rooms: 2992 (includes 224 suites)
Floors: 32
Casino Space: 102,000 sq ft
Rewards program: M life
Race and Sportsbook
Wedding Chapel
30,000 sq ft meeting and conference space
Food court
Buffet. Adult prices range from $18 – $24.
The Pub features a large selection of craft beer, plus food and drink specials.
Street of Dreams shopping and dining
BLVD Plaza features dining, live entertainment, and yoga
Hotel Facts
Resort Fee: $22.40. Includes internet access, fitness center access, daily newspaper, copying and faxing, boarding pass printing, local calls, in-room coffee, two bottles of water.
Amenities: Spa, salon, 3 outdoor pools (Lagoon, Wave pool, Lazy River)
Check in: 3pm
Check out: 11am
No pets allowed.
Parking: Lot and garage behind the resort, accessible from Monte Carlo Drive on The Strip.
Epic Monte Carlo Tour
Below is a video of a walk around the perimeter of the Monte Carlo in October 2014.
Monte Carlo Review: Editor's Notes
I can't help but walk through the Monte Carlo and remember how it was in its early years. Locals remember the massive marketing campaign for Lance Burton ("mah-stah magician") early in his run at the Monte Carlo, who was the resort's big draw at that time. That baton has since been passed to the Blue Man Group which relocated to the Monte Carlo in 2012 from earlier residences at the Luxor and The Venetian.
I used to frequent The Pub back in the day when it was known as the Brew Pub and featured live acts such as the Prince tribute Purple Reign. Although The Pub has taken on a new identity, it still offers a dizzying selection of hundreds of beers, along with enough food and drink specials to leave a few extra Benjamins in your wallet.
If you're looking to cool off in the Vegas heat, you may want to stop by the Minus5 Ice Bar for a unique experience, as the Monte Carlo hosts one of two Minus5 Las Vegas locations (the other being at the Mandalay Bay).
In recent years, the Monte Carlo has advertised itself as a luxury hotel without the pretentiousness, and has converted the top floor to the uniquely-branded Hotel32. The 50-room location is a Top 10 pick among TripAdvisor readers. Featuring 850 to 2000 square foot suites Hotel32 could be described as a super luxury hotel within a luxury hotel.
One of Monte Carlo's most advantageous features is its location sandwiched between New York New York and newer luxury properties such as Mandarin Oriental and Vdara. (Although there is that oddly-placed CVS right there next to the resort, which seems convenient, but strangely out of place).
Although Monte Carlo doesn't offer as many attractions as some of its neighbors, it is a fine luxury hotel in a prime location.
Map
The map below shows the location of the Monte Carlo on the Las Vegas Strip.
Your Turn
Have you stayed at or visited the Monte Carlo? What are your thoughts?
---
Latest tweets from the Monte Carlo: