Marriott Burbank Airport Hotel Review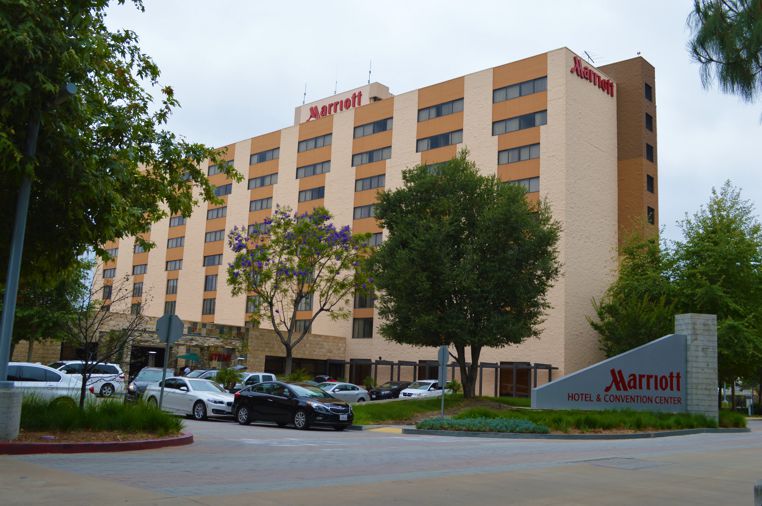 Positives
• The bed, comforter, and pillows were excellent. I was able to get a fantastic sleep here.
• Blackout shades worked as expected. Waking up at 9am, I had no idea there was daylight on the other side of the shades.
• Multiple dining choices across the street.
• Staff was attentive and friendly.
Negatives
• No bathroom fan. While I know this is not a point of contention for some people, there are those of us who feel it is a near necessity.
• The water in the shower, even when turned all the way to the hottest position, was never really hot enough for me. I like hot showers, but found I could only get a warm one here.
• No USB charging station. While most of us carry USB adapters that plug into outlets, some travelers prefer, or depend on, USB charging stations to keep all of their devices charged.
• No express check out.
• No mini-fridge.
I paid $12.99 for a stick of deodorant at the gift shop.
No free parking.
Bottom Line
The 2 double room at the Burbank Marriott was a comfortable and clean stay. I found the price to be reasonable, and its location near dining establishments was a plus. There were a few omissions in the amenities offered, but I would still give this property a positive endorsement.
Sponsored Links




Review of the Marriott Burbank Airport Hotel, after a two-day stay in May 2015.
Sponsored Links




Marriott Burbank
I spent two days at this Marriott in May 2015. The hotel is situated across from the Bob Hope Airport and a small set of dining locations on North Hollywood Way. There are two hotel towers and a convention center. You can find two pools and a hot tub, along with a fitness center, restaurant, bar, and gift shop. The official website is marriottburbankairport.com.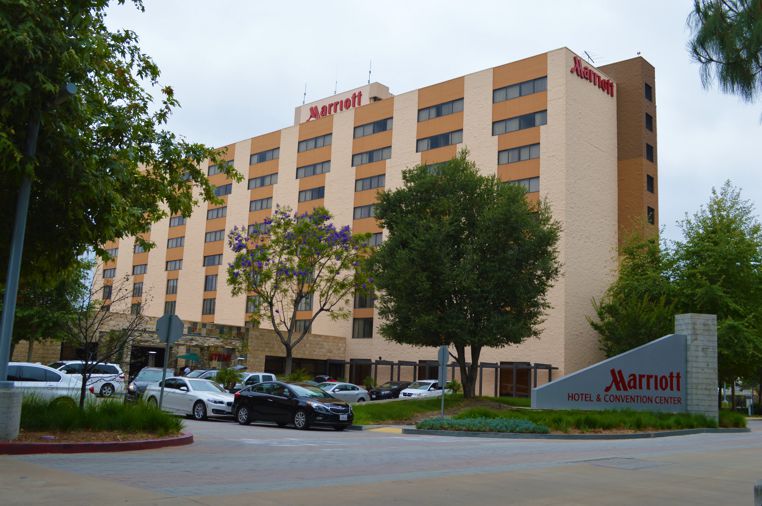 I stayed in a 2 double room on the top (9th) floor facing North Hollywood Way. When I was researching this hotel, rates for this room varied from about $135 to $199 per night.
Staff
I found the staff to be welcoming, friendly, and attentive. I had no problems with anyone, and most employees smiled and greeted me as I passed them.
Room
The standard 2 double-bed room felt like standard hotel fare, but did not feel cramped, and provided most of the features one would expect. A sitting chair, desk, flat screen TV, and AV station were all included, as were book lights over each bed. The thermostat was responsive and appeared to keep the room to the desired temperature.
I was disappointed by the lack of a mini-fridge, which would have been nice to keep a few drinks I brought with me cold.
Parking
You can valet for $26 a day or park in the nearby parking lot for $21 a day. I opted for the parking lot. You are given a key card, which resembles a room key, that you can swipe to enter and exit the parking lot.
Pools
There are two pools. One is in between the two Marriott towers, while the other was descirbed as a "hidden pool" which is also where you'll find the hot tub. To access that pool, you'll need to go up to any guest floor (floors 2 through 9) and walk to the end of the hallway and take a service elevator to the first floor. It seemed kind of unusual that access required such steps.
Bathroom
The bathroom was nothing above average, but I found it to be clean and well-stocked. As noted earlier, I didn't feel that the shower warmed up as much as I would have liked. The hotel provides shampoo, conditioner, body wash, and bar soap.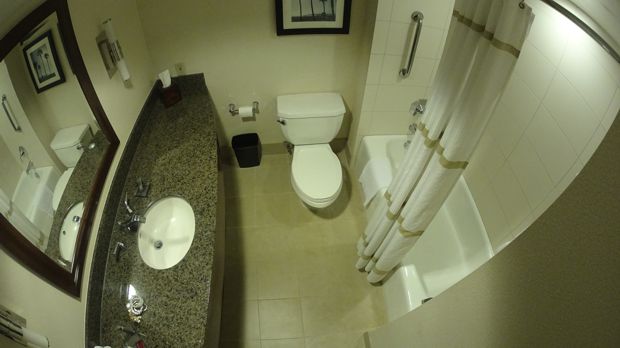 Have you stayed at the Marriott Burbank Airport Hotel? Give it a star rating above and leave a comment below.
Sponsored Links