Pyramid Pan Reviews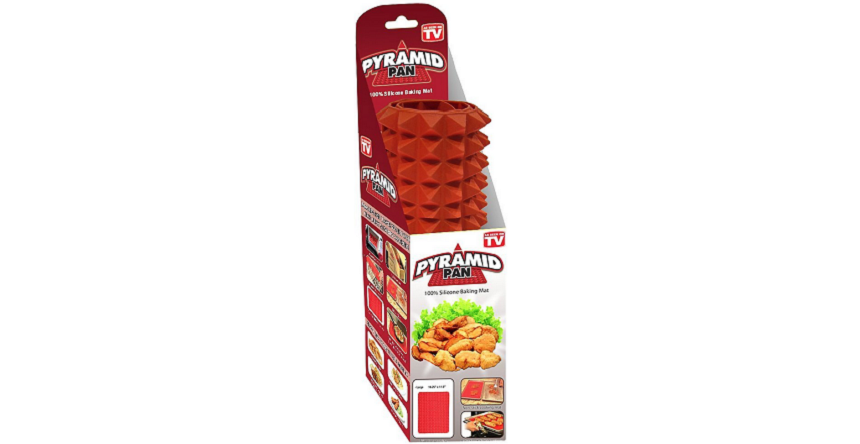 Sponsored Links




Review of Pyramid Pan, a malleable silicon cooking mat which supposedly absorbs fat and grease while providing balanced heating distribution.
Sponsored Links




Pyramid Pan
Pyramid Pan is a flexible, non-stick cooking mat marketed by As Seen on TV. Each mat is covered with 556 small pyramid-shaped protrusions which allows heat to evenly circulate around food, and the product is marketed as a convenient way to cook healthier meals because it has absorbent properties which soak up fat and grease. According to specification provided by the product website, dimensions of Pyramid Pan are listed as 16-1/8″L x 11-1/2″W x 1/2″H. It is not exactly clear what kind of material the mat is made of (the commercial indicates that it is silicon), but the website claims that the material is safe for dishwashers/microwaves and can be heated up to 428°F (220°C).
Officialpyramidpan.com is the product website.
Cost and Availability
Sponsored Links
Pyramid Pan is available to order from the product website, and can be purchased in stores like Target and Bed Bath & Beyond.
If purchased from the product website, Pyramid Pan costs $19.95 plus a $7.99 shipping and handling (S&H) charge for a total of $27.94.
The Pyramid Pan website is currently advertising a special double offer which is not available in stores. This offer provides two Pyramid Pans for $19.95 plus a doubled S&H fee of $15.98 for a total of $35.93. When ordering from the website, this double offer is the default setting, but the quantity can be switched to single Pyramid Pan.
As with many As Seen on TV products, purchasing from the product website provides a 30-Day Money Back Guarantee (which does not include returned S&H charges).
Purchasing Pyramid Pan at a local store will only cost around $15.
Claims and Features
Absorbs fat and grease
Provides air circulation for balanced heating distribution
Can be trimmed down to desired size
Doubles as a pot holder or surface mat
Easily cleanable
Rolls up for easy storage
Pyramid Pan TV Commercial
Pyramid Pan Reviews
On websites like Amazon and Bed Bath & Beyond, Pyramid Pan has mainly positive user reviews awarding it a collective 3.5-3.8 stars out of 5. Most of these reviewers claim that the mat works as advertised. However, a minority of detractors claim that Pyramid Pan can be difficult to clean, and that the pyramidal designs cause cooking times to be increased because the food is lifted slightly off the cooking surface by the mat. A few reviewers also claimed that the heat circulation is not as evenly distributed as claimed in the advertising.
Epic Conclusion
Pyramid Pan is a silicone baking/cooking mat covered with pyramid-shaped projections. Advertising claims this design allows fat/grease to drip away from the food while improving heat circulation resulting in evenly distributed cooking. The majority of online user reviews for Pyramid Pan are positive, yet some claim that some of the advertising claims (namely even heat distribution and easily cleanable) are overstated to some extent.