Vita Youth Review: Anti-Aging Cream and Serum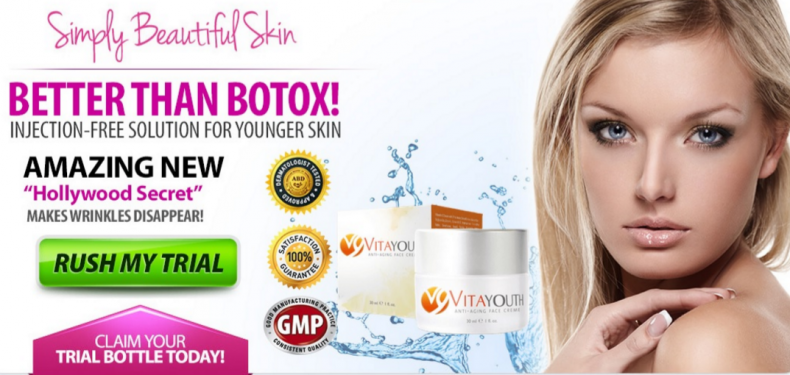 Negatives
• Expensive
• Short free trial period
• Difficult to get product or company information
• Poor customer service
• May not be ideal for sensitive skin
Bottom Line
A discussion about Vita Youth rarely even touches on whether or not the product works because the exorbitant cost and free trial have left a trail of angry, dissatisfied customers. Some of the best skin creams on the market can be found locally for less than Vita Youth, and these come without a sneaky free trial, recurring charges, and unresponsive customer service.
Sponsored Links




Vita Youth
Vita Youth is advertised as the best anti-aging skincare cream with an advanced formula. Read our Vita Youth review here.
Sponsored Links




Claims & Features
Get rid of visible aging signs
Put collagen and elastin in your skin
Repairs skin cells
Detoxify and hydrate your skin
Prevents flakiness and cracks
Cost & Availability
Vita Youth can be purchased from online affiliates which heavily market the product or directly from the company itself. You'll typically find a free trial offer in which you can order the product for $4.95 shipping, then cancel if you don't like it. But there's a catch…
You must give them your credit card info in order to participate in the free trial. After 14 days from the moment you order, you'll be hit with a $99.95 charge. Every 30 days after that, you'll be hit with another charge of $99.95 + $4.95 shipping. The 14 trial starts when you order, meaning you probably won't even get the product until your trial period is down to 10 days. The terms of the trial state:
Try it for 14 days (10 day trial plus 4 days added for transit time) to experience the benefits and if for any reason our product is not for you, you may call our Customer Care toll-free at 1-800-761-8039 within your 14 day trial period to cancel. If you are satisfied, do nothing and you agree to be charged $99.95. Plus you agree to be enrolled in our VitaYouth Preferred Membership Program and approximately 30 days from your initial order date and every 30 days thereafter, you will receive a fresh supply of VitaYouth Cream for $99.95 (plus $4.95 shipping and handling).
There have been reports of some consumers not receiving the product until the free trial period had already ended. The skimpy free trial should be a major factor in your decision to purchase Vita Youth.
Vita Youth Review
Vita Youth is advertised as an anti-aging product which can "reverse many years off of your skin." The ingredients as listed on vitayouth.org are as follows:
Ceramide Complex
Phytosphingosine
Retinol Palmitate
Palmitoyl Palmitate
Rosemary Extract
Balm Mint Extract
The active ingredients are Bisophere and QuSome. It should be pointed out that there is a Vita Youth face cream and a Vita Youth Serum, which do not appear to have the same ingredients. The Vita Youth Serum contains the following ingredients:
Chondrus Crispus (seaweed) Extract
Purified water (Aqua)
Hyaluronic Acid
Acetyl Tetrapeptide -2
Phenoxyethanol
Ethylhexylglycerin
To use Vita Youth, you simply wash your face, pat dry, and apply the product to your face and neck. Areas which the product supposedly targets include forehead lines, crows feet, under eye circles, skin tone, mouth frown lines, lip wrinkles, and chin creases.
The big question is whether or not Vita Youth works, and this, as you might expect is subjective at best. As we have noted with other anti-aging creams, any diligent skin care regimen will likely yield some results, even with inexpensive lotions and creams.
Sponsored Links



Further complicating the picture is that the exact ingredients of Vita Youth are not clear, as we have seen different ingredients listed on multiple websites selling the product.
If we are to believe the ingredient list cited by VitaYouth.org, then the cream itself should do a fine job of hydrating skin, although the cost seems out of line with competing products. Because of the number of ingredients, you may want to test it on a small area of skin first, as some users have reported redness or rashes occurring after use. It is difficult to find many reviews which don't concentrate primarily on the high cost and short trial period rather than the merits of the product itself.
Some consumers have asked which website is the official site. The website getvitayouthcream.com has been advertised, but doesn't even work unless you visit the cryptic "https://www.getvitayouthcream.com/sms/split/stp1/" to see the free trial offer. Vitayouth.org is a single page website with animated arrows and the free trial plastered all over it. We couldn't find a website selling Vita Youth which linked to clinical trials or included information about the company selling the product. The BBB lists vitayouth.org as the official website.
As stated above regarding the free trial, you will only have about 10 days to try the product before your trial period ends. It is highly unlikely that you would notice any results after a mere 10 days of use.
Eye Serum
Some customers have stated that a free sample/trial of an eye serum was also included with their orders. To their surprise, they were also charged about $90 for this serum, in addition to the cream, once the trial ended.
Better Business Bureau
Vita Youth holds a dismal "F" rating with the BBB as of this writing. The means that the company has not been responsive to complaints. In fact, there were zero responses to 19 complaints filed with the BBB, meaning the company seems unwilling to appease disgruntled customers.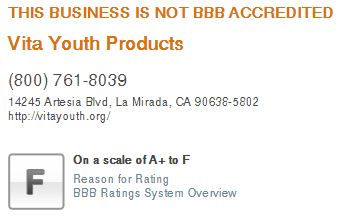 Affiliate template
As you can see when you visit getvitayouthcream.com, there is a fake sense of urgency placed at the top, stating that "due to increased demand for our trial we cannot guarantee supply." This, of course is a rather old affiliate marketing tactic found on affiliate templates dating back at least five years. This is merely an attempt to fool you into thinking you need to hurry and place your order before supplies run out. It would appear that vitayouth.org is probably the "official" site and that other sites selling it are merely affiliates using templates.
I've Ordered, Now What?
If you've ordered Vita Youth but had a change of heart, you could try calling the company, although most consumers have said this is a fruitless endeavor. What you may want to do is call your bank and explain the situation and see how they suggest handling it, whether it's ordering a new card or freezing charges from that company. Once you have contacted your bank, you may then want to try Vita Youth and see if you can still prevent the order from shipping. The last working number we had for Vita Youth was 800-761-8039, listed on the BBB website.
Similar Products
There is no shortage of anti-aging creams on the market. You can peruse the most popular options on Amazon and see which ones are the highest rated among consumers who purchased them there. Popular serums by Alina and Amara have nearly 5 star ratings with thousands of customer reviews. Those cost under $25, and don't come with a free trial or recurring fees.
Epic Conclusion
A discussion about Vita Youth rarely even touches on whether or not the product works because the exorbitant cost and free trial have left a trail of angry, dissatisfied customers. Some of the best skin creams on the market can be found locally for less than Vita Youth, and these come without a sneaky free trial, recurring charges, and unresponsive customer service.
Until Vita Youth becomes available for purchase from a trusted vendor without the sinister free trial, it will be judged primarily by its marketing and billing tactics than what is in the packaging. And to date, the company has failed horribly in that respect. It is the only product we have even rated 0 stars.
If you've used Vita Youth, please give it a star rating and comment below.