SonicGroom Review: Personal Hair Trimmer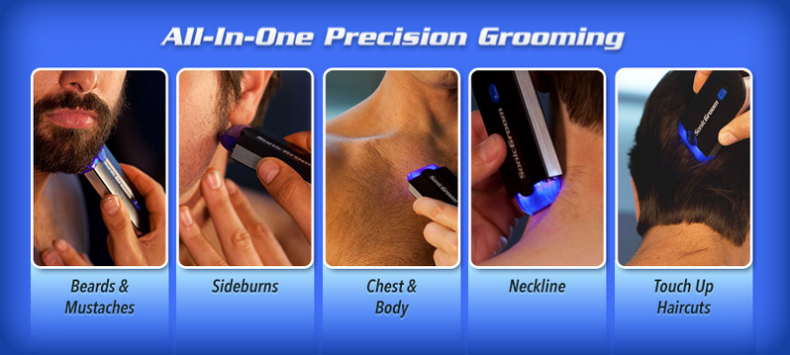 Positives
• Competitively priced
• Free shipping
• Free extras
• Rechargeable battery
Negatives
• Unclear what advantages are over similar trimmers.
• Not as effective on coarse hair.
Bottom Line
SonicGroom is the latest personal hair trimming product by MicroTouch, known for popular As Seen on TV products in this category. Although it is still relatively new, our product researchers feel it will garner around a 3.5 star rating.
SonicGroom
SonicGroom is a full-body hair trimming device which uses sonic power and MicroTouch technology.
Sponsored Links




Claims & Features
Provides a closest shave
Most comfortable grooming ever
Advanced trimming for beards, mustaches, ears, nose, etc
Snap-on guides
Quickly works through tough beards
Gets as close as a blade but is safe to the touch
All-in-one precision grooming
Cost & Availability
You can purchase SonicGroom from the official website (SonicGroom.com) for $39.99 + Free Shipping. As of this writing, we have not yet seen it in stores. If you've seen it for sale locally, drop us a comment below.
Keep in mind that there is no order confirmation screen, so be careful to double-check your information when entering it.
There is a 60-day money back guarantee. (Oddly, the website states that the guarantee doesn't refund shipping – but shipping is free.)
SonicGroom Commercial
The TV commercial below has been airing as of January 2016.
Text of the commercial above:
Good morning. Your mission, should you decide to accept it, is to be the first to use an all new body grooming tool designed to leave you perfectly groomed from head to toe.

You're looking at the SonicGroom, the world's first all-body trimmer to combine sonic power with micro-touch technology, for a faster, safer, and smoother groom.

The sonic power helps lift the hair and sweep it away for the closest, most comfortable grooming you have ever felt. One sonic grooming tool, two interchangeable heads. It's like no groomer you've ever used.

The advanced trimming head is perfect for sideburns, mustaches, and beards, ears and nose, even the back of your neck. Perfectly trimmed and totally groomed.

Attach the grooming guide, and now you can trim your hair as easily as you comb for a clean sharp look between haircuts.

Switch the micro-foil shaving head to make quick work of tough beards. And if it's safe enough for your face, you know it's safe any place. It's the one groomer you can trust for all your man-scaping needs.

No risk, no worry, just a perfect groom from head to toe. SonicGroom gets as close as a blade, yet it's safe to the touch – guaranteed. It's the one trimmer that makes all others obsolete, and puts the power of sonic grooming right in the palm of your hand.

Any hair, anywhere, with absolute precision and comfort. Totally smooth, perfectly groomed, and yes, with the SonicGroom you are now totally groomed from head to toe with fifteen seconds to spare. Use your time wisely.
SonicGroom Reviews
Micro Touch is a line of As Seen on TV personal care devices. Such products include Tough Blade, One Razor, and Micro Touch Max. The latest entrant in their line is SonicGroom, which is said to use sonic power to help lift and sweep away hair, leading to a close and comfortable shave. It is also referred to as an "all-body" trimmer, rather than a facial shaver.
Sponsored Links



Micro Touch (sometimes written as MicroTouch) trimming products are generally known to work surprisingly well based on the relatively "cheap" feel of their materials. This author's Micro Touch Max, for example, still works well a couple of years after purchase.
SonicGroom was test marketed around October 2015 and began more regular advertising by the end of the year. SonicGroom uses a rechargeable lithium ion battery and connects via a USB charger. You also get two grooming heads, two comb attachments, and a cleaning brush.
Our experience with MicroTouch products have been mostly positive, and we feel that SonicGroom is solid enough to please the majority of consumers who buy it. As with other personal trimmers, most users will find that this product is more useful for some areas of the body than others. How well it works will likely be affected by hair coarseness. There will be some consumers who will say that the product did not work for them, which is typical for most hair trimmers of this quality and price range.
Unlike the typical As Seen on TV offering, SonicGroom throws in freebies that are actually free, and not included with hidden shipping charges. In fact, shipping is free for the entire set, which is a huge bonus.
Similar Products
You can find other "sonic" trimmers on Amazon, for around the same cost as SonicGroom, and with mostly positive ratings. One example is the Andis Sonic Plus. It isn't clear what the differences between these two products are, however.
Epic Conclusion
SonicGroom is the latest personal hair trimming product by MicroTouch, known for popular As Seen on TV products in this category. Although it is still relatively new, our product researchers feel it will garner around a 3.5 star rating. A minority of users will say that it doesn't work for them, which will likely be affected by hair type and past experience with superior trimmers.
If you've used SonicGroom, please give it a star rating and comment below.
This review has been updated since its original publication in October 2015.