One Second Slicer Reviews: Does it Make the Cut?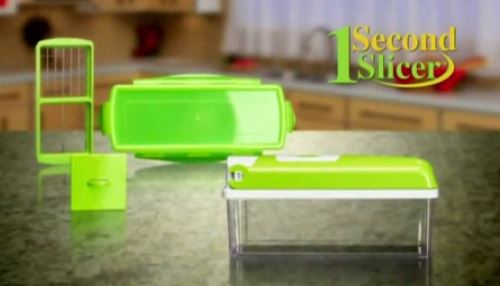 Positives
• Blades are sharp.
• Multiple uses.
• Works well on some types of food.
Negatives
• Unstable while using.
• Durability is questionable.
• Smaller than some people expect.
• Can be unsafe if used improperly.
• There may be a learning curve for some consumers.
Bottom Line
1 Second Slicer sports a familiar design used by other choppers in years past. This product has generally mixed reviews, which appears to vary based on the user technique and food being chopped. Reviews around the internet average about 3 to 3.5 stars.
One Second Slicer is an As Seen on TV kitchen slicer which chops food with ease.
Sponsored Links




One Second Slicer
1 Second Slicer is an As Seen on TV product which is advertised as a way to chop fruits and vegetables quickly and effortlessly. In addition to its chopping prowess, the 1 Second Slicer doubles as a container, so you can store any leftovers without requiring additional containers.
The product website is onesecondslicer.com.
Cost & Availability
You can purchase this product for $19.95 and $7.95 shipping. A second set can also be added for another $7.95. This brings your total to $27.90 for one slicer or $35.85 for two. Keep in mind that shipping is not refundable.
It is also available in stores for around $20. It can be found in As Seen on TV sections of major retailers such as Kmart.
Claims & Features
Slice, dice, chop, mince, Julienne, and quarter
Stainless steel blades
Storage lids keep produce fresh, and make stacking easier
Can be used for meat, vegetables, cheese, fruit, fish, and eggs.
Dishwasher safe
No bigger than a loaf of bread.
One Second Slicer Commercial
The TV commercial below has been airing as of this writing.
Transcript of television commercial:
Are you tired of slicing and dicing by hand? And bulky slicers that clutter your counter top? Stop! Introducing 1 Second Slicer, the amazing food preparation station that slices, dices, chops, minces, and Juliennes, and then serves, seals, stacks, and stores. All in one compact container the size of a loaf of bread.

Why single slice a potato when you can slice the whole potato in one second? Slice family-size fries lightning fast or a pile of shoestring potatoes in a flash.

Slice carrots with incredible speed in any shape or size you need. Stop crying over onions because the 1 Second Slicer chops whole onions in the container without the tears.

Slice tomatoes with the speed of a professional chef, or make a full-size fruit salad in less than 60 seconds.

The stainless steel blades are laser-honed and razor sharp to slice deli meat with ease. And cutting cheese cubes is a breeze. Don't slow slice a salad when you can make an entire salad start to finish in just seconds. Or pack 'em up for parties with family and friends.

To clean, simply push a button to release food remnants and then rinse. That's it, and then store it all together inside the container.

The 1 Second Slicer, complete with a hinged cutting lid and storage container, stainless steel insert, and fresh keeping lid is yours for just $19.95. Call now and get the amazing V Slicer to speed-slice sausage in the container, veggies on the cutting board, cheese on top of a salad, or a mountain of cole slaw in seconds. The V Slicer set is a $20 value but it's yours absolutely free. But wait, order now and we'll double the offer and send a second complete set. Just pay separate processing and handling. You get two 1 Second Slicer sets, an incredible $80 value, all for just $19.95. Here's how to order.
One Second Slicer Reviews
The One Second Slicer (AKA "1 Second Slicer") is one of many advertised kitchen choppers or slicer which have hit the airwaves in recent years. This familiar design doesn't really offer anything groundbreaking, and it is probably going to be difficult for the product to live up to the marketing hype. That said, there are two camps of users who have reported different results from this product. There are those who have reported it to be flimsy, lacking durability, and even dangerous. This is offset by those who swear by the product's ability to slice through produce. The lack of consensus is likely due to a variety in ways in which the product is put to the test by consumers. Those who are a bit more gingerly in their approach (the blades are sharp, but not necessarily sturdy), and who pre-cut fruits and vegetables are more likely to find it useful than those who expect it to be sturdy.
It is generally accepted that the blades of the 1 Second Slicer are sharp. We found that pre-cutting fruit to a manageable size and shape worked best, although this may defeat the "one second" label of the product name.
Consumers at Amazon, as of January 2016, give One Second Slicer a solid 3.6 star rating.
Sponsored Links



Similar Products
The One Second Slicer is similar (or identical) to other choppers which have been marketed over the past several years. Take a look at the Vidalia Chop Wizard or the All in One Dicer, both of which look and perform the same as this product.
Epic Conclusion
You may find the One Second Slicer fits your needs, depending on how you use it. It does not have overwhelming reviews on either side of the coin, so you're best off picking it up locally to avoid shipping delays and charges, and to allow for easier returns if necessary.
If you've used One Second Slicer, please give it a star rating above, and leave us your thoughts in the comments below.
This review has been updated since its original publication in May 2015.