Copper Chef Pan Review: Does it Work?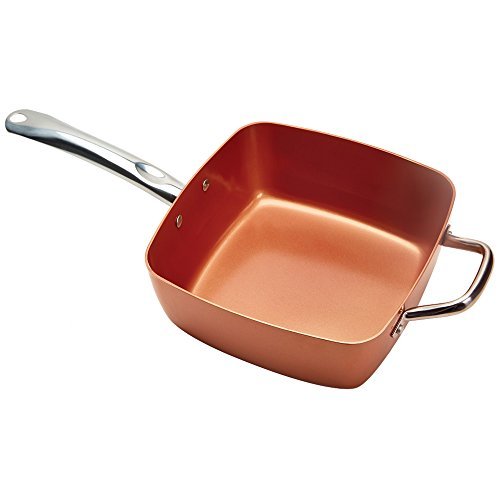 Positives
• High heat threshold
• Versatile cooking options
• Excellent nonstick coating
Negatives
• Not actually made of copper
• Expensive
• Up-selling salesmen
Bottom Line
Copper Chef Pan is certainly a viable choice to add to your culinary arsenal. Be aware that it is not actually copper, and its price is seems high for a single pan made of aluminum. Shipping and delivery complaints should be weighed into your decision as well. Once it becomes available in stores, Copper Chef will be a more attractive option.
Copper Chef Pan
Copper Chef is a square nonstick pan which can be used on the stove or in the oven.
Sponsored Links




Claims & Features
Works on all stove tops
Heat resistant up to 850 degrees
Non-stick coating
Riveted handles
5 layer construction
Dishwasher safe
4.5 quarts
PFOA Free, PTFF Free
Cost & Availability
There are three sets currently being sold on the product set:
A five-piece Copper Chef set is available for 3 payments of $24.99 with free shipping. This amounts to $74.97.
The six-piece set is sold for 3 payments of $34.99 (also free shipping) which totals $104.97.
A Deluxe 13 piece set is 3 payments of $49.99 (free shipping), or $149.97.
All of the sets include the Copper Chef Deep Square pan, glass lid, fry basket, steamer rack, and recipe book. The 6 piece includes a square fry pan, while the 13 piece set also includes utensils, a 10″ round pan with lid, and Titan Peeler (see our Titan Peeler review here).
There is a 60 warranty, but it will cost you about $15 to ship it back to them if you aren't satisfied.
There are two websites which have been used in advertising for the product: getcopperchef.com, and copperchef.com.
Copper Chef Commercial
The TV commercial below was added to the Copper Chef YouTube channel in February 2016.
Transcript of the commercial above:
Are your kitchen drawers starting to look like a bad garage sale? Steamers, rice cookers, roasters, slow cookers, and just how many pots and pans does one kitchen really need? And every time you cook clean up is a disaster. Scraping, scrubbing, what a chore. What if you could replace all this with one single nonstick pan and what if this pan was innovative in design and made of the highest quality craftsmanship and what if you could cook with it on the stove and in the oven?

Introducing Copper Chef, the nonstick, all-round square pan with CeramiTech, it's a breakthrough in technology. Copper Chef with extra deep sides replaces a roasting pan, a rice cooker, a steamer, a stockpot, a wok, and a baking dish. Even cook mac and cheese from dry right in its own sauce. Delicious! No more boiling and straining ever again.

What's the secret? Copper Chef's innovative stainless steel induction plate heats the pan quickly and evenly with no hot spots so you can sear meat in a flash. And watch this, Copper Chef is heat proof up to 850 degrees. Incredible. Copper Chef's unique square shape means you can cook more food. You cant make this in a round pan. Plus your Copper Chef Pan features CeramiTech, a new generation of healthy ceramic nonstick technology. That means nothing will stick to your pan.

Watch, we burnt milk in the Copper Chef and a traditional steel pan. The steel pan was ruined but watch as the milk peeled right off the CeramiTech surface. Amazing.

Look, gooey cheese slides right off. Watch this egg slip and slide like its on ice skates and because you're cooking with ceramic nonstick, you don't have to add all that extra fat and butter. Air-popped popcorn without any oil or butter and no added calories.

CeramiTech's coating is 100% chemical PTFE and PFOA free so it won't chip, peel, or flake into your food. Best of all, cleanup is a breeze and your Copper Chef pan is dishwasher safe. Copper Chef's stainless steel induction plate makes it perfect for any surface; electric, gas, ceramic, and induction. Now you can prepare, cook, and serve in one large capacity, family size pan.
Copper Chef Pan Reviews
Copper Chef has blanketed upper cable channels with late-night television infomercials in recent months. The advertisements extol the virtues of this square pan "that replaces most of your kitchen utensils." The product is marketed by Tristar Products, Inc., one of the largest As Seen on TV marketers in the world.
About the Copper Chef Pan
With the ability to withstand temperatures up to 850 degrees, it is marketed as durable and able to replace a variety of other products. It features a square design with deep sides, which means it can function as a roasting pan, rice cooker, general use pot, wok, baking dish, and steamer. The inclusion of a stainless steel induction plate is said to distribute heat more evenly. Its 9.5 inch square shape allows it to hold more food than round pots.
Nonstick Surface
Copper Chef is said to features Cerami-Tech, "a new generation of healthy ceramic non-stick technology." The ads attempt to show how a Cerami-Tech coated pan outperforms traditional pans, and makes cleaning up easier. There is very little information available about what Cerami-Tech actually is, and this is further compounded by the fact that there appear to be other products and companies with the same or similar names (Cerama Tech, for example). It's unclear what separates Cerami-Tech from other nonstick coatings. Because of its nonstick surface, you'll want to be sure to use plastic or silicone utensils in order to avoid scratching the pan.
You may also want to keep in mind that some food items are not well-suited to a square nonstick pan. One Amazon user, for example, posted photos of how fried eggs looked, and the results were less than ideal. The egg did not stay together as it seemed to ooze around the pan. A small nonstick pan may have been better in that case.
It's not actually copper
Although the name "Copper Chef" would imply to most consumers that pan is made of copper, the product FAQ clearly states that "The pan is copper colored, coated aluminum with a steel induction plate." If you were hoping to find an actual copper pot, this is not the product for you. You may be interested in Foodal's guide to selecting the best copper cookware. On the bright side, because it isn't copper, you don't have to polish it the way real copper cookware must be maintained.
The handle is hollow, which allows it to cool faster than the rest of the pan. Although hollow handles such as this do sometimes allow for it to be handled without an oven mitt, this isn't always the case. We'd recommend an oven mitt or pot holder when handling Copper Chef.
Eric Theiss
Copper Chef Pan is promoted by celebrity chef Eric Theiss. He has also been featured in other As Seen on TV products such as the Power Pressure Cooker XL, and has also been seen pitching products on QVC. He is known for providing on-air demonstrations of culinary brands and has assisted in the development of products for other celebrity chefs such as Rachael ray and Paula Deen. Oddly, the commercial above doesn't mention Theiss, who is prominently displayed on the official product website. It isn't stated if Theiss actually helped develop the Copper Chef pan, or if he merely endorses it (the website implies the latter, reading "endorsed by Eric Theiss, chef and culinary expert").
Does it Work?
It seems odd that so much discussion online has occurred among consumers who have not actually used the pan. Those impatiently waiting the arrival of their orders seem to be the most vocal group of consumers, but in many cases they don't go back to update their negative review after receiving the product.
Sponsored Links



Those who have used it, along with our researchers, generally characterize Copper Chef as a product that works as advertised, although we feel it is somewhat expensive. The pan is deep, and the surface does provide an excellent nonstick coating. Cleanup is generally easy, although there are some types of foods which require a bit more work to remove, despite the nonstick coating. The ability to steam food is a nice plus, although some purists will maintain that it can't completely replace a dedicated steamer.
Copper Chef will provide a generally positive cooking experience to those who have realistic expectations.
As far as the extras go, the recipe booklet feels like it was thrown together as an afterthought, and the up-sold utensils are more flimsy than we expected.  The fry basket is probably the most useful inclusion, while the steam & roast rack will probably only be used on rare occasion.
Upselling and Slow Shipping
When you call, be prepared to fend off a slew of up-selling offers. While this isn't unique to Copper Chef, it has been reported as a nuisance by consumers – with some customers stating that it took up to a half hour to actually place their orders. You may find that ordering from the product website is much less of a hassle. While other items are suggested while ordering from the website, you don't have to argue with a salesman to complete your order.
Another complaint by some customers is that of slow shipping. While this is not directly related to the merits of the product itself, slow shipping often prompts angry customers to go online and create negative reviews for the product. Some customers have said that it took 6 weeks to receive. This is in stark contrast to the Copper Chef site which claims that standard delivery time is 7 to 10 business days.
Similar Products
There is no shortage of alternative products to Copper Chef. A search of Amazon will yield a plethora of choices, such as the Rachel Ray Square Deep Griddle or the VonShef square grill. Local retailers such as Bed Bath and Beyond or JC Penny have excellent options that you can evaluate in person before making your final decision. You may want to browse all of the other copper pans available at Amazon to see what other users are saying.
Another copper pan currently advertised on television is Red Copper Pan, which you can see our full review of here. There is also Gotham Steel, which is quite similar to Red Copper Pan, although it is made of ceramic and titanium. See our review of Gotham Steel here.
Epic Conclusion
Copper Chef Pan is certainly a viable choice to add to your culinary arsenal. Be aware that it is not actually copper, and its price is seems high for a single pan made of aluminum. Shipping and delivery complaints should be weighed into your decision as well. Once it becomes available in stores, Copper Chef will be a more attractive option.
You'll find a good deal of online reviews which offer scathing testimonials about the ordering process, billing, or customer service. Those who have actually used it tend to offer a far more positive opinion.
Have you tried the Copper Chef pan? Please give it a star rating and comment below.