Car Cane Reviews: Does it Work?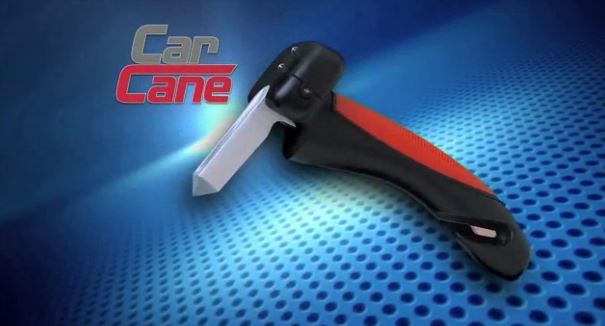 Positives
• Proven design
• Works for most people and cars.
Negatives
• Usefulness varies on placement of latch on each car.
• Fits better in some cars than others
• Slow shipping due to limited/test production
Bottom Line
Car Cane is a proven design which most consumers will find useful. There will be some cars or disabilities which are not a good match for this product, although we feel that will only be in a minority of the cases. There are similar products available, so it may pay to shop around.
Sponsored Links




Car Cane
Car Cane is a product which is inserted into a car door latch, providing a supportive handle while entering or exiting a vehicle.
Sponsored Links




Claims & Features
Portable handle attaches to door latch
Works on any car
Forged steel construction
Can hold up to 350 pounds
Built-in flashlight can last 100,000 hours
Cost & Availability
You can purchase Car Cane from the official website for $19.95 plus $6.95 shipping for a total cost of $26.90. You can add a second unit for another $4.95.
You can upgrade to the Extra Long Deluxe Car Cane for an additional $10.
As of February 2016, you can find Car Cane in stores (typically in the As Seen on TV section) such as Bed Bath and Beyond for about $15. We haven't seen the Deluxe model in stores.
Car Cane Commercial
The TV commercial below is an older version of the spot which began airing in mid-2015. Current versions do not mention the swivel seat as shown below.
Transcript:
Have you ever struggled to get out of the car? Does back or knee pain make it hard? Do you push with your arm when you try to stand? Or ask someone to give you a hand? Then let us help you out with the incredible new Car Cane!

Now you can get in and out of your car with ease. This new portable handle locks instantly into the door latches of any car. Simply open your door and snap it on. Car Cane locks into place and will not move. In fact, Car Cane's forged steel construction can hold 350 pounds! Amazing! Then, Car Cane unlocks and stores away easily in the door or glove box.

If you are recovering from an injury, or suffer from back pain, knee pain, or hip pain, you need the Car Cane! And when it's slippery outside, Car Cane gives you a handy grip so you won't slip.

It's perfect for those tall SUV's, or low compact cars too. So stop struggling and get up with ease.

"It was difficult to get out on my own. Now I carry my Car Cane and help myself."

"My Car Cane gave me my freedom back!"

And look at this! Car Cane has a built-in flash light. The super bright LEDs can last one 100,000 hours!

We guarantee Car Cane is so well built, it will last a lifetime, or your money back! So call and get your Car Cane today for just $19.95 plus processing and handling on this exclusive TV offer!

But wait! Call now and get the amazing Swivel Seat – free, just pay separate processing and handling. This comfy foam cushion uses a unique center cut-out to reduce pressure and provide a soft seat for the driver or passenger. And when it's time to get out, it pivots and turns for an easy exit!

You get them both – the Car Cane and the Swivel Seat! So help yourself out! Get your Car Cane today!
Car Cane Reviews
Car Cane is a clever design which allows drivers or passengers to access a supportive handle while entering or exiting their vehicles. This could be of great benefit to those who are disabled or suffer from chronic back or leg pain. It could also help in such situations where, for example, a very short person is attempting to enter or exit a tall SUV or truck.
The general design of Car Cane is not completely new, with several similar products having been on the market for years (see below). Reviews for these products are overwhelmingly positive.
Sponsored Links



Our product researchers feel that the majority of consumers will be satisfied with Car Cane, as it works generally as advertised in most situations. Because cars and human mobility problems vary so wildly, it is impossible for such a product to sport unanimously positive praise, however.
There are, of course, some limitations to such a product. Although the website states that it works with any car, there are certain models of vehicles which do not hold the Car Cane as securely as others. In the case of a loose fit, Car Cane could be wobbly or dig into the door frame. Indeed, the steel point may be best served to include a rubber tip, as it could scratch the door frame in certain car models.
Every person and disability is unique, so the usefulness of Car Cane will depend on the individual user. While we feel most consumers will find it to be useful, there will be some who do not like it. There could be situations where a person cannot reach Car Can with their dominant hand, for example, or perhaps cases where a wheelchair may block access to the Car Cane in certain configurations.
Swivel Seat?
You may find earlier versions of the television commercial (such as the one above) which mention a free swivel seat for additional processing and handling. That offer no longer appears in the current advertisements or the website, so it seems that the swivel seat is no longer offered.
Original Complaints: Test Marketing
Based on the limited number of television spots and some initial complaints, it appears that Car Cane – as of mid-2015 – was in a test marketing period. It is common for new products to be test marketed with a small advertising campaign and limited supplies. These products often sell out their limited supply quickly, leaving the remainder of the unfilled orders in back-order status. Complaints of slow shipping and back order status led to some negative initial reviews of Car Cane. Once this is initial problem was alleviated, consumer reviews began focus on the product itself. Now that Car Cane is available in stores, complaints of slow shipping are irrelevant.
Similar Products
There are several products similar to Car Cane available online. A similar item, which is currently a #1 Best Seller on Amazon is the Stander HandyBar which costs about $25 and holds a 4.6 star rating as of mid-2016.
Epic Conclusion
Car Cane is a proven design which most consumers will find useful. There will be some cars or disabilities which are not a good match for this product, although we feel that will only be in a minority of the cases. There are similar products available, so it may pay to shop around. Purchase locally to avoid shipping delays and costs.
If you've used Car Cane, please give it a star rating and comment below.
Updated August 2016