Brookside Chocolate Review: Worth the Hype?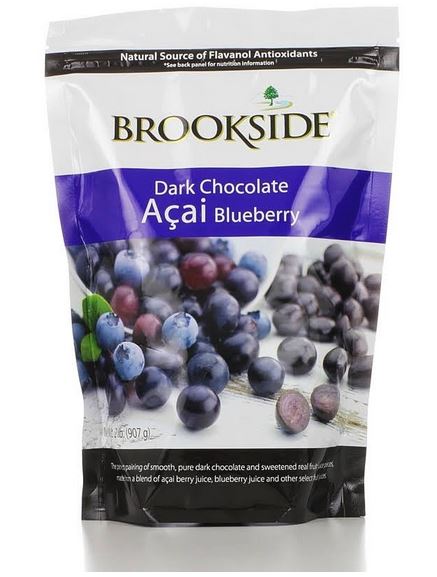 Positives
• Excellent taste
• Highly rated
Negatives
• Centers do not actually contain a fruit
• High sugar content
Sponsored Links




Brookside Chocolate
Brookside Chocolate is a line of chocolate covered snacks and fruit-nut bars.
Sponsored Links




Claims & Features
Fruit-flavored chocolate covered snacks include Acai & Blueberry, Pomegranate, Goji & Raspberry
Crunchy cluster snack flavor includes Berry Medley
Whole fruit snack flavor includes Cranberry
Fruit & Nut Bar flavors include Cherry with Pomegranate, Cranberry with Blackberry, Blueberry with Acai
Cost & Availability
Brookside Chocolates are widely available in stores ranging from Walmart to Office Depot.
Most varieties come in .07 oz, 3 oz, 7 oz, 21 oz, and 2 lb sizes.
A 7 ounce bag of chocolate covered snacks cost around $4, while a 21 ounce bag runs about $21. An 18 count of fruit and nut bars cost around $30. There are a variety of sizing options available, so it will pay to shop around. You can also find several sizes on Amazon or other online vendors.
Brookside Chocolate Commercial
The TV commercial below has been airing as of August 2015.
Brookside Chocolate Reviews
Brookside Chocolates have been around for a number of years but the product is currently engaged in an advertising campaign extolling the virtues of its chocolate-covered fruit snacks.
Although there are a number of flavors offered, the overall product line has a similar presentation. The bags have similar designs, and the individual snacks are similarly manufactured.
Sponsored Links



It may be worth mentioning that snacks such as "blueberry" or "acai" do not actually contain those berries in the center, but rather flavored fruit blends. There is also a somewhat high amount of sugar, which may be of some concern for those who are seeking out fruit snacks.
For those who aren't concerned with the sugar content, Brookside Chocolates do not disappoint. Virtually every offering has amassed high ratings online, typically in the 4.5-star range.
The texture is perhaps surprising to those who may be expecting a berry wrapped in chocolate. The fruit blend is more akin to a gummy worm.
Similar Products
One product which closely resembles Brookside Chocolates is Kirland Dark Chocolate Super Fruits. These are sold in similar bags which contain chocolate covered fruit centers.
Epic Conclusion
Brookside Chocolates are delicious gummy-like fruit flavored pieces wrapped in rather sugary dark chocolate. They are widely available and can be sampled in small sizes before investing in larger quantities.
If you've used Brookside Chocolate, please give it a star rating and comment below.