Bright Time Buddies Review: Glowing Character Light for Kids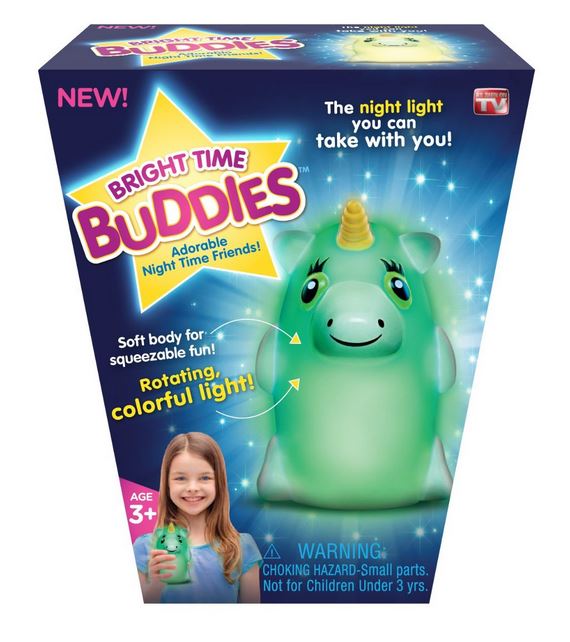 Positives
• Emits a pleasant glow
• Portable, can be held like a flashlight.
• Durable, soft plastic material
Negatives
• Adapter not included
• Paint feels cheap
• Not available in stores
• Complaints of slow, inconsistent order
Sponsored Links




Bright Time Buddies
Bright Time Buddies is a line of electric character night lights for kids which emit a soft glow.
Sponsored Links




Claims & Features
Night light that can glow green, blue, or yellow
Six different character designs
Emits a soft glow
Soft body
Cost & Availability
Bright Time Buddies is available from the official product website for $14.95 plus $4.95 shipping. A 2nd buddy is also included for an additional $4.95, bringing your total to $24.85.
It does not appear to be in stores as of this writing. If you've seen Bright Time Buddies for sale in stores, please drop us a comment below.
Bright Time Buddies Commercial
The TV commercial below has been airing as of July 2015, although the version below shows a different shipping cost than currently advertised.
Bright Time Buddies Reviews
It appears that this product was initially marketed in 2014, but disappeared only to reappear in 2015. This soft plastic LED night light features several animal designs, and is marketed as a way to help your child fall asleep. In addition to working as a night light, it can be held while walking to double as a flashlight if your child needs to get up in the middle of the night.
Sponsored Links
Bright Time Buddies offers a pleasant glow, regardless of the color being emitted. The plastic is soft, yet durable as advertised. The option to rotate colors or keep a single color is a nice touch. The paint on the product appeared, however, to be one of the downsides, feeling "cheap" as if it could come off easily, while possessing a "sticky" feel.
Oddly, there is a place for an AC adapter, but no adapter is included. Thus, most consumers will be relegated to using AAA batteries. While this helps make the product more portable, it makes less sense to use batteries if the product is simply residing on a nightstand next to a bed all night.
There is an option to upgrade to a Deluxe version, although we have not evaluated that particular item. Some consumers who purchased this product earlier in 2015 stated that they waited inordinate amounts of time for the Deluxe model, only to receive the standard item due to "high demand" for the more expensive unit. You may want to keep those complaints in mind if considering the Deluxe model.
Some consumers have reported problems in the shipping and billing process, sometimes receiving less items than ordered, or not receiving the Deluxe model. Once the product becomes available in stores, these shipping and billing problems should be eliminated.
Similar Products
Glowing or light-up As Seen on TV products for kids have been on television seemingly nonstop for the past several years. You may remember such products as Flashlight Friends, Bright Eyes Blanket, and Glow Pets, just to name a few recent offerings. Several commenters online have pointed out that a product called Spoka looks and performs similarly to Bright Time Buddies. That product is very highly rated and has been around for at least 4 years years. There is another As Seen on TV nighttime pet called Bright Eyes Pets which is plush and offers several interactive sounds.
Epic Conclusion
Bright Time Buddies is a moderate entrant in the As Seen on TV bedtime product category. It is by no means perfect, lacking an AC adaptor and featuring paint that feels sticky, but once it becomes available in stores it will be a good product to evaluate and consider for purchase. Perhaps most of all, kids seem to like the product, despite a few flaws.
If you've used Bright Time Buddies, please give it a star rating and comment below.