Personal Pedi Review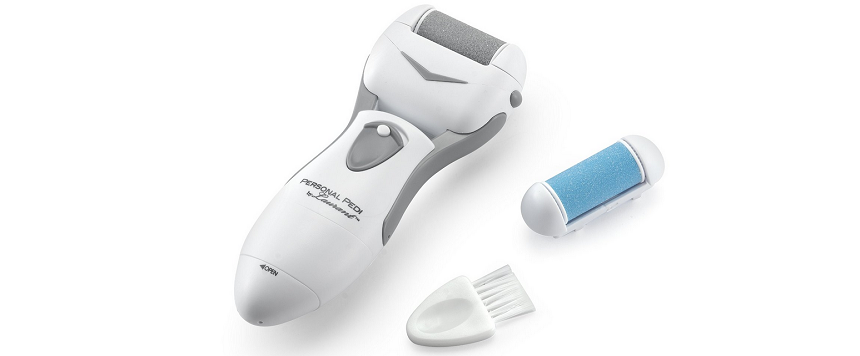 Sponsored Links




Reviews of Personal Pedi, a battery-powered handheld device that removes calluses from the feet and hands by way of a mineral roller that spins at 2500 RPM.
Sponsored Links




Personal Pedi
The Laurant Personal Pedi is a handheld electronic appliance that provides a callus-removing pedicure to the hands and feet. It runs on 2 AA batteries (which are not included with purchase of the unit) and features a mineral roller that rotates at a rate of 2000-2500 revolutions per minute (RPM) to removes calluses and buff the skin. Dimensions of Personal Pedi are listed as 6 1/4″L x 2 1/4″W x 1″D.
Aside from the mineral roller, Personal Pedi also comes with a buffing/smoothing/polishing roller.
Personalpedi.com is the official product website.
Cost and Availability
Personal Pedi by Laurant is available to order from the product website.
Ordering Personal Pedi costs $19.95 with a $7.95 shipping and handling charge (S&H) for a total of $27.90.
For an additional S&H fee, consumers can opt into buying a Replacement Remover Roller and a Smooth and Polish Roller (total = $35.85). This offer also comes with a Lifetime Replacement certificate for both rollers.
A sales tax is added to order shipping to Connecticut and/or Nevada.
According to the Personal Pedi website, delivery time is estimated to be 2-6 weeks.
Purchase of Personal Pedi comes with a 90-day money back guarantee (minus S&H).
There is a separate Personal Pedi page/site devoted to Canadian orders.
Claims and Features
Conveniently removes calluses from the feet and hands.
Skin appears smooth and polished after usage.
Personal Pedi is easy to disassemble and clean.
The unit is waterproof and can be used in the shower.
Personal Pedi TV Commercial
Here is a transcript of the above commercial:
Are you embarrassed by your constant losing battle with callused feet? You tried filing and scraping, and your feet still are not smooth.

Introducing the amazing Personal Pedi! Just one press, and Personal Pedi does all the rest. You just roll the callus away with the rotating micro-mineral that quickly removes hard, ugly calluses, leaving your feet callus-free!

Then, finish with the buffing roller. Buff, smooth, and massage your feet. It looks and feels so good! Look, you went from this, to this, and it felt like a foot massage! And to clean, remove the roller and rinse under water.

The secret is the 2,500 RPM rotation of the mineral roller, that loosens and lifts the hard, ugly calluses. The smoothing roller leaves a polished, perfect look and feel!

"When I first used the Personal Pedi, I knew it was the real deal. It saves time, it does a great job, and my feet feel so good, and I'm not afraid to wear my sexy heels again."

This revolutionary foot care system is waterproof, so you can use it right in the shower.

"I just don't have time to battle with my calluses all day. Now that I can do it in the shower, it's part of my daily routine!"

Just look at the difference!

"I cannot remember the last time my heels were soft. Now with my Personal Pedi, they look and feel amazing."

With the Personal Pedi, you can even remove those stubborn hand calluses. Look, gone right before your eyes!
Personal Pedi Reviews
One of our product testers had the opportunity to use a Personal Pedi for several days. The male tester found the Personal Pedi motor to be satisfactory for removing his calluses, and reported that the trick to using the device is application of the correct amount of pressure. Applying too much pressure will provide noticeably substandard results, is a strain on the motor, and will deplete the batteries quicker.
Sponsored Links



He felt that creating a rechargeable Personal Pedi unit that does not operate on batteries would be a potential upgrade that would improve the value of this product.
Our tester also found that using the Personal Pedi could be messy, and recommended using it while showering or over a covering which would catch dried skin before it fell to the floor.
On the less positive side, the tester found that using Personal Pedi was somewhat more time consuming that expected, and that the buffing/smoothing/polishing roller was rather ineffective.
Overall, Personal Pedi appears to have mixed reviews online with a slight tendency towards the positive.
A considerable number of the negative user reviews claim that the motor which powers the roller on the Personal Pedi is weak, burns out easily, and/or that the batteries drain rather rapidly, yet these reviews are a minority, and may be due to applying too much pressure during usage.
Alternatives
There are currently a number of alternate products on the market that will remove calluses.
Manual
A variety of manual handheld callus scrapers can be purchased at Wal-Mart for several dollars. Sometimes similar generic devices can be found at a dollar store for $1.
Ped Egg – Manual egg-shaped callus scraper.
Callus Clear – Callus-softening cream that is supposed to lift calluses off the skin.
Powered
Ped Egg Power – Very similar to the Personal Pedi.
Emjoi Micro-Pedi – Highly-rated callus remover that comes in a couple different models and retails for $30-$40.
Amope Pedi Perfect – Another similar product that seems to be highly-rated by users. Also retails for approximately $40.
Epic Conclusion
Personal Pedi by Laurant is a handheld accessory that features a battery-powered mineral roller to eliminate calluses. Our product tester found the Personal Pedi to work generally as advertised when an appropriate amount of pressure was used. However, the buffer roller did not seem very effective, and the callus removal process can be messy as well as time consuming. Some users have claimed that the Personal Pedi motor is not powerful enough, will burn out if over-applied, and/or that the battery-life is too short.  A wide variety of other callus-removal products are available on the market.