Miracle Copper Socks Review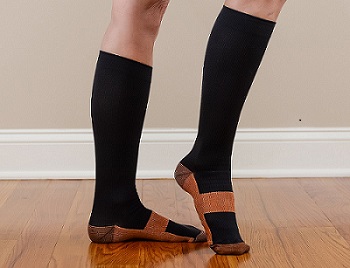 Sponsored Links




Reviews of Miracle Copper Socks, socks which makes use of graduated compression combined with copper infused fibers to impart several positive benefits.
Sponsored Links




Miracle Copper Socks
Miracle Copper Socks are yet another entrant into the expanding market of copper infused compression wear. These socks use a combination of copper infused fibers and graduated compression that starts at the ankle and steadily increases in tightness as they go up the leg. The copper infusion combined with the graduated compression is supposed to grant the wearer benefits which include the antimicrobial features of copper, enhanced circulation, swelling reduction, and some pain relief.
There are two sizes of Miracle Copper Socks:
S/M (men 5-10, women 6-10)
L/XL (men 10-12, women 10-13)
Registered in January of 2014, the official website for Miracle Copper Socks is miraclecopper.com
Cost and Availability
Miracle Copper Socks are available to order from the product website as well as in stores such as Walgreens and Bed Bath & Beyond.
On the Miracle Copper Socks website, the price for a pair is $12.99 plus a processing and handling (P&H) fee of $6.99 for a total of $19.98. For an additional P&H fee of $6.99, they will send you a second pair of Miracle Copper Socks (total = $26.97), but consumers can opt out of this offer.
A $1 web service fee is also added to all orders.
Orders being delivered to NJ and CA are subject to a sales tax (7% for NJ and 8.25% for CA).
An additional P&H fee of $4.99 is added to each pair of Miracle Copper Socks that are shipping to AK, AS, HI, FM, GU, MH, MP, PR, PW, and VI.
Sponsored Links
Included with purchase of Miracle Copper Socks is a 60-Day Money back Guarantee (minus P&H).
In stores, a pair of Miracle Copper Socks costs about $13.
Claims and Features
Comfortable
Copper's antimicrobial property manages foot odor
Increases circulation
Decreases swelling and stiffness
Soothes pain
Miracle Copper Socks Commercial
Below is the Miracle Copper Socks commercial which has been airing nationally:

Reviews
Miracle Coppers Socks appear to be positively rated by many online reviewers. While compression stockings are arguably thought to improve circulation, reduce swelling, and possibly relieve aching (see this Medicine Plus page which is a service of the U.S. National Library of Medicine and the National Institutes of Health), the benefits of wearing copper are less scientifically verifiable. It is possible that some costumers may perceive certain benefits which they might attribute to copper, yet any real benefits are likely to come from the compression aspect of Miracle Copper Socks.
Some reviewers have reported that Miracle Copper Socks are difficult to put on. The Medicine Plus page linked above claims that compression garments can be hard to don, and they offer several tips to ease the process.
The fact that Miracle Copper Socks only come in two sizes may exacerbate this problem for some people.
Similar Products
There are a number of compression stockings on the market such as Copper Fit Socks and the Tommie Copper line which includes socks.
Copper Fit Socks have a lower price tag than Miracle Copper Socks, but Copper Fit Socks are small and hardly extend past the ankle while Miracle Copper Sock extend well up the calves.
Tommie Copper has a variety of different compression socks and stockings available, yet most are higher priced than Miracle Copper Socks.
Epic Conclusions
Miracle Copper Socks are graduated compression stocking imbued with copper fibers. They appear to be highly rated in many online user reviews. There is scientific evidence linking compression stockings with a number of health benefits, but health benefits from wearing copper has not been properly scientifically documented. The market contains a growing number of similar compression stocking products, so it may be advantageous to explore numerous options.