Jeaneez Reviews: Are They the Right Fit?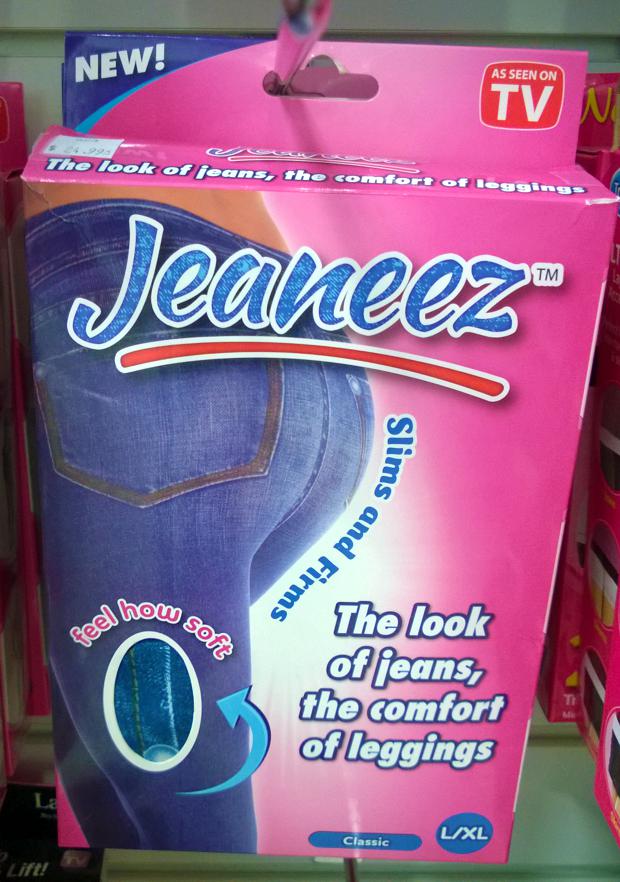 Reviews of Jeaneez, springy leggings that have a realistic print of designer jeans on them. The product is said to shape the legs and glutes with comfort and style.
Sponsored Links




Jeaneez
Jeaneez (pronounced "genies") are "jeggings" that have a photo-realistic imprint that makes them look like designer jeans. Jeggings are essentially flexible leggings which are made to look like jeans.
Some of the marketing appeal of Jeaneez seems to be in the comfortable "compression zones" which sculpt the thighs, hips, and bottom so they appear firmer and slimmer. Another selling point seems to be that they are more comfortable and reasonably priced that designer skinny jeans.
Jeaneez comes in three different styles:
Stone Blue
Stone Black
Distressed
There are two sizes of Jeaneez:
S/M – sizes 4-10
L/XL – sizes 12-18
The official product website is jeaneez.com
Cost & Availability
Jeaneez are available to order from the website, and in some stores.
Jeaneez come in sets of three that includes one of each style (Stone Blue, Stone Black, and Distressed). There is no way to opt out of this "buy one, get two free" offer. Consumers are simply asked, "How many sets of 3 would you like?"
Online, the current price for a set of three Jeaneez is $19.95 plus a processing and handling (P&H) fee of $7.95. Customers are then charged an additional P&H fee of $7.95 for the Stone Black and Distressed Jeaneez for a grand total of $35.85. This breaks down to $11.95 per pair.
Sponsored Links
At the bottom of the order form, there is an option to purchase shipping insurance for an additional $1.99. Orders with the added shipping insurance will total $29.89
Tax is added to orders from Florida and California.
Costumers ordering from Guam, Puerto Rico, Hawaii, US Virgin Islands, or Alaska must pay an additional $9.95 for P&H.
According to the Jeaneez website, all orders are shipped out within 30 days by way of UPS. Included with purchase of Jeaneez is a 30-Day Money Back Guarantee/return policy (minus P&H).
A disclaimer on the Jeaneez website proclaims that all orders must come from people who are at least 18 years-old.
You can find Jeaneez in some stores for about $20-$25.
Claims & Features
Comfortable and stylish
Shapes the upper legs and bottom
No zippers or buttons
Designed to withstand twists, tangles, and kinks
Jeaneez Commercial
Below is a Jeaneez commercial which is currently airing nationally.

Reviews
Jeaneez appear to have mixed reviews from users who have posted their thoughts online. Roughly half the reviews are glowing 5-star reviews claiming that they are comfortable and look great.
The other half of available reviews are contradictory claiming that Jeaneez are not as comfortable as advertised and/or the "photorealistic 3D" print that are supposed to look like designer jeans is not very realistic looking. A good deal of negative reviews also focus on slow shipping from the product website.
Since there are only two sizes (S/M and L/XL), finding the right fit seems to be a concern. Medium-sized women appear to benefit from Jeaneez the most, as they will probably feel the most comfort from the "light compression zones" which shape the upper legs and bottom.
A common problem with some of these newer products that are sold on television is that they get back ordered, and costumers end up waiting longer than expected for their orders to arrive. It is possible that some Jeaneez purchasers have experienced this, or are experiencing this now as they await the arrival of their orders.
Similar Products
There are a number of "jeggings" on the market that are similar to Jeaneez. One similar product is Genie Slim Jeggings.
Genie Slim Jeggings are leggings that appear like skinny jeans, and are marketed more towards plus size woman. Genie Slim Jeggings are similarly priced and come in four sizes instead of just two.
Shopping for "jeggings" locally may be a good option, as shipping issues (cost and time) can be avoided and consumers can tangibly examine what they are buying.
Epic Conclusion
Jeaneez are "jeggings" that have an outer layer that is supposed to make them look like designer jeans. Reviews of Jeaneez are mixed with some reviewers saying they are comfortable and nice looking, while others claim they do not really look like jeans and are somewhat uncomfortable. Only two sizes of Jeaneez are available which may cause be the cause of some comfort issues. Orders for Jeaneez may also be currently backlogged, but you can now find it in stores which should alleviate this problem. If sizing or shipping times is a concern, it may be best to shop locally.
If you've tried Jeaneez, please leave us a comment below.