J-Animals Wearable Stuffed Animals Reviews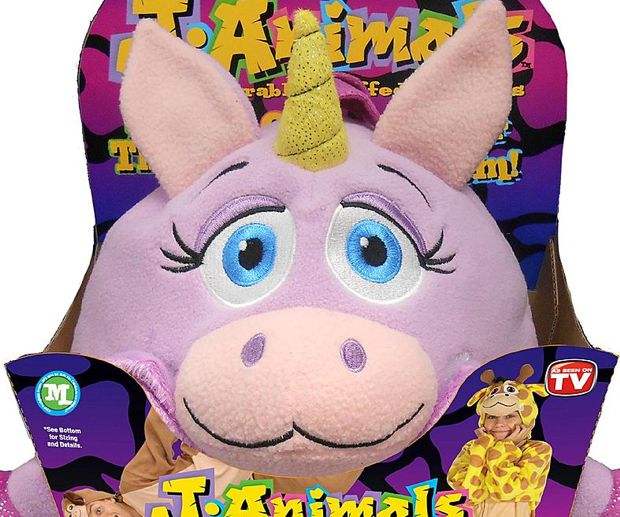 Sponsored Links




J-Animals are said to be "wearable stuffed animals" which are advertised on television. What do consumers say about it?
Sponsored Links




J-Animals
Sometimes written as "Janimals," this product has a catchy jingle and advertises the product to kids and adults. It may be described as a cross between pajamas and Halloween costume, and it marketed as something silly to wear in public.
Cost and Availability
Online: Ordering Janimals from the website will cost $29.99 plus $9.99 processing and handling. This amounts to $39.98.
In stores: Janimals are available in retailers, typically found in the As Seen on TV section, for about $30. Look for the product at Toys R Us, Kmart, Target, Walmart, and others.
Sponsored Links
Claims and Features
Three sizes: Small (36-42″), Medium (42-60″), Large (60-66″)
Five designs: Cat, dog, zebra, giraffe, unicorn
Starts as a stuffed animal, but rolls out into a wearable suit.
Machine washable
100% polyester
Commercial
The commercial below has been airing throughout 2014. It seems to have received as much scrutiny as it has adoration.
J-Animals Reviews
Janimals can be worn by kids during the daytime if they want to be silly, but will likely be worn by many at night as pajamas (although a disclaimer notes that it is not intended to be worn as sleepwear). The television advertising suggests wearing Janimals to the mall or the supermarket, but this does not seem to be an embraced use for the product.
Although the advertising shows adults sporting Janimals, and the website claims that sizes are available to fit ages "5 to 105," it should be pointed out that the largest size is only designed to fit someone no taller than 5'5″.
The product is made of soft fleece
Oddly, this product can be found online at a variety of vendors, such as Target or Bed Bath and Beyond, but most product pages have little or no consumer reviews at all.
Similar Products
Janimals was likely designed to tap into the cosplay phenomenon, which is the wearing of costumes by older kids and adults. As this review points out, Canadian website kigurumi.ca offers a rather extensive catalog of costumes for kids and adults, many which are similar to Janimals.
Epic Conclusion
Janimals are a sort of cross between pajamas and Halloween costume. While the advertising urges kids to wear them anywhere, it's like that the product will receive most of its use around the house.