Finishing Touch Elite Review: Does it Actually Work?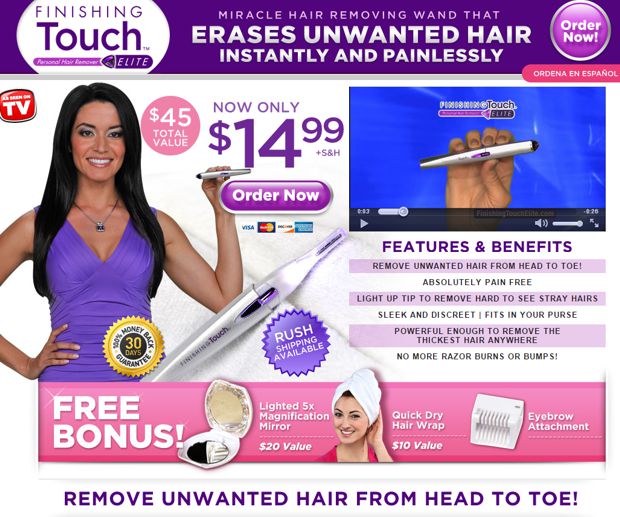 Finishing Touch Elite is a personal hair remover which has been advertised on television as a way to remove hair "from head to toe." Today we'll look closer at this product and compare it to similar hair removal devices.
Sponsored Links




Finishing Touch Elite
This personal groomer has been marketed on television since late 2013. It is advertised as a compact groomer which can be used by men and women. The product is said to be pain free, yet tough enough to remove even thick, coarse hair. It uses one AAA battery, which is included.
The official website is finishingtouchelite.com. This domain was registered in December 2012.
Cost and Availability
If you order from the product website, Finishing Touch Elite will cost you $14.99 plus $6.99 shipping, for a total cost of $21.98. Bonuses include a lighted mirror, quick dry hair wrap, and eyebrow attachment.
The older model, the Finishing Touch Personal Hair Remover, is available in local and online retailers for about $10. This model does not include the three bonuses listed above. We have seen Finishing Touch Personal Hair Remover on sale for as low as $5.97 at Walmart. It may pay to shop around.
Claims and Features
Remove unwanted hair "from head to toe"
Pain free
Light up tip
Compact design allows for easy carry
Can remove thick hair
No razor burns or bumps
Can be used on sideburns, legs, lip and chin, eyebrows, neck, bikini line, and arms.
For men or women
Finishing Touch Elite Commercial
The commercial below has been airing as recently as December 2014.
Reviews
Sponsored Links
It should first be pointed out that Finishing Touch Elite has a predecessor known as Finishing Touch Personal Hair Remover, and the two products are often presented interchangeably in search results. Because both products have been available for some time, reviews are readily available. As of December 2014, the following ratings can be found:
Amazon: 3.2 stars for the Elite model
Ulta: 3.1 stars for the older model
Walmart: 3.0 stars for the older model
Those who express favorable opinions of the product tend to point out its ability to remove hair and its compact design. A few consumers have stated that the tip is rough and may not provide as close of a shave as they expected. Reviews for both the Elite and the older model slightly lean toward a favorable rating.
Finishing Touch Elite vs Personal Hair Remover
It is difficult to determine the difference between the older Finishing Touch Personal Hair Remover and the newer Finishing Touch Elite. Both include a light, pivot head, and make essentially the same claims. The only differences appear to be minor design changes.
There is another "Finishing Touch" product which has also been marketing on television in late 2014, the Finishing Touch Yes! hair removal device. Unlike the Finishing Touch Elite, the Yes! model is a combination razor/light sensor which is comparable to an electric razor.
Compared to Similar Products
Perhaps the most similar product to Finishing Touch Elite is the Micro Touch Max personal hair trimmer. This product features a tilted head, lighted tip, and similar compact design. While Finishing Touch Elite is primarily marketed to women, Micro Touch Max is largely geared at male viewers (especially with the addition of Brett Favre as its spokesman).
Perhaps the similarity in these products is not accidental, as they are both marketed by IdeaVillage Products Corp., a large As Seen on TV marketing company.
Epic Conclusion
If you are on the fence, you may be best served by picking up the older Personal Hair Remover locally for less cost and without shipping costs or delays. While reviews appear somewhat mixed on this product, positive reviews seem to slightly outweigh the negatives ones. Men may want to take a look at Micro Touch Max, which appears to be the "male" version of this product.