Curl A Dog Reviews: Does it Work?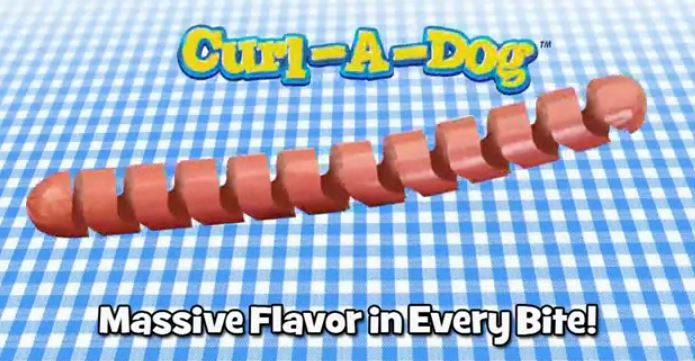 Curl-A-Dog is an As Seen on TV product which allows hot dogs to be prepared with "flavor pockets" for "maximum flavor."
Sponsored Links




Curl A Dog
Curl-A-Dog is a plastic mold which slices "flavor pockets" into hot dogs, which is said to create better flavor and allow more even cooking. You place a hot dog into the mold, push down, insert a skewer, and close the lid. This creates notches in the hot dog which the marketing claims to improve taste and cooking thoroughness.
The official product website is curladog.com.
Cost & Availability
If you purchase from the official website, Curl-A-Dog costs $9.95 plus $4.95 shipping. A $1 "Web Service Fee" is also added to all orders. You can also purchase a second "free" set for another $4.95 shipping, which brings your total order price to $15.90 if you don't get the second set, or $20.85 if you do get the second set.
Each set includes 1 large Curl-A-Dog, 1 Regular Curl-A-Dog, 2 skewers, and 20 recipe ideas.
As of this writing, we have not seen Curl-A-Dog in stores. If you have, please drop us a comment below. Based on our experience, we would estimate the in-store cost to be about $10 if and when that occurs.
Claims & Features
Gourmet-tasting hot dogs
Flavor pockets hold condiments for maximum flavor
Hot dogs cook more thoroughly
Curly edges for more grilled flavor
Dishwasher safe
Curl A Dog Commercial
The TV commercial below has been airing (as of this writing) in May 2015.
Curl A Dog Reviews
Perhaps the biggest challenge in the marketing of Curl-A-Dog is that it doesn't really solve a problem, but rather offers an alternative way to prepare hot dogs. This has already been addressed by a variety of other hot dog and sausage slicers which have existed for years (see below).
Sponsored Links
That said, our product researchers have looked closely at this product and expressed confidence that Curl-A-Dog will perform to the satisfaction of most consumers. Its simplistic design is virtually foolproof.
Our only concern in our initial evaluation of the product is that it appears – based on the small number of advertising spots – to be in the test marketing phase. It has been our experience that new As Seen on TV products are notoriously slow in shipping the initial orders. Early reviews of such products are often negatively skewed by angry customers who did not receive their order in a timely manner.
Similar Products
Curl-A-Dog offers a similar end product to other hot dog and sausage spiral cutters which have been available for years. While the steps and designs are different, these curled hot dogs are not unlike that achieved by the Outset Hot Dog Spiral Cutter or the Cyclone Hod Dog Slicers, both of which are less expensive than Curl-A-Dog.
Epic Conclusion
Curl-A-Dog is a slightly different design for achieving curled, notched, or spiraled hot dogs. While the concept isn't new, we are confident that the product will perform as advertised. Because it is a fairly new product with only limited advertising, it could be in the test marketing phase, which means shipping could be slower for initial orders.
If you've used Curl-A-Dog, please give it a star rating above and leave us your thoughts in the comments below.