New York New York Las Vegas: Reviews and Tips for 2016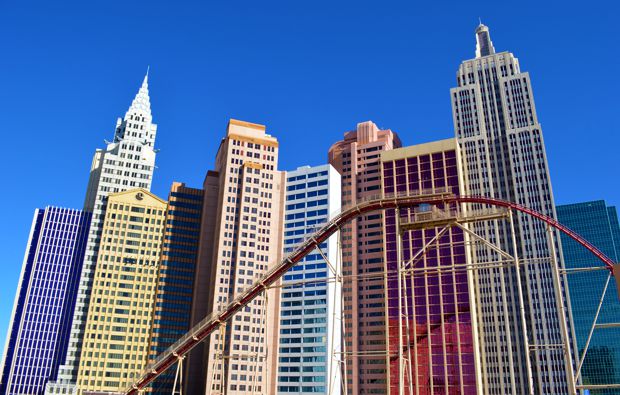 Positives
• Immersive "New York" theme
• Prime Strip location
• Ample parking
• Clean, quiet rooms
Negatives
• Doesn't feel as modern as some of the newer mega resorts.
• Check-in can be slow during peak hours
Bottom Line
New York New York still has enough to offer, and is worthy of a visit for first-timers.
Sponsored Links




History
This themed resort was built in the 1990's and brought a taste of the Big Apple to Las Vegas. Its reverence of New York has itself become an iconic part of Sin City. New York New York Las Vegas is more than just an interesting building with a Statue of Liberty replica, however. Inside the walls of this "city" you'll find shows, gambling, fine and casual dining, shopping, plus an arcade and roller coaster. Despite being nearly two decades old, the resort has not rested on its 1997 laurels, undergoing several improvements and expansions over the past 19 years.
Sponsored Links




New York New York Fast Facts
Opened: January 3, 1997
Cost to build: $485 million
Recent renovation: 2014
Rooms: 2024 (includes 104 suites)
Towers: 12
Casino Space: 84,000 sq ft
Total space: 2,417,643 sq ft
21,000 sq ft meeting and convention space
Rewards program: M life
Race and Sports Book: Yes
Wedding Chapel: No
Hotel Facts
Resort Fee: $33.60
Check in time: 3pm
Check out time: 11am
Early Check in/Late Check out: $20 each
Amenities: Hair dryers, irons and boards, spa, salon
No coffee makers. Ironing boards available upon request.
Standard rooms are around 400 square feet, while suites range from 700-1100 square feet.
Pet Policy: No pets allowed.
March 2015 TripAdvisor Rating: 36 out of 267 hotels (4 stars)
Parking: Garage access from Tropicana Blvd.
New York New York Las Vegas Tour
This is a text description of our 2014 video tour of New York New York Las Vegas found below.
Our tour begins at Nathan's Hot Dogs, and continues down the escalator into the main casino area. We pass restaurants Il Fornaio and America before arriving at the front desk. This is followed by the entrance to the street level of the Las Vegas Strip. After a high limit area, cashier, and player's club, we encounter a couple of shops.
From here, we take the escalator upstairs, where you'll find more food, bars, Coyote Ugly, a magic shop, and the exit to the Excalibur. Heading back into the resort, we pass the upstairs entrance to Hershey's Chocolate World and a gift shop.
Back on the casino level, we encounter the main level of Hershey's Chocolate World, followed by the aptly-themed bar called The Chocolate Bar, which features chocolate-inspired cocktails. We then pass the Irish pub Nine Fine Irishmen, followed by the stores Stupidiotic, Swatch, and I Love NYNY.
After passing the Race & Sports Book, we enter the food court known as Village Streets, where you'll find an array of New York-themed street food. This leads us to the Zumanity theater. We head back upstairs to the arcade and a look at The Roller Coaster.
The video backtracks to catch a couple of locations missed in our perimeter sweep, including the Bar at Times Square in the center of the casino. Finally, we take a stroll outside of the resort along the promenade and Brooklyn Bridge, before finishing with a quick peek at the hotel pool.
New York New York Highlights
Many of the highlights of the New York New York are visual representations of real landmarks in New York, such as:
12 resort towers built to resemble New York's famous skyscrapers:

The Empire State Building: 45 stories
The Century Building: 41 stories
The Seagram Building: 30 stories
55 Water Tower: 36 stories
Lever House Soap Company: 29 stories
The Municipal Building: 29 stories, plus an 80-foot tower
AT&T Building: 26 stories
The Chrysler Building: 40 stories
CBS Building: 29 stories
The New Yorker Hotel: 34 stories
The Liberty Plaza: 31 stories
The Ziggurat Building: 38 stories
New York New York Review: Editor's Notes

150-foot Statue of Liberty replica
Brooklyn Bridge walkway
A range of options such as Gallagher's Steakhouse, Nine Fine Irishmen, Il Fornaio, Nathan's Famous Hot Dogs, and a buffet. Several reside in the New York-themed "Village Eateries" which offers street-style fares.
Zumanity: A mature Cirque du Soleil show with adult themes and only available to those over 18 years of age. It has been running since 2003, and features sensual and erotic performances. In February 2015, a "reinvigorated" version of Zumanity was announced. Save $39.50 on Zumanity Cirque du Soleil Tickets
Hershey's World: A two-story store devoted to Hershey's chocolate and licensed products. Reminiscent of M&M's World across the street.
Arcade
The Roller Coaster, also known as The Big Apple Coaster (Formerly known as "Manhattan Express"): This 203-foot high roller coaster takes riders through the casino and around the exterior of the New York New York overlooking the Strip. It travels up to 67 mph, covers over 4700 feet, and has a 144 foot drop. The ride lasts nearly 3 minutes.
Tom's Urban: 12,000 feet of modern/casual dining, located on the casino floor near the Brooklyn Bridge. Opened January 2015. (Source)
New York New York Las Vegas Review: Editor's Notes
I was there that cold January night back in 1997 to experience the unveiling of the latest themed casino in Las Vegas. I recall spending nearly an hour waiting in a massive line in the parking garage just to get out of my car. When I finally managed to wade through the crowds and into the resort, my thoughts then were echoed during a more recent visit in October 2014: It's a little slice of New York here in our desert oasis. Sure, it's not the same as visiting the Big Apple, but when you sit on a cobblestone "street" eating New York style pizza next to a steaming manhole cover, there are moments you may forget you're in Las Vegas.
Sponsored Links



New York New York tips its hat to the real thing around every turn, including the 150-foot Statue of Liberty which faces the Las Vegas Strip, Brooklyn Bridge, Central Park, and its 12-building New York-inspired skyline. The Village Eateries is a favorite rest stop for weary gamblers and tourists, offering New York style street eats along a small neighborhood of shops.
Kids of all ages are often found up in the Coney Island arcade, or hopping on The Roller Coaster, which used to be known as The Manhattan Express.
There have been some notable additions to the property since 1997, including the Hershey's Chocolate World, a two-story store dedicated to Hershey's (and Reese's). A prominent ESPN Zone sports bar which used to reside at the New York New York has since closed.
A more recent addition resides between New York New York and Monte Carlo called The Park. It offers dining and bars, and connects to the T-Mobile arena. After several delays, The Park opened on April 4, 2016
Tom's Urban opened in January 2015, offering an eclectic menu of street food.
When I have friends in town who haven't previously been to Las Vegas, I often suggest they visit New York New York, because it's still an interesting trek around the property, even if you aren't a gambler.
Trivia: In 2011, it was discovered that a Statue of Liberty stamp issued by the U.S. Post Office actually used an image of the replica at the New York New York in Las Vegas.
Map
Below is a map showing the location of the New York New York, which sits at the iconic intersection of Las Vegas Boulevard and Tropicana.
---
Latest tweets from New York New York Las Vegas: