Simon Swipe Reviews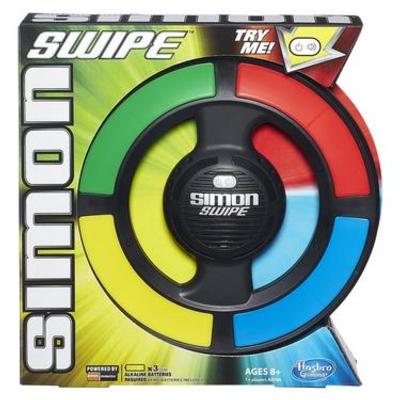 Sponsored Links




Reviews of Simon Swipe, Hasbro's fast moving electronic memory game in which players copy patterns of flashing lights accompanied by sounds.
Sponsored Links




About Simon Swipe
Simon Swipe is an updated version of Hasbro's classic electronic Simon game which was first released in 1978. The toy resembles an electronic steering wheel that is covered in flashing multicolored lights and touch screen technology. It appears that the device is held in one hand (or placed on a flat surface) while the other hand manipulates the touch screens. Loosely based on the game "Simon Says", the idea is to recall and repeat patterns of colors and sounds flashed out by the machine. Recalling exact patterns causes one to move on to increasingly faster levels of game-play while mistakes cause the game to end.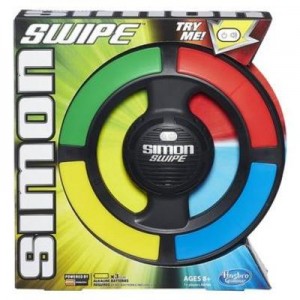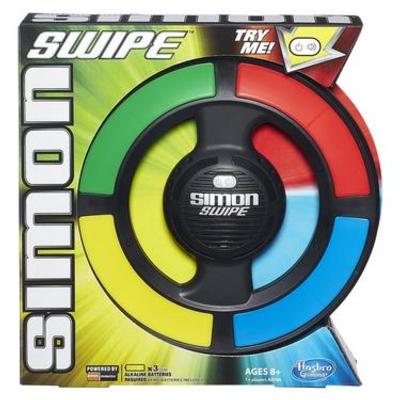 Cost and Availability
According to the Hasbro website, Simon Swipe is available in stores, and the approximated retail value is listed at $19.99. Hasbro lists WalMart, Target, Toys R Us, Kmart, and Amazon as vendor who sell this product, so it appears to be widely available.
Sponsored Links



Claims and Features
Fast-paced electronic game for kids
Ages 8 and up
Four play modes (Classic Game, Levels Game, Extreme Game, Party Game)
16 levels to play through
Party Game mode allows for multi-player gaming
Simon Swipe Reviews
Simon Swipe appears to be well-rated by users who have reviewed the product on sites such as Amazon, Target, and Toys R Us. Often these reviews are in the four and five star range. However, I did notice that a large number of these reviews were provided by people who received the game for free in exchange for a review, and this could result in a positively biased review.
In reading almost all of these reviews, the more positive reviewers claim that the flashing lights and sounds of Simon Swipe occupied their children for a considerable time. Some also point out that the game aids in the development of memory and hand-eye coordination.
Of the negative reviews, which are very much in the minority, several users claimed that the swipe touch screens are somewhat inflexible, and often did not register a swipe if it wasn't performed in an exact manner. Some felt that this lead to children becoming frustrated and ultimately a reduced amount of playtime.
In addition, I read several reviews from users who felt the original Simon game was a higher quality game of sturdier construction, yet as mentioned above, negative reviews were far outweighed by positive reviews.
Epic Conclusion
Hasbro has updated their classic Simon memory game with Simon Swipe. Playing the game involves memorizing and repeating increasingly faster patterns of flashing multicolored lights. Simon Swipe appears to be somewhat similar to the original game, but now contains touch screen technology which allows for the addition of swiping movements. Reviews for Simon Swipe on several websites appear to be quite favorable, but this may be due to a many reviewers who received the product for free in exchange for a review. Games like Simon Swipe probably help in the improvement of hand eye coordination and memory. Nevertheless, a small minority of reviewers felt that the original Simon game was superior, and that the touch screen technology of the new version was somewhat uncompromising.