Secret Color Extensions Reviews: Do They Work?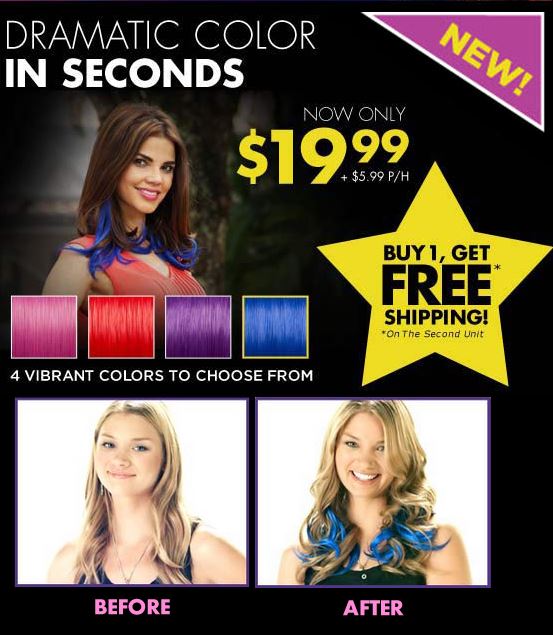 Sponsored Links




Review of Secret Color, colored hair extensions "inspired by Demi Lovato" which can be applied or removed easily with an invisible band.

Sponsored Links




About Secret Color
Secret Color extensions is a type of hair extension which is placed over the head with an invisible hair band and provides an instant addition of color to the wearer's head. The advertising states that it is "inspired by Demi Lovato" who is also seen in television commercials for the product. The official website is secretcolor.com, which was registered in April 2014.
Cost and Availability
Secret Color costs $19.99 plus $5.99 processing and handling. If you purchase more than one, you can get free shipping on the second unit. As of this writing, Secret Color is not available in stores, but on March 2, 2015 a rep on the product's Facebook page stated, "Secret Color will be in Walmart this month." Orders can be tracked at sctrack.com.
Features
4 colors to choose from: Pink, red, purple, and blue
Can be curled or straightened
May be brushed, but not when wet
Removed or adorned in seconds
Made from keratin conditioned fiber
Moves, feels, and looks like real hair
Adds colored highlights to your natural hair
14 inches long, and can be cut to a shorter size
30-day money back guarantee (minus shipping)
Secret Color Advertising
Secret Color extensions have been seen advertising on television, on such channels as MTV. Demi Lovato has also been hyping the product on social media, such as in this video tweeted out by her in February 2015.
Secret Color Reviews
Sponsored Links
Because Secret Color extensions are relatively new, consumer reviews are somewhat scant. Those reviews which do exist tend to fall into one of two categories: Customers who have ordered the product and still await its arrival, and those who have actually tried it. Those awaiting the product tend to leave less than positive reviews, not based on the product, but on the ordering process which has caused some frustration in some cases. Some customers have also said that promo codes entered during the ordering process did not work. The customers who have actually used the product tend to leave more positive reviews. Most of these consumers have stated that the product was about as expected, although it may not look quite like real hair as advertised. You can see several consumer photos of the product on its Facebook page, linked above.
Alternatives
It appears that Secret Color extensions are related to or inspired by Secret Extensions by Daisy Fuentes. That product features a similar headband design and also includes the word "secret" in its name. It isn't clear if these two products are related, but websites for both were created by Digital Target Marketing. There are a plethora of colored extensions on the market, although most of these are clip-in types. A cursory search of Sally Beauty Supplies, for example, yields a set of pink human hair extensions for about $20.
Epic Conclusion
Secret Color extensions are colored headbands which can be easily applied or removed, thanks to an invisible headband. The product appears to be related to, or inspired by, Secret Extensions by Daisy Fuentes. Some reviewers have expressed dissatisfaction with the ordering process, but those who have received it are generally pleased. How realistic they look is up for debate.
Your Reviews
Have you used Secret Color hair extensions? Tell us what you think in the comments below.