Worx Air Reviews: Does it Blow Away the Rest?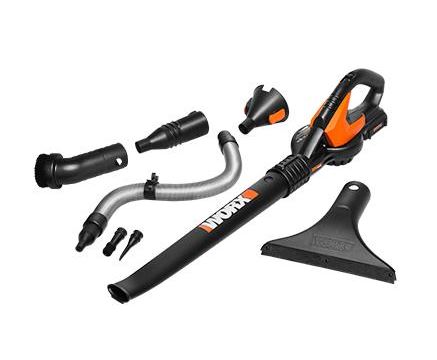 Positives
• Lightweight and easy to use
• Cordless convenience
• Sufficient for small to moderate home use.
Negatives
• 20v version seen as weak by some users
• Battery life limited to small sessions
Bottom Line
WORX Air delivers a solid product with a lightweight design. For small to moderate home use, WORX Air is more than capable of doing the job.
Sponsored Links




Worx Air Blower
WORX Air is a cordless blower which is advertised on television as an easy and fast way to keep outdoor spaces clean.
Sponsored Links




Claims & Features
Quickly clean up outdoor spaces
Cordless
20v and 32v models
120mph air speed
3 hour battery charge time
Bonus deflator attachment
Includes dust brush, wide nozzle, short tube, and optional gutter cleaning kit.
Cost & Availability
The 20v model costs about $100, while the 32v model costs about $150. If purchasing from the WORX website, you can break the cost into three payments. WORX Air is also available in stores such as Home Depot.
An optional gutter cleaning kit costs about $40. A 20v replacement/extra battery is listed on the WORX website around $80, while a 32v is listed at about $100.
WORX Air Blower Reviews
Sponsored Links
WORX products have been hitting the airwaves recently with such products as the Aerocart and WORX Air. Viewers of the paid programming spots for WORX Air may not realize there are two battery options available. While reviews are generally positive for both, those who opt for the more powerful 32v battery tend to express more satisfaction than those who went with the less expensive 20v option.
We found both models to work generally as advertised, although the 32v battery life is clearly superior. That said, one should not expect a cordless electric blower to last more than 15-30 minutes on a single charge. While this is more than sufficient to most users, some customers have expressed surprise at the limited use that can be achieved with a single charge.
For small to moderate home use, however, WORX Air is more than capable of doing the job.
Similar Products
There are a wealth of cordless leaf blowers to be found online and in stores. Black and Decker has a highly-rated Lithium Ion Cordless Sweeper, while Toro also has a more scaled-down electric blower. For high-volume use, you may want to consider a gas-powered blower.
Epic Conclusion
WORX Air delivers a solid product with a lightweight design. For lighter use, the 20v battery should be more than sufficient for most users. If you think you may need a bit more power, the 32v battery is a no-brainer. Neither battery will provide enough juice for long sessions, however, which is a limitation of a cordless product such as this. Those needing a blower to work for more than 20-30 minutes may want to look into industrial-strength blowers.
If you've used Worx Air Blower, please give it a star rating and comment below.