Snackeez Review: Does it Work as Advertised?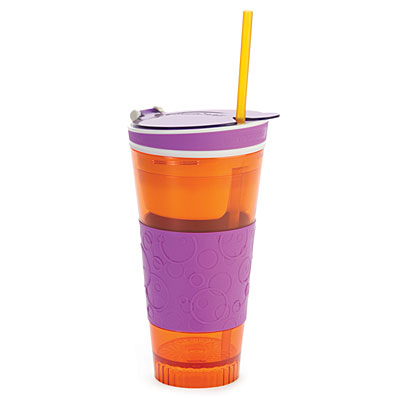 Positives
• Convenient snack/drink holder
• Attractive design
• Sturdy
Negatives
• Too large for very young kids
• Ordinary straws don't fit properly
• Small snack compartment
• Lids degrade over time
Sponsored Links




Snackeez
Snackeez are 2-in-1 drink and snack holders which allow kids to hold a drink and snack in one hand.
Sponsored Links




Claims & Features
16oz drink/snack container
Perfectly seals
Dishwasher safe
Spill resistant
Comes in 4 colors
Cost & Availability
Online: $9.99 + $5.99 shipping
In stores: About $10.
Snackeez Commercial
The TV commercial below has been airing as of July 2015.
Snackeez Reviews
Sponsored Links
Snackeez is one of a small handful of As Seen on TV products which have actually gained positive reviews over the long run. The design, which combines a drink cup and snack holder, has proven to be a hit with parents, despite a number of minor complaints. And, we should point out, Snackeez isn't the first product to combine snacks and drinks in the same container, but is perhaps the best known.
We have extensively tested Snackeez and found it to work generally as advertised, with a few caveats. The drink section holds an acceptable amount of liquid, provided you don't use ice. The snack section is on the small side, and we couldn't get it to hold a bag of chips as an early commercial depicted. It may be better suited for smaller snack items like Cheerios, raisins, or nuts.
The straw fits snugly in the opening and does a good job of reaching the drink while sealing the hole. If the straw gets lost or damaged, however, you may find that a regular straw doesn't reach the bottom, nor does it seal the opening. Replacement straws would be nice, but we have not see them for sale.
We found the rubberized grip easy to hold, although the cup may prove too large for very small kids to easily hold. While the drink section is generally spill-proof, liquid can still come out of the straw. Plus, the snack section's lid is prone to pop open, especially over time as the materials slowly degrade.
Customers on Amazon give Snackeez a 4-star rating, but we'll knock another half-point off for the "cons" cited above, while giving it a respectable 3.5-star rating.
Snackeez is readily available in stores, which offer it for less than the official website, when shipping is included in the cost.
In 2015, Snackeez released Snackeez Duo, which is essentially a disposable version.
If you want Snackeez for a young child, consider the Snackeez Jr., which can also be found in store.
Epic Conclusion
Snackeez is a product that most parents will probably find useful, especially in the hands of older kids. It seems especially well-suited for long car rides, or kids playing outside. While not completely spill-proof, it does provide an extra layer of assurance to parents.
If you've used Snackeez, please give it a star rating and comment below.