Revitive Review: Circulation Booster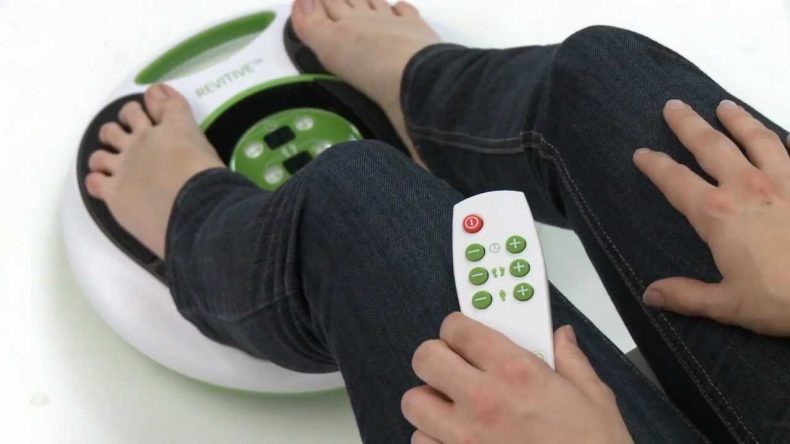 Positives
• Highly rated
• Easy to use
• Guarantee includes shipping
• Included body pads help other areas of the body
Negatives
• Results are subjective. May not work for everyone.
• Expensive
Bottom Line
Revitive is a well-received product that holds a high level of consumer satisfaction. Despite being new to the U.S., Revitive has proven itself among a legion of loyal UK customers. The company's ample return policy is sufficient enough to take a chance if you think this product may be right for you.
Sponsored Links




Revitive
Revitive is a circulation booster which helps improve circulation in your legs and feet, as well as other body parts.
Sponsored Links




Claims & Features
Uses prescription-strength electric muscle stimulation
Relieves aches and pains in your feet
99 intensity levels
Remote control is easy to use (remote uses 2 included AA batteries)
Completely drug-free
4 TENS body pads allow treatment of knee, shoulder, or back
Cost & Availability
You can purchase Revitive for 6 payments of $49.99 + Free Shipping or 1 payment of $299.80.
There is a 60-day money back guarantee. This includes the price of the product, initial shipping costs, and the cost to return it.
Revitive Commercial
The TV commercial below has been airing as of this writing.
Revitive Reviews
Revitive is an apparatus which increases circulation in the feet and legs by use of a mild electrical pulse which stimulate nerve endings and promotes blood flow to the area. It has been available in the UK for years and has recently arrived in the U.S.
Revitive is simple to use. You merely plug it in, set the intensity level, and place your feet on the apparatus. There is a remote control which allows you to operate the device without having to lean over to touch it. The settings range from 1 to 99, and you may want to start on the low end and work your way up until you find a setting that works for you. We've heard some consumers say that they can't tolerate above 30, while others have said even the highest level wasn't enough.
While using Revitive, you may feel the muscles in your feet and legs tingle or twitch, although you may not feel it immediately. Tolerance and sensation are both highly subjective. The sensation may be strange at first, but it is not unpleasant or painful. There is an IsoRocker feature which can be engaged, which rocks the unit forward and backward, creating ankle movement to further increase circulation.
A treatment takes about 20 to 30 minutes, and it can be used up to 6 times a day. After using Revitive, your feet and legs feel refreshed and relaxed.
Sponsored Links



One feature which is only touched upon could actually be the most coveted are four TENS electrode body pads, which allow you to target other areas of the body such as knee, shoulder, or back. Those who suffer from pain in those areas may get some relief from using these pads during treatment sessions. This, of course, brings us to a point worth mentioning: Is this a TENS (Transcutaneous Electrical Nerve Stimulations) device or an EMS (Electrical Muscle Stimulation) machine? The answer is that it is both.
The foot pad is clearly described on the website as an EMS apparatus. "REVITIVE works by applying mild, clinically proven electrical stimulation to your feet to actively stimulate the thousands of nerve-endings," they write. The additional pads to be used on the back, shoulder, or knee are described as TENS pads. What is the difference?
TENS
According to WebMD, TENS is described as:
The electrodes are often placed on the area of pain or at a pressure point, creating a circuit of electrical impulses that travels along nerve fibers.

When the current is delivered, some people experience less pain. This may be because the electricity from the electrodes stimulates the nerves in an affected area and sends signals to the brain that block or "scramble" normal pain signals. Another theory is that the electrical stimulation of the nerves may help the body to produce natural painkillers called endorphins, which may block the perception of pain.

Although TENS may help relieve pain for some people, its effectiveness has not been proved.
EMS
Although some people use EMS and TENS interchangeably, TensUnitReviews points out that there are differences.
Although both the TENS and the EMS units transmit electrical signals, the EMS focuses on the muscle rather than the nerve ending. EMS uses a cycle of stimulation, contraction and then relaxation at intensities from 1 to 130Mh to increase blood flow to the area, which decreases inflammation and promotes healing and muscle growth. By stimulating the muscles at their basic structure, an EMS unit causes muscle contractions similar to those obtained by exercise. The EMS units are specifically used to prevent atrophied muscles or for retraining muscles, such as in an individual who has been paralyzed or partially paralyzed. In addition, EMS is used for many other applications such as range of motion improvement, increased circulatory action and the prevention of blood clots.
Does it Work?
The overwhelming majority of consumers – upward of 90% – have said the Revitive brings them some level of relief. As with any device offering something as subjective as pain relief, there are a minority of customers who have said it simply didn't work for them. To the company's credit, reps for the product have been rather proactive in trying to get dissatisfied customers to find the settings which work best for them.
The only way to know for sure if Revitive works for you is to try it. Fortunately, the company offers a rather generous 60-day money back guarantee which also includes shipping costs and return shipping if you aren't satisfied. Another benefit is that relief is said to occur from the first use, so you won't need to wait the full 60 days to see if it is right for you.
There are some people who should not use Revitive, including women in the first trimester of pregnancy, those under 16 years old, people with implanted medical devices, or those being treated for DVT.
As of this May 2016 writing, Revitive holds a rather unimpressive 3 star rating on Amazon. Don't let that number fool you, however, as this is only based on a small sample of reviews (under 10). We feel that once a larger sample of reviews come in, Revitive will rank above the 4.5-star mark. The UK version currently holds an impressive 4.6 star rating on Amazon UK, with overwhelmingly positive reviews.
Similar Products
Revitive is the gold standard among this type of product. You can, however, find some competing products such as this infrared (heat) massager by Sunpentown or this highly-rated electric massager by MediMassager.
Epic Conclusion
Revitive is a well-received product that holds a high level of consumer satisfaction. Despite being new to the U.S., Revitive has proven itself among a legion of loyal UK customers. The company's ample return policy is sufficient enough to take a chance if you think this product may be right for you.
Have you tried Revitive? Please give it a star rating and comment below.