NoNo Ultra Review: Does it Work?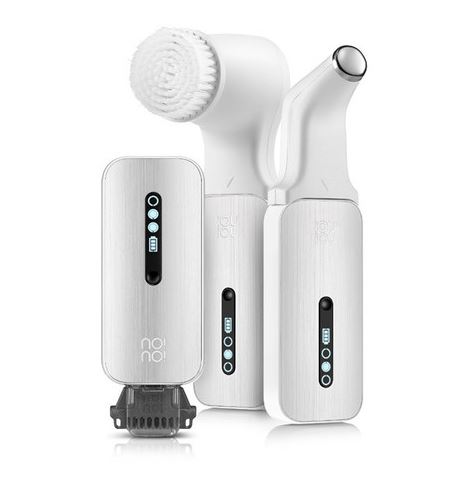 Positives
• Addition of beauty tips
• Speed control
Negatives
• Dubious technology
• Not entirely painless
• Class action lawsuit highlights significant consumer dissatisfaction
Bottom Line
No!No! Ultra is a slight upgrade to the NoNo Pro product which we found to be underwhelming. It offers no significant advances over its predecessor, and we feel the Pulsed Thermicon Techology does not do a better job than shaving with an inexpensive disposable razor.
NoNo Ultra
NoNo Ultra is a hair removal system by Radiancy which adds new features to its popular NoNo Pro system.
Sponsored Links




Claims & Features
Treats facial hair, body, hair, and upper hair
3 Treatment levels
Can use narrow or wide thermicon tips
Cord free and rechargeable
Uses Pulsed Thermicon Technology
LCD screen indicates treatment level and tip status
Dynamic speed control
Doubles as an all-inclusive beauty tool
Cost & Availability
NoNo Ultra costs $299.94 with free shipping, a 2 year warranty, and priority processing. Payment can also be broken up in to 3 payments.
As of this writing, NoNo Ultra is not available in stores.
There is a 60-day money back guarantee if you purchase through the official website, although a class action suit claims that this guarantee is difficult to redeem.
NoNo Ultra Commercial
The following commercial for NoNo Ultra was posted on YouTube in February 2016.
NoNo Ultra Reviews
NoNo Ultra (stylized as no!no! Ultra) is an updated version of the highly-publicized NoNo Pro hair removal device which has blanketed the airwaves for several years. Offering hair removal via "Pulsed Thermicon Technology" the NoNo line is not a laser, nor is it a razor.
A review of NoNo Ultra will largely reflect that of the NoNo Pro, which we have extensively tested. The Ultra model does not add any extra power or treatment levels to the NoNo Pro (previously called the Pro 3, see below), but a speed control and compatibility with new beauty tips. Otherwise, the function and effectiveness is identical.
The technology behind the NoNo product line is Pulsed Thermicon Technology, which could be described as a heated wire which essentially burns the hair off. This is evidenced by a slight burning smell that some users have reported after using the unit. After you treat an area, you are then instructed to buff out the charred hairs with a buffing cloth. We did not find this to be superior to shaving with a disposable razor, and in fact it takes significantly longer. Consumer Reports in 2013 said that it took their testers 25 minutes per leg with the original NoNo. This is about on par with our own tests.
Our conclusion about NoNo and its Pulsed Thermicon Technology is that it only provides a limited usefulness. Our tests did not reveal smooth skin after using NoNo, and this has been widely reflected by other reviewers.
Where NoNo Ultra differs from its popular "Pro" counterpart is that it includes two tips which allow "all inclusive" beauty treatment. These tips attach to the device and are powered by the NoNo. One tip is the UltraClean Cleaning Brush, which attaches to the NoNo Ultra and spins to clean makeup and other impurities. The MicroMassage tip works to apply skincare products with a "soothing vibration." The tips are not compatible with older NoNo devices.
The addition of the beauty brushes is a nice touch, but they don't add anything to the function of the NoNo, which itself is an expensive and largely ineffective hair removal tool.
Sponsored Links



If you peruse comments for the regular NoNo Pro on Amazon – which uses the same technology found in NoNo Ultra, you'll find 58% of all ratings there are 1 star. Even many of those who gave it a positive rating commented on the smell of burning hair, which is a common complaint along with such adjectives as "useless" and "waste."
In late 2013, Consumer Reports found that the original NoNo "took far longer than shaving" and none of the testers felt hair-free or stubble-free when using it.
Oddly, the NoNo Ultra is difficult to find on the main NoNo website, which indicates it may only be in a test marketing or limited marketing phase. A Google search for "NoNo Ultra" displays the url nono.com/ultra but that is forwarded to the primary nonopro.com, where the Ultra model is not prominently featured until you scroll down to the middle of the page. Further, neither the the Ultra model or the Micro model is mentioned on the product FAQ, which still references the Pro 5 model (see below).
NoNo Pro, Pro 3, Pro 5, NoNo Ultra, NoNo Micro, NoNo 8800
There are are number of "no!no!" products and model numbers, some of which are no longer featured on the website, but can be found elsewhere online. This has caused some confusion among consumers. Here is a short breakdown of the no!no! family product line.
no!no!, aka no!no! 8800: This is the original no!no! device. You won't find it on the official website, but it can still be found in some stores such as Bed Bath and Beyond or on Amazon.
no!no! Pro: It was originally sold as the Pro 3 and Pro 5 models, with the latter having more treatment levels. The Pro 5 has disappeared from the site (although it is still mentioned in the FAQ), and the Pro 3 is simply called no!no! Pro now.
no!no! Micro: A little-advertised smaller sibling of the primary Pro model, the Micro offers only 1 treatment level, but otherwise sports the same features as the regular model.
no!no! Ultra: Virtually the same as the Pro model, with a speed control and ability to use beauty tips
Class Action Lawsuit
In 2014, a class-action lawsuit was filed against Radiancy, the company which makes NoNo Ultra. The attorneys seeking damages in the case make the following assertions about NoNo Products:
Radiancy did not seek FDA clearance.
A Vanderbilt study "suggests that the no!no! Hair Removal System is no more effective than shaving with a razor."
The money back guarantee "has proven very hard for many consumers to cash in."
"Millions of consumers have been 'burned' by the false and exaggerated promises of no!no!
Similar Products
Aside from other products which fall under the NoNo brand umbrella, there are a number of hair removal devices which have advertised on television in recent years. Tria Beauty has a more expensive, but more effective option with its Tria Laser.
There are, of course, personal trimmers which are considerably less expensive and foolproof, such as the Finishing Touch Freedom or its higher-end Finishing Touch Yes.
Be sure to read our full review of NoNo Pro here.
Epic Conclusion
No!No! Ultra is a slight upgrade to the NoNo Pro product which we found to be underwhelming. It offers no significant advances over its predecessor, and we feel the Pulsed Thermicon Techology does not do a better job than shaving with an inexpensive disposable razor.
Have you tried NoNo Ultra? Please give it a star rating and comment below.