Ninja Coffee Bar Review: Does it Measure Up?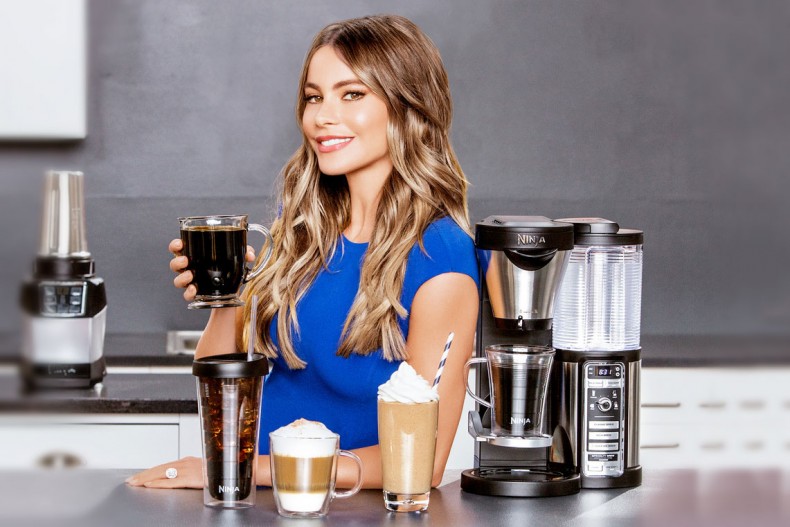 Positives
• Hot plate to keep warm up to two hours
• Multiple size options from cup to full carafe
• Can make several types of coffee, from iced to latte
• Milk frother
• Easy to use
Negatives
• Plastic design feels "cheap"
• Doesn't make true espresso
Bottom Line
Coffee Bar delivers on its promise to provide multiple coffee experiences from a single machine. While it may not appease the hardcore coffee aficionado, Coffee Bar will certainly please the majority of those who purchase it. Highly rated.
Sponsored Links




Ninja Coffee Bar
Ninja Coffee Bar is a coffee making machine with a variety of settings for different types of coffees.
Sponsored Links




Claims & Features
Glass carafe
Intelligent warming plate
Removable water reservoir
Easy fill brew basket
Programmable brew timer
Double-sided scoop
Variety of brewing options
Cost & Availability
Website: 4 payments of $44.95 + Free Shipping or 1 payment of $179.80 + Free Shipping. You can find it in stores such as Kohl's or Target for about $180-$200, and on sale for as low as $135-$140. It may pay to shop around as prices seem to vary around town.
If you are a regular of Bed Bath and Beyond, this may be a good place to use one of their coveted 20% off coupons.
Ninja Coffee Bar Commercial
The TV commercial below has been airing as of late 2015.
Ninja Coffee Bar Reviews
Ninja has produced a popular string of kitchen products in recent years, and enters the lucrative coffee market with its Ninja Coffee Bar. Made of plastic and stainless steel, the Coffee Bar offers a dizzying array of options for the coffee aficionado. At nearly 15 inches tall, it is considerably taller than the competition. You can see the product in late night and early morning infomercials featuring Sofia Vergara.
Design-wise, Coffee Bar incorporates standard coffee maker features along with some Ninja-specific offerings. A standard No. 4 filter can be used, which sits above a round hot plate to keep the carafe warm. When making a single up, there is a fold-down cup holder which reduces splashing. The water tank is plastic with ridges, and includes indicators on the side to help you determine how much water to use. The tank resides above a very Ninja-looking control panel that includes a clock, buttons, and a dial. Buttons include Delay Brew, Stay Warm, Classic Brew, Rich Brew, and Clean. The dial features different size selections such as Cup, Travel, Half, and Full.
Sponsored Links



There are two "normal" brewing options: Classic and Rich. In its description of the differences, Ninja writes, "Our Classic Brew delivers smooth rich, balanced flavor from your favorite coffee. Want to take it up a notch? Rich Brew is richer than Classic for a more intense flavor that really stands up to extra milk and flavorings."
Ice Brew "dials up the richness even further by increasing the coffee concentration to compensate for melting ice." In other words, you get a stronger brew which isn't diluted by the addition of ice. Specialty Brew "creates our highest concentration of coffee. It's a coffee extract that, like espresso, you can use to create coffeehouse-style hot and cold layered beverages."
Ninja's blenders are known to allow users to produce small to large quantities, and this idea is translated to the Coffee Bar, allowing you to make a full carafe down to a single cup. While the process may be slightly more involved than with a Keurig, the fact that you can make a single up to a full carafe with the same machine is certainly an added value. The price-per-cup for single cups of coffee is less than those made with K-cups. The ability to use Delay Brew is a welcomed feature.
The final product is a solid, rich cup of coffee. We found the Classic Brew to be slightly warmer with a bitter taste on the back end, while the Rich Brew seemed to be more balanced. Iced Coffee was rich and moderately flavored. The Specialty Brew could be described as an espresso-like drink, although it isn't true espresso but a concentrated coffee drink with frothy milk. Coffee snobs will no doubt be put off by the quasi-espresso, but casual drinkers may not care. The manual milk frother is a nice addition.
For those consumers who have multiple coffee machines – Keurig for convenient single cups, traditional coffee makers for full carafes, and specialty machines for occasional espresso – Coffee Bar could be a way to consolidate everything into a single machine.
Readers at Amazon currently give the product a solid 4.3-star rating. The overall consensus there is highly positive, although one reader warned that it vents from the top, which could affect sensitive cabinets nearby.
Another reader tip suggests using less coffee if you find the taste too bitter when following Ninja's instructions.
Epic Conclusion
Coffee Bar delivers on its promise to provide multiple coffee experiences from a single machine. While it may not appease the hardcore coffee aficionado, Coffee Bar will certainly please the majority of those who purchase it. Highly rated.
If you've used Ninja Coffee Bar, please give it a star rating and comment below.