Miracle Plate Review: Keep Plates Warm or Cold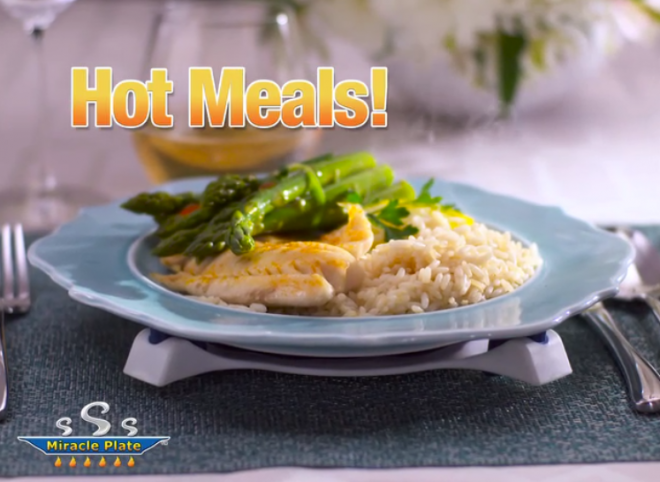 Positives
• Can be used with most plates.
• No electricity or chemicals
• Simple to use
Negatives
• Only available online
Bottom Line
Miracle Plate is a plate holder and gel pack which are designed to keep your plate and food warm. We feel that this product, should it become widely available, will garner positive reviews from the majority of consumers who buy it.
Sponsored Links




Miracle Plate
Miracle Plate is a microwavable gel pack and holder that keep your food and plate hot.
Sponsored Links




Claims & Features
Heat-retaining gel keeps meals hot
Food stays hot for 30 minutes longer
Microwave for 30 seconds to activate and reactivate
Hundreds of uses
If put in the freezer, it can keep food cold
Cost & Availability
Miracle Plate is available from the official product website miracleplate.com for $14.95 plus $6.99 S&H. A second set can be added to your order for an additional $6.99 S&H.
This brings your total to either $21.94 for one set or $28.93 if you decide to double the offer.
Each Miracle Plate set includes two Miracle Plates and 2 "Special Gel Packs." Be sure to carefully examine the drop-down, as you are ordering in sets of two. Some customers may mistake the quantity of two to mean that they are ordering the double offer, which is incorrect.
Miracle Plate is brought to you by Smart Inventions Inc. out of Santa Monica, California.
Miracle Plate Commercial
Transcript of the television commercial that appeared in late 2015:
Excited to sit down to a hot meal only to find that dinner's gone cold? Then you need the Miracle Plate, the serving sensation that adds heat back into your plate and keeps your food hot. Keep your steak sizzling longer and enjoy meltier cheese all the way to the last bite with the Miracle Plate. It's like having a personal sized chafing dish for each and every meal.

The secrets that the miracle pack adds heat back into your plate, keeping your food hotter longer. Your family will enjoy a hot meal each and every time. For breakfast, it's the best. Your oatmeal will stay piping hot until the very last bite. But it gets even better. The Miracle Plate works cold, too. Chill it in the freezer and enjoy a cold crisp summer salad, delicious deviled eggs, or shrimp cocktails.

So whether you're keeping your family happy with hot meals, ensuring your apple pie will be served steaming, or making lunches the best around, you need the Miracle Plate.

"Everyone at work is so envious of my hot food. The Miracle Plate is the big question every day during lunch break."

"It takes me forever to get everybody around the dinner table, but now with the Miracle Plate, our food is still hot."

"From everyday meals to huge family gatherings at the holidays, we always have the Miracle Plate. It's the best."

It's time to change the way you dine. Call or go online to get the Miracle Plate today for just $14.95, but wait. Every order placed today will receive an instant double upgrade, free. That's two Miracle Plates for the price of one. But we're just getting started. Order now and we'll double this entire offer, free. Just pay separate processing and handling.

You get it all for just $14.95. When you order, ask about a special offer on extra miracle packs.
Miracle Plate Reviews
Miracle Plate is an As Seen on TV product which is said to keep plates and food warm. The name itself is something of a misnomer as you are not actually purchasing a plate, but a plate holder and a gel pack. Miracle Plate works when you heat up the gel pack in the microwave, then place it on the holder. You then place your regular dinner plate on top of the gel pack, which comes into contact with the plate, and transfers heat to it. The gel pack stays warm for up to 30 minutes, which should be more than enough time to last through a meal.
As anyone who has made a large meal knows, it can be difficult and frustrating to try to keep food warm while everyone arrives at the table. With Miracle Plate, heat is transferred from the gel packs to the plate in order to keep food warm longer, and allowing more time to assemble everyone at the table.
Sponsored Links



The design of Miracle Plate is simple, and should perform as expected for most consumers. One might argue that you could place any standard hot/cold gel pack under a plate and achieve the same function. While this is true, the combination of plate holder and gel pack are somewhat unique, and both pieces of the design are necessary. Simply placing a plate of food on a gel pack would be unstable and likely lopsided.
While our product researchers feel that Miracle Plate should satisfy the majority of consumers, there are of course a few caveats to consider. First, a gel pack placed underneath a plate will warm from the bottom up. Food tends to cool from the top down, thus you'll probably still need to stir your food to mix the warm and colder sections together.
Shipping
Another significant factor to consider is the billing and shipping process. Miracle Plate, as of this writing, only appears to be available from the official product website. Although there is a 30-day return policy, shipping is not refundable. Further, it seems as though Miracle Plate is currently only engaged in a limited marketed campaign, which means it is probably only being test marketed. It has been our experience that test marketed (or limited availability) products quickly go into back order status, or take longer to receive than their mass-marketed counterparts. If you plan to order Miracle Plate, we would expect the shipping to be on the high end of their expected 4-week window. Their shipping policy states: This "product will ship within 30 days from the time the order is processed and will be mailed via UPS."
Similar Products
There are two different types of competing products which are relevant when discussing Miracle Plate. First, you have electric warming trays. These traditional products allow you to keep food warm and ready to serve. These are a higher end solution than Miracle Plate, although more expensive. A popular model is the Waring Pro 400-Watt Warming Tray.
There are a number of other microwaveable plate warmers to be found online and in stores.
It has bee suggested that any hot/cold microwave pack could be placed under a plate and used similarly to Miracle Plate, although it may not be as conveniently situated.
Epic Conclusion
Miracle Plate is a plate holder and gel pack which are designed to keep your plate and food warm. We feel that this product, should it become widely available, will garner positive reviews from the majority of consumers who buy it.
If you've used Miracle Plate, please give it a star rating and comment below.