Hot Hands Review: Silicone Kitchen Gloves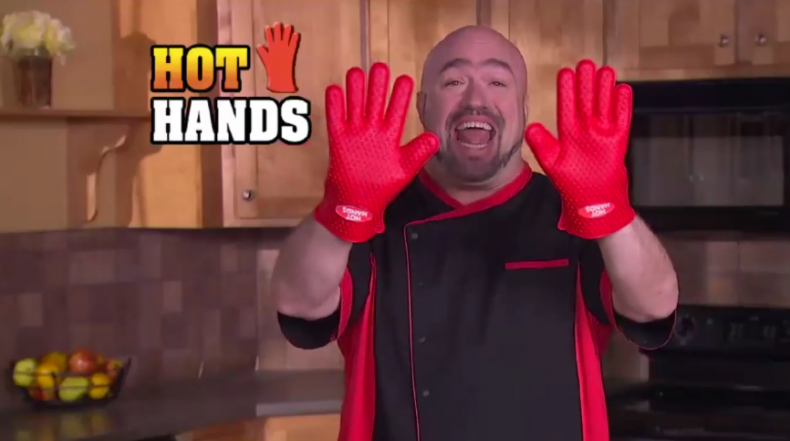 Positives
• Can replace oven mitts and cooking utensils
• Stain and melt resistant
• Durable
• Good for handling wet or greasy items
Negatives
• May get hot faster than a regular oven mitt
• Difficult to grip foods for flipping
• One size fits all may not fit all users equally well
• No clear advantage over similar products or traditional utensils
• Difficult to put on or remove with wet or sweaty hands
Bottom Line
Hot Hands are silicone cooking gloves which allow you to hold hot objects in your hands without the use of cooking tools or oven mitts. It is not a comprehensive solution, and they will get very hot in a matter of seconds. They may have a place in some kitchens, but they don't really replace traditional utensils.
Sponsored Links




Hot Hands
Hot Hands are silicone cooking gloves made to withstand heat and steam. How well do they work? Read my Hot Hands review here.
Sponsored Links




Note: This review is for Hot Hands, the silicone oven glove. For a review of HotHands hand warmers, please see our review of that product here.
Claims & Features
Non-slip silicone grip is melt-proof
Raised grippers repel heat away from your hands
Can be used for ovens, stove tops, grills, and more
Precision grip
Cleans in seconds
Dishwasher safe
Cost & Availability
You can get a pair of Hot Hands from the official product website for $10.00 along with $6.99 P&H. You have the option of adding a second pair to your order for another $6.99 P&H. A Lovin' Oven Thermometer is included as a bonus.
You can find Hot Hands in stores for about $10 for one pair.
Hot Hands Commercial
A TV commercial was added to YouTube in January 2016, and below is a transcript of that ad.
Ouch! That pot is sizzling hot. Oh no! Got burned on that barbecue? Uh oh, did Grandma's griddle melt those mitts? You need Hot Hands, the amazing new silicone gloves tough enough to handle all the hot stuff. Remove the lid and watch: Hot Hands handles scalding hot steam like a dream. Flip the bacon without the burn. Use the non-slip silicone grips for sizzling hot casseroles and you can even move back the oven rack. You won't believe your eyes. Hot Hands flips french fries.

The secret is in Hot Hands' raised grippers that safely repel heat away from hands.

Hard boiled eggs in hot boiling water? No problem. And look. Reach in and grab the corn, then butter it without the burn.

With its five-finger non-slip grip, you can even reach into the pot and grab the red-hot lobster. It's the silicone glove you're gonna love.

I can even shred pulled pork without using a fork. Lift a 20 pound turkey with Hot Hands. Time to barbecue? Grab the hot potato right off the grill then safely open the steaming hot pockets. Hot grills are no match for Hot Hands. Forget the tools – Hot Hands is the only tool you'll use.

Stain-proof Hot Hands rinse clean in seconds and its dishwasher safe.

Watch, I'm gonna torch this old-fashioned oven mitt and Hot Hands. Hot Hands is the clear winner, hands down.

Hot Hands, delicate enough to pick up a pin, but strong enough to pop open a jar and melt proof to last a lifetime. Now get Hot Hands, with the five finger non-slip grip for just $10. Call now and get a second pair free. Keep one in the kitchen, and one at the barbecue. But I'm not stopping there. We'll even include the perfect Lovin' Oven Thermometer for roasts and more. You get it all for just $10, so call now.
Hot Hands Reviews
Hot Hands is an As Seen on TV silicone cooking glove pitched by Marc Gill. The five-finger non-slip grip is said to allow you to replace cooking utensils and oven mitts, and allow you to handle foods with your hands.
Silicone cooking gloves such as Hot Hands can work, depending on how you use them. It seems to be a growing trend in which people are replacing oven mitts and even spatulas, tongs, and other utensils for a pair of silicone gloves, but they are not perfect in all circumstances.
When using Hot Hands, you can handle pots, pans, food, cookie sheets, oven racks, etc. with your hands. It doesn't take long for the heat to transfer to the gloves, however, and they will eventually become hot – maybe even faster than a pot holder. Thus, for short trips from the stove to the table, for example, they work fine. For extended exposure to heat, I would not recommend them.
Sponsored Links



Silicone cooking gloves provide advantages over both oven mitts and utensils, as you can directly handle food and devices with your hands and they are waterproof. If you hold onto a very hot item for any length of time, you will feel the heat begin to build, and it eventually becomes quite hot. The heat stays in the glove even after you release the hot item, and I had to remove them quickly when they started to become uncomfortable.
Clean-up is about as easy as shown in the commercial. I found that wearing the gloves while running hot water and working dish soap into them was the easiest way to clean Hot Hands after use.
After wearing Hot Hands, I found my hands to get sweaty, and it takes some time for them to dry out. When they get sweaty, they become difficult to remove. In addition, there was a point when I was wearing both Hot Hands which had become greasy, and I literally could not remove them. I had to ask my wife to help me take them off!
I did not find that flipping food was as easy as depicted in the advertising. As you can see in my video below, the large silicone fingers don't do a good job of getting underneath food in order to flip it. It feels awkward, and I felt I had to either use two hands, or "squish" the food I was flipping. Flipping food with Hot Hands seems inferior to simply using a spatula.
Some customers have suggested that the silicone interior isn't as comfortable as that of an oven mitt and that the one-size fits all may not fit everyone equally well. Because of their rubbery texture, slipping on or removing Hot Hands may not be easy if your hands are wet or large.
One unfortunate detail about Hot Hands is in its name, as there is already a popular product called HotHands (no space between the words) which could confuse some consumers who seek out this item. The "other" HotHands is a packet to keep hands warm during cold months, and completely unrelated to this product. See our review of that product here.
To me, Hot Hands aren't really superior to a spatula for turning items or an oven mitt for handling hot pans. I can see where they might have a use for some people, but I don't think they really offer much over traditional kitchen utensils.
You may be interested in perusing additional reader reviews of Hot Hands on Amazon, where it holds a 3.7 star rating.
Similar Products
Hot Hands looks quite similar to Ekogrips BBQ Grilling Gloves. We spotted those on Amazon for about $25. While Hot Hands offers little in the way of product specs, the Amazon product page for Ekogrips gloves includes a considerable amount of information. We have not compared these products side by side to determine if there is a discernible difference between the two.
Reviews for the Ekogrips gloves are very high, with a 4.6 star rating among over 3600 consumers.
Video Review
Check out my video review of Hot Hands below.
Epic Conclusion
Hot Hands are silicone cooking gloves which allow you to hold hot objects in your hands without the use of cooking tools or oven mitts. It is not a comprehensive solution, and they will get very hot in a matter of seconds. They may have a place in some kitchens, but they don't really replace traditional utensils in my opinion.
Perhaps the most difficult task from the makers of Hot Hands is how to separate this product from virtually identical competitors which can be found for less.
If you've used Hot Hands, please give it a star rating and comment below.
Updated January 2017.