Gwee Gym Review: Does it Replace A Gym Membership?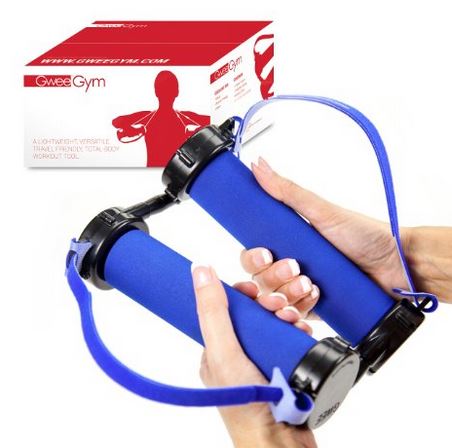 Positives
• Lightweight and portable
• Works all major muscles
• Good for fitness post-injury
• Ideal for travel
• Informative training DVD's
• Durable
• Constant tension allows for wide variety of exercises
Negatives
• Not for bulking up
• More expensive than standard resistance bands
• Resistance cannot be increased
Bottom Line
Gwee Gym is a next-gen exercise band which offers constant resistance throughout the entire range of motion. While it may resemble a typical resistance band, the end result is a much more balanced workout.
Gwee Gym
Gwee Gym is a total body workout kit consisting of resistance bands that are said to give a complete workout that is easy on the joints. Pro and Lite versions are available.
Sponsored Links




Claims & Features
Burn calories and tone your body
No heavy weights or replacing cables
Replace your gym equipment
Low impact
Full range of motion
Total body workout
Over 50 unique exercises
Soft grip handles
1.5 pounds of resistance for Lite, 2.25 pounds of resistance for Pro
Cost & Availability
Gwee Gym Lite (Original) costs "two payments of $29.99" plus $9.95 shipping. This totals just under $70. Your purchase includes DVDs, tote bag, and quick start guide. We spotted it on Amazon for about $60, so it may be wise to shop around.
A Gwee Gym Pro was added to the lineup for a cost of $79.95, or two payments of $39.99 plus shipping. The same extras are included with the Pro version.
Gwee Gym Commercial
The TV commercial below began airing in 2015.
Transcript
When you're in shape, you just fell better, but starting a new fitness routine can be painful. Now, there's a better way. Introducing, patent-pending, Gwee Gym. Burn more calories and tone your body without heavy weights or bungee cords.

"Absolutely you can feel the burn, it's pretty amazing."

"I love it."

Unlike stretchy bands that get more difficult the further they're pulled, Gwee Gym's constant force tension works your muscles equally from start to finish with smooth control range of motion that's easy on your joints.

"Wow, I can tell that's working my whole arm. This is amazing."

"Wow, my shoulder really loosened up."

Stretch and tone your lean muscles at the same time. Tone your underarm. Flatten and firm your abs. Strengthen your legs. Watch this one simple exercise engage your arms, chest, and back. Cut your exercise time in half by exercising your upper and lower body at the same time.

"I've never used anything like this before."

High repetition, low resistant exercise is the best way to tone your muscles and improve flexibility. Unlike heavy weights which can cause soreness, the Gwee Gym is gentle on your muscles and joints. Gwee Gym is perfect, whether you're starting a new fitness program or if you've been working out and just looking for better results.

Spend just ten minutes a day with your Gwee Gym and you'll feel better in the first week. To work all these muscle groups you need at least six machines at the gym. Now you can work out at home whether you're sitting in front of the TV, or taking in the view on your patio. The ultra portable lightweight design even packs into our handy tote to take with you.

Visit GweeGyms.com to order your very own Gwee Gym, and we'll include a Gwee Gym fitness guide, our healthy eating system guide, and exercise DVD, and our handy carry tote absolutely free. With our 60 day money back guarantee, you have nothing to lose, so call or go online to try out Gwee Gym today. Dial the number on your screen or visit GweeGyms.com right now.
Gwee Gym Reviews
Gwee Gym is a next-generation design of resistance band which works muscles equally throughout the entire range of motion. This is in contrast to typical resistance bands which increase tension as they are stretched. While this may not seem like a compelling enough feature to choose Gwee Gym over a standard band, it should be noted that such a feature allows for a significantly higher number of useful exercises.
Sponsored Links



With a resistance band, exercises using small motions would not yield enough resistance to provide much benefit. With Gwee Gym's constant tension, however, you can perform a larger number of useful exercises without worrying if the tension would be great enough to provide any benefit.
Gwee Gym is best for lightweight exercise. Those looking to bulk up will probably not get enough resistance to see significant results. It is, however, an excellent way to achieve a light workout without a trip to the gym. If you think the device may offer too light of resistance, you may want to opt for the Pro version or wear wrist weights.
The cost of $70 could be of concern to those who find a regular resistance band does the job. When comparing the two, however, it is apparent that Gwee Gym delivers a superior experience.
A Gwee Gym Pro was added to the product website, and the original has been re-branded as Gwee Gym Lite. Whereas the original Gwee Gym offers 1.5 pounds of constant force tension, the Pro provides 2.25 pounds of tension. For those trying to determine which model to choose, the product FAQ reads:
We suggest the Gwee Gym Pro to those who are more experienced and workout consistently, or to people who lift weights over 10lbs. We have many customers who enjoy the benefits of having one Lite and one Pro; that way they can use the Lite to work arms and shoulders, and use the Pro to work stronger muscle groups, such as legs and abs.
Similar Products
Although we feel that Gwee Gym works better than a standard resistance band, not everyone may feel it is a better purchase than other resistance bands on the market, many of which are significantly less expensive. It may also be argued that a simple pair of dumbbells would offer many of the same benefits.
Epic Conclusion
Gwee Gym is a next-gen exercise band which offers constant resistance throughout the entire range of motion. While it may resemble a typical resistance band, the end result is a much more balanced workout.
If you've used Gwee Gym, please give it a star rating and comment below.
This review has been updated since its original publication in August 2015.