Glow Candles Reviews: Why Our Testers Liked It.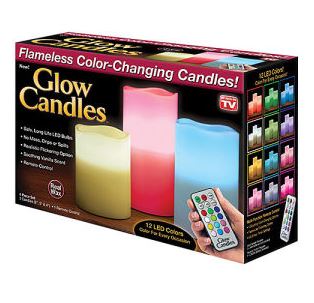 Sponsored Links




Glow Candles are an As Seen on TV product which is a set of multi-function, remote control electronic candles.
Sponsored Links




Glow Candles
At first glance, glow candles seem to be merely a set of standard electronic candles, which can be readily obtained at any local store. Upon closer inspection, it becomes apparent that Glow Candles offer a little more than the typical electronic candle. Unlike inexpensive electronic candles, Glow Candles can be operated via remote control, and colors can be changed by simply pressing a button. Glow Candles also have a mild vanilla scent.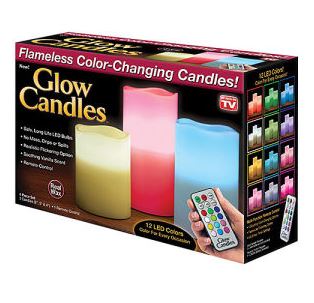 Glow Candles are marketed by Ontel Products, known for such As Seen on TV products as Miracle Socks, Dream Lites, and Pillow Pets.
The product is marketed on its official website, buyglowcandles.com, which was registered in August 2014. This product is made in China.
Cost and Availability
A set of three Glow Candles costs $19.99 plus $6.99 P&H for a total of $26.98. You can get another set for an additional $6.99 shipping. You can opt out of the second set. All orders also receive either a scented or unscented candle wrap.
Shipping at third-party online vendors such as drugstore.com is a few dollars cheaper than purchasing from the official website, so this may be a better option if you wish to order it online.
Although some vendors such as Walgreens list the product on their website as "Not sold in stores," the product can be found in some stores as of this writing for about $24. The candle wrap is not included in the retail box.
Sponsored Links
Features
Remote control requires a CR2025 battery (included)
Candles require three AAA batteries (not included)
12 color options
Flame flickering option
4 hour and 8 hour timer options
LED bulbs
Made of real wax
Advertisement
Below is the official advertisement which was posted to Ontel Products' YouTube channel in October 2014.
Glow Candles Reviews
Advertising for Glow Candles hit the airwaves in late 2014. We had a chance to review a set of Glow Candles, and found them to initially perform as advertised. There are many options available to the consumer which standard electronic candles do not offer, such as remote control access and the ability to change the color at will. The candles have a "real candle" feel to them, and the vanilla scent is mild and pleasant. The advertised decorative wraps were not included in the retail box we obtained, so we cannot comment on those.
As with most As Seen on TV products, shipping of the product is perhaps the most problematic aspect. One would expect it to arrive in stores in short order, which will eliminate this sole negative aspect of an otherwise solid product.
There are three candles in the box: two taller candles and one shorter candle. Some of the 12 available colors look slightly different on the shorter candle.
Our tester very much enjoyed the product, and the only "con" is probably the fact that it requires 9 AAA batteries to run all three candles. The life of the candles, however, has been acceptable. As of this writing, the current set of batteries has been installed for three weeks and is still operable with daily use.
February 2015 update
Approximately one month after initially posting this review, the remote stopped working. Our initial thought was that the battery probably died, so we purchased a set of two new batteries for about $8. After trying both batteries, however, we realized that the remote itself had simply stopped working.
With the remote no longer working, most of the features we enjoyed about Glow Candles were suddenly inaccessible. While we can still turn the candles on and off manually, there is no way to change the color, or set the timers.
Epic Conclusion
If you like electronic candles, you will most likely be pleased with Glow Candles. Our testers have given the product high marks for the ability to change colors or turn them on and off via remote control. The product's battery life is also acceptable.
After one month, however, we were disappointed when the remote suddenly stopped working, rendering most of our favorite features inaccessible.
Modified: February 19, 2015
First Published: January 2015