Draw Jammies Reviews: Are They Worth It?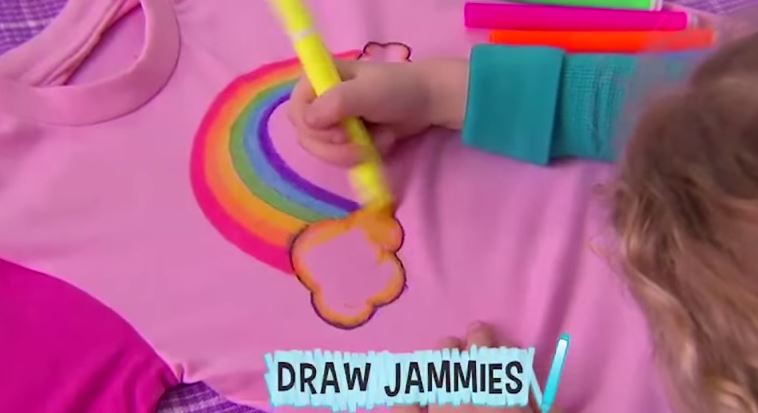 Sponsored Links




Draw Jammies is an As Seen on TV product which allows kids to draw on their pajamas, which can be washed and drawn on again.
Sponsored Links




Draw Jammies
This product is a combination of scented pens and soft pajamas which combine to create Draw Jammies, an As Seen on TV product which allows kids to create designs on their pajamas. The designs can be washed out and drawn on again. The included pajamas come in three sizes: Small (ages 3-4), Medium (ages 5-6), and Large (ages 7-9).
The official product website is drawjammies.com.
Cost & Availability
When ordering from the official product website, Draw Jammies will cost you $19.99 plus $8.95 processing and handling for a total of $28.90. This includes pajamas, 6 scented markers, 3 glow pens, and 3 stencils.
As of this writing, Draw Jammies does not appear to be available in stores. Based on our experience, we estimate that it will cost about $20 if and when it finally arrives in stores.
Claims & Features
Super soft
For kids of all ages.
Markers are scented and glow in the dark
Jammies available in blue and pink
Designs wash out
Draw Jammies Commercial
The TV commercial below has been airing as of this writing.
Draw Jammies Reviews
Draw Jammies combines bedtime routine with a craft project. Our initial observations are that the product should work as expected, as washable pens are a proven technology. Initial reviews from those who have received it also appear to be generally positive. Early reviews appear to be somewhat negatively affected by slow shipping, which is often the case for new As Seen on TV products.
Sponsored Links
There are, however, a few criticisms of the advertising which should be addressed. First, the drawings featured in the commercials do not appear to be created by children, instead showing jammies with professional-quality drawings. This would not typically be the case if children are doing the drawing, even when using the enclosed stencil kit. They also claim it is for "kids of all ages" there is a limitation in what sizes can be worn, which is up to age 9. Finally, it seems a stretch to claim that this product would somehow cure the problem of children wanting to go to bed. In fact, giving a child a craft project at bedtime would probably only make them want to stay up later.
If the idea of Draw Jammies sounds familiar, you may have seen something similar on the Disney series Good Luck Charlie. In the episode entitled "Nurse Blankenhopper" from 2012, the character Teddy comes up with the idea of "Grafooties" which are pajamas which can be written on.
Similar Products
It has been suggested that a pair of plain pajamas and colored washable fabric pens could emulate Draw Jammies. Of course getting the pens, pajamas, and stencils all together is more convenient, so for that we may still give the nod to Draw Jammies, even if it ends up being more expensive. The question, then, becomes if the wait is better than the convenience.
Epic Conclusion
Draw Jammies is a fun craft project for kids, although some of the ideas in the advertising do not do the product justice. While you could likely duplicate the contents individually, there is something to be said for convenience. Because it appears to be in the test marketing phase, initial orders could be on the slow side.
If you've used Draw Jammies, please give it a star rating above, and leave us your thoughts in the comments below.