Nair Wax Ready-Strips Review: Do They Work?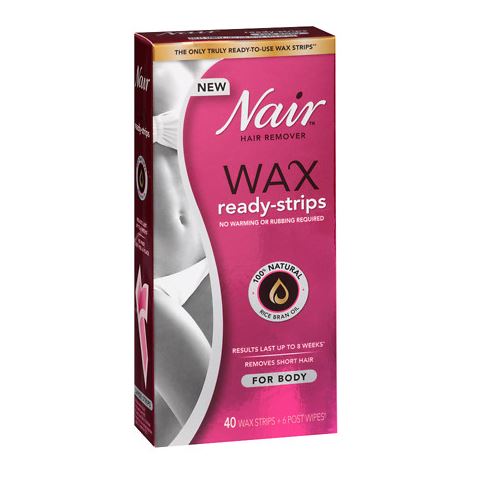 Positives
• Minimal pain
• No setup/warming required
• Long lasting
• Inexpensive
Negatives
• May not be ideal for sensitive skin
• Some technique required to remove all hair
Sponsored Links




Nair Wax Ready-Strips
Nair Wax Ready-Strips are hair removal strips which don't require any prep or warming to use. There are versions for the face/bikini and legs/body. Read our Nair Wax Ready-Strips review.
Sponsored Links




Claims & Features
No warming or rubbing
Peel and place
Lasts up to 8 weeks
Minimizes regrowth
Cost & Availability
You can find Nair Wax Ready-Strips in stores such as Walmart, Target, Kmart, and Walgreens for about $8-$12. It can also be found online from most major retailers.
Nair Wax Ready-Strips Commercial
The TV commercial below has been airing as of this writing.
Nair Wax Ready-Strips Reviews
For decades "Nair" has been synonymous with hair removal, and the company has done a rather impressive job of producing a stream of products under their brand umbrella which have garnered mostly high ratings.
One of the more recent offerings are Nair Wax Ready-Strips. There are currently two versions, for the face and bikini, or the legs and body. These strips allow you to remove hair without the need to warm up the strips first. We found no difference between the two types (face/bikini vs legs/body) other than in the size. With the Face/Binki box, you get 10 medium and 10 small strips, which are double-sided – meaning you get a total of 40 strips. The legs/body box contains 20 double-sided large strips. Each box contains post wipes which you use to remove excess wax and to moisturize the area.
Nair has produced other wax strips in the past, such as "Nair Face Wax Strips" which were relatively well-received by customers. Those strips, however, required users to warm them up before use. This led some customers to trying different techniques in order to achieve the perfect amount of warmth, from rubbing them in their hands, to applying a flat iron or hair dryer. Although these strips had high consumer ratings, it seems that Nair took note of the wide array of techniques being used and decided that a simpler option was needed.
Sponsored Links



As with any wax removal product, there may be some trial and error required before you get the technique just right. You'll want to be sure and pull the skin tight when applying and removing these strips for optimal results.
In our evaluation, we found that these strips works about as expected. The lack of warmth required was quite welcome. There is still a small amount of pain that will be experienced with any waxing, although it was minimal. Obviously different hair types will see different results, but in general we feel that most users will be pleased with the results.
If you liked previous Nair strips, you'll probably like Nair Wax Ready-Strips. They are more convenient and less messy than earlier versions. Also note that hair needs to be half an inch or less for the strips to work optimally.
This type of hair removal is certainly easier, less time consuming, and less expensive than some of the hair removal devices being advertised on television. The convenience of throwing an $8 box of these strips in your suitcase while on vacation can't be understated.
Similar Products
The closest competitor to the Nair Wax Ready-Strips would be Veet Ready to use Wax Strip Kit. That product has a moderate 3.5-star rating on Amazon and sells for about $8-$10.
Epic Conclusion
Have you tried Nair Wax Ready-Strips? Please give it a star rating and comment below.