Comfort Suites Huntington Beach Review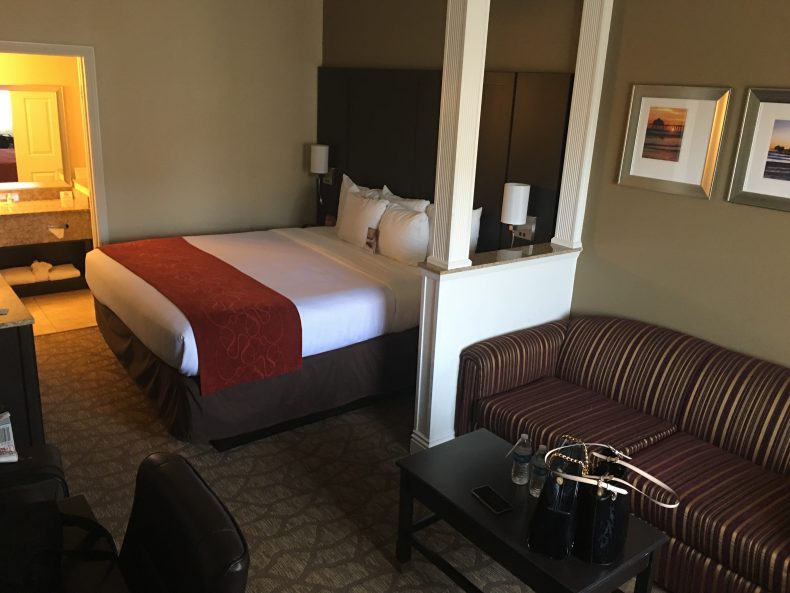 Positives
• Clean, comfortable room
• Free parking
• Complimentary breakfast
• Mini fridge
• Location
• Nearby dining, shopping
Negatives
• $100 hold takes takes to clear
• Small breakfast area
Bottom Line
Comfort Suites Huntington Beach offers large, comfortable rooms with ample options for nearby shopping and dining. Free parking and basic amenities are a plus.
Sponsored Links




Comfort Suites Huntington Beach
This Comfort Suites is located on Beach Blvd near the I-405. It offers an economical way to stay in this beach city, with quick freeway access and ample shopping in the vicinity.
Sponsored Links




A small area is available where the free breakfast is served in the morning. I took a look at the offerings, but decided to pass because there were too many people and no place to sit.
I liked the fact that there was an un-stocked mini-fridge in the room where I could keep my cold drinks. Having a sofa to sit and relax was also a nice plus.  There is a pool, hot tub, fitness center, and laundry area.
A number of nearby establishments provide an amply supply of shopping and dining options, many of which are walking distance. I stayed here for inexpensive yet modern lodging near the beach, which was only about a 10 minute drive away.
Staff
My dealings with the staff went without a hitch. I had several questions throughout my stay, and I was answered in a professional and concise manner. Housekeeping seemed to be constantly working throughout the day, but they weren't as loud or intrusive as other hotels of this size. Another guest warned that lines to check in had been long the previous day, but I saw nothing like that during my visit.
Check in and check out both went smoothly, and I was given a statement of my final costs. There was a $100 hold put on my card, which took several days to clear. You may want to keep that in mind when choosing a card to use for the room. This seems to be a point of contention among other guests.
Room
You can see my king room in the photos below. It came with a king bed, couch, desk, TV, mini-fridge, and coffee table. The air worked well, and included an option which allowed me to keep the fan running, which is nice for those of us who like to sleep with white background noise. The website notes that all rooms were renovated in June 2014.
Sponsored Links



The rooms are spread out in a maze-like configuration. My room on the 2nd floor faced a private home next door.
Bathroom
I found the bathroom to be conveniently stocked with shampoo, body wash, lotion, tissues, and towels. The water was immediately warm and remained a constant temperature throughout my shower. The pressure may have been slightly less than I would have liked, but it was acceptable. I found it to be clean and well maintained.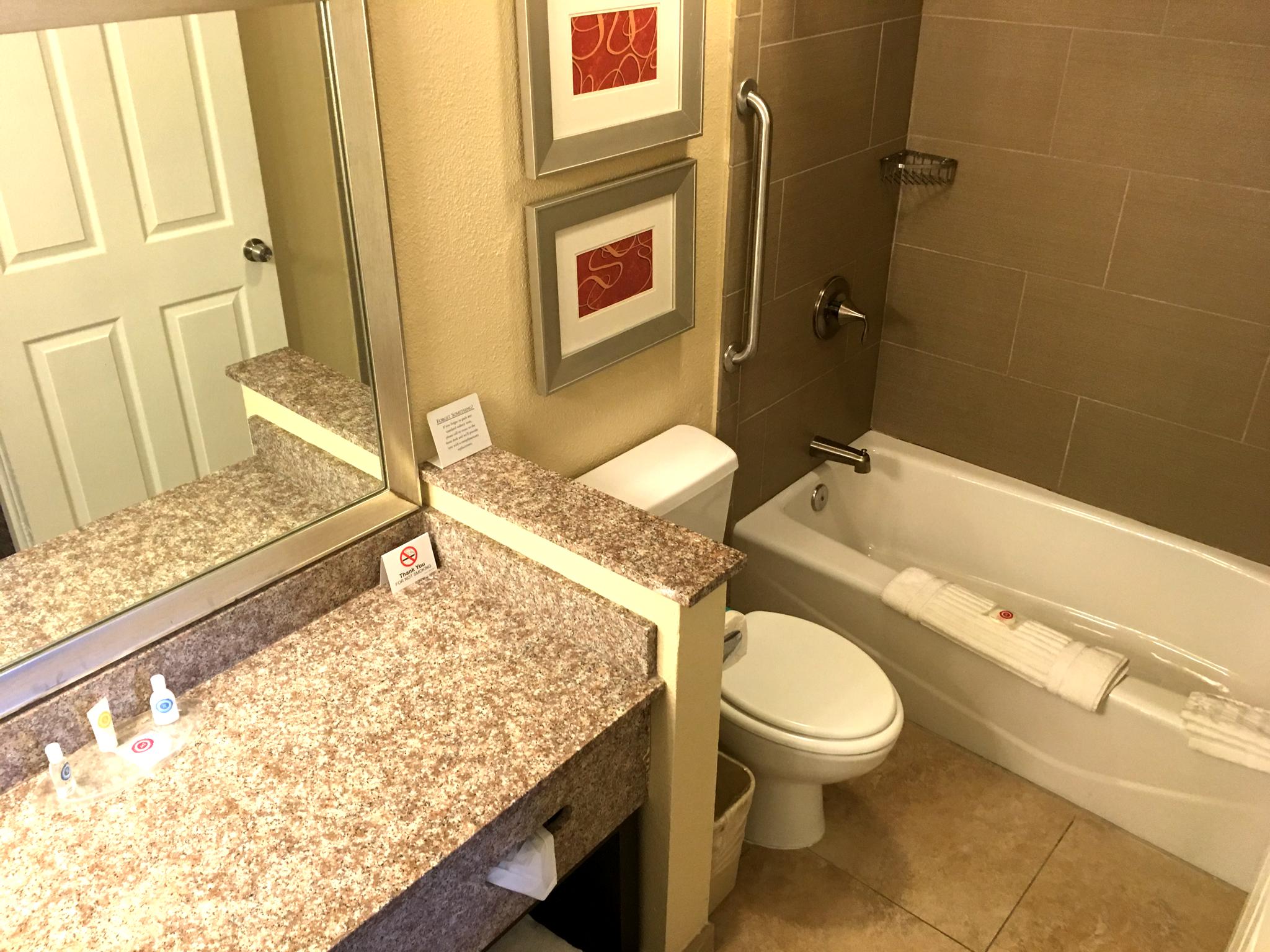 Parking
Parking is free, and when you check in, you'll be given a placard to display in your vehicle. There were plenty of spaces in the front, and additional parking spots in the back and behind the office.
Overall, I found my stay here to be comfortable and without any major concerns. I didn't like many of the options near the beach, so I chose this location instead. I may stay here again.
Other Reviews
TripAdvisor readers put this hotel at 3.5 stars
Yelp has it at around 2.5 stars.
Trivago shows a user rating of 75/100
Have you stayed at the Comfort Suites in Huntington Beach? Tell me what you thought in the comments below.