Magic Pens Reviews: Are They Really Magic?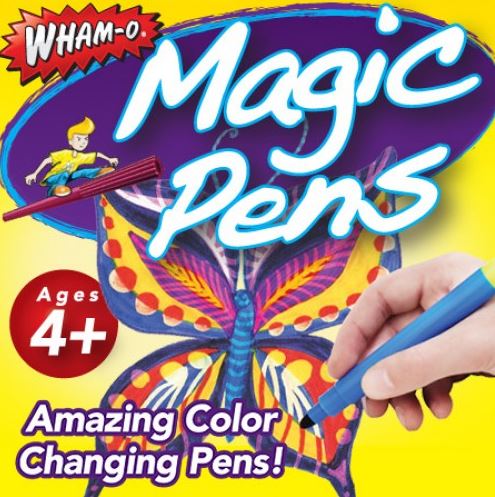 Positives
• Works generally as advertised.
• Low shipping costs.
Negatives
• May stain some fabrics.
• Advertising shows skilled artistic adult examples.
Bottom Line
Our product researchers feel that the consumer reviews of the product will be mostly positive, as Magic Pens generally offers what is promised in the advertising.
Sponsored Links




Magic Pens
This set of erasable and color-changing markers is marketed by toy giant Wham-o. It features markers for kids which can be erased or have the colors changed after use. Read our Magic Pens review.
Sponsored Links




Claims & Features
Shock proof tips
Nontoxic
Can be used on any type of paper
Good for coloring books
Long lasting
Colors don't smudge or run
Ages 4 and up
Cost & Availability
You can get a set for $14.99 plus $2.99 shipping, for a total cost of $17.98. This includes 1 set of color change pens, 1 set of eraser pens, a Magic Blow pen, and a pack of stencils.
Magic Pens is available in some stores such as Fry's for about $10, although that set did not contain the same pieces as the advertised special. We also spotted it on the Wham-O Amazon store for about $10.
Magic Pens Commercial
The TV commercial below has been airing as of this writing.
Magic Pens Review
Although the current round of advertising may lead some consumers to believe that Magic Pens is a new product, the product first made its appearance online back in 2011, when the domain magicpens.com first offered this product. It does not appear to have been associated with Wham-O at that time, but most of the claims about the current product were still in effect then.
Sponsored Links



In our evaluation of the product, we found that they produced results consistent with the advertising. You can erase portions of a drawing, or you can create a secret message in white, which can be revealed when written over. It is also possible to alter the color of markings already on the page. There are numerous YouTube videos demonstrating the product, all of which confirm what we discovered – that the product does perform as expected.
Perhaps the only caveat is that many of the demonstrations shown in the television ad show skilled adults using the pens, while the average user will be a child that does not possess artistic skills of that level.
It is fortunate for consumers that Wham-O took this product under its wing and offers a low shipping price of $2.99. There is also no "second one free" bait and switch tactic often employed by other As Seen on TV marketers. While we have seen it for sale by Fry's, it does not appear to be widely available as of this writing.
Overall, a fun product that most kids should enjoy. Excellent for indoor fun.
Similar Products
There was a product which appears to have been test marketed back in 2011 by Telebrands called Wacky Pens. That product looked virtually identical to Magic Pens. You can also find similar products on Amazon by Crayola (Color Switchers) and Alex Toys Color Changing Markers, both of which are under $10.
Epic Conclusion
Magic Pens are marketed by the trusted toy giant Wham-o. Our product researchers feel that the consumer reviews of the product will be mostly positive, as Magic Pens generally offers what is promised in the advertising.
If you've used Magic Pens, please give it a star rating and a comment below.
This review has been updated since its original publication in May 2015.