Enduracool Multi-Cool Review: Does it Work?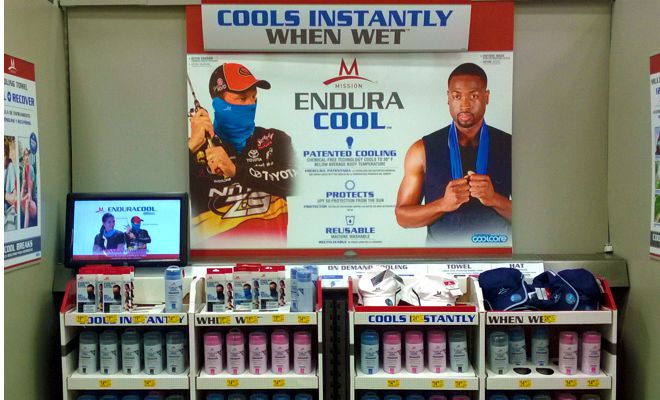 Positives
• Works well in dry climates
• Lightweight and comfortable
• Readily available and competitively priced.
• Can be worn in a variety of ways
Negatives
• Effectiveness lessens significantly in humid conditions
Bottom Line
If you live in a dry climate, the Enduracool Multi-Cool may be a product to consider, especially if you plan to be out in the heat. Those in humid areas may not find it to be effective.
Sponsored Links




Enduracool Multi-Cool
Enduracool Multi-Cool is a towel which is said to offer cooling properties when wet, and can be worn in a variety of ways.
Sponsored Links




Claims & Features
Available in 9 colors
Can be worn in 12 different ways
Keep cool and protect from sun's harmful ways
Regulates rate of evaporation for prolonged cooling effect
Non-cling material
Chemical-free
Cost & Availability
You can find Multi-Cool online and in stores for $20-$25. The Mission Athleticare website offers it for $24.99, but you can find it in stores such as Lowe's or Bed Bath and Beyond for about $19.99.
Multi-Cool Commercial
The TV commercial for Multi-Cool has been airing in mid-2015.
Multi-Cool Reviews
I first purchased an Enduracool Multi-Cool in mid-2014, along with their older Cooling Towel to compare and put to the test in multiple climates. My initial tests in Las Vegas during the summer can only be described as a success. I found the towel to keep cool and moist through a 30-minute walk in 100+ degree weather. Although it did slowly dry out, it was still damp enough to provide a cooling sensation throughout the duration of my test.
Sponsored Links
I then took the product to Missouri with me to see how it fared in an extremely humid climate. Multi-Cool's own instruction sheet does state that humidity may reduce the effectiveness of the product. Whereas the product was a success in the desert, I found it to be a failure in humid conditions. It simply felt like a hot wet towel on my head which provided virtually no relief from the heat.
Multi-Cool works by the simple process of evaporation, and it could be argued that virtually any fabric can perform similarly. While that is certainly true, it did appear in my tests that Multi-Cool managed to stay moist longer, and was more lightweight and comfortable than DIY solutions such as a wet towel or shirt.
I've continued to use Multi-Cool while in Vegas, and have found that it provides a decent level of cooling and sun protection. Based on my experience in Missouri, however, I decided not to take it with me on trips to humid areas such as Miami or Puerto Rico.
See my initial 2014 review of two Enduracool products here.
History
As you can see from the Google Trends chart below, Enduracool has advertised primarily from May through August over the past two years.
Similar Products
There are many other cooling towels on the market, many which are highly rated and offer similar results to Multi-Cool. Perhaps the most visible competitor is the Copper Fit Cooling Towel, which has recently appeared on As Seen on TV shelves featuring Brett Favre's face on the packaging. That product is more like the Enduracool Cooling Towel than the Multi-Cool, and it sells for about $10-$15
Epic Conclusion
If you live in a dry climate, the Enduracool Multi-Cool may be a product to consider, especially if you plan to be out in the heat. Its fabric offers a longer cooling time than standard towels, and is lightweight and comfortable to wear. If you are in a humid climate, the product may not work for you at all.
If you've used Enduracool Multi-Cool, please give it a star rating and comment below.