Genie Hourglass Reviews: How Well Does it Work?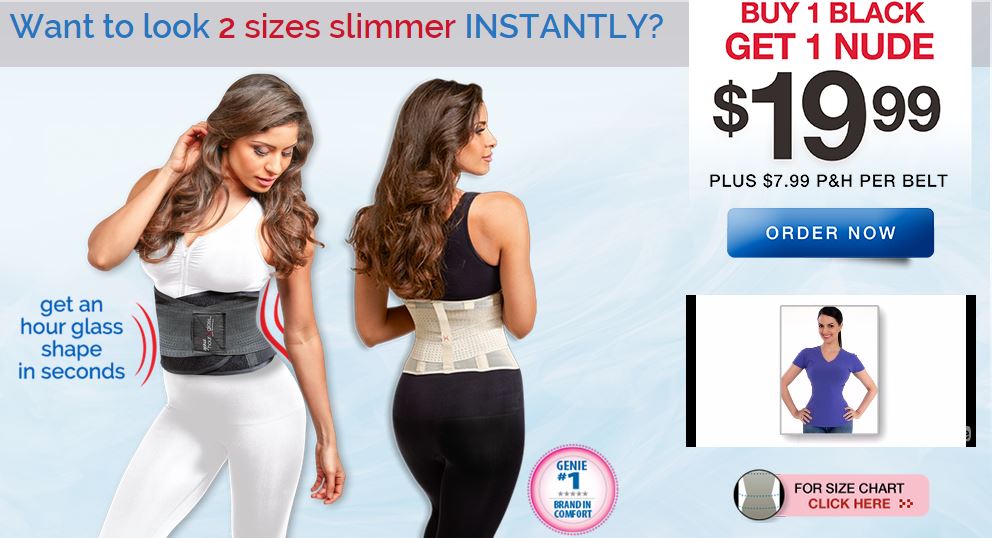 Sponsored Links




Genie Hour Glass is a waist training belt which is said to give women an hour glass shape in seconds. Read our Genie Hour Glass reviews.
Sponsored Links




Genie Hour Glass
Genie Hour Glass is advertised as a way to make you look "2 sizes slimmer instantly" while also providing "waist training technology" which will re-shape your midsection with continued use.
Cost & Availability
Genie Hour Glass, when purchased from genie.com, costs $19.99 plus a nominal shipping fee of about $4 per belt. The original As Seen on TV offer in which you can buy one belt and get a second for additional shipping no longer exists.
As of February 2016, Genie Hour Glass can be found in stores such as Walmart for about $20.
Claims & Features
Available in black or nude
Supports the back and helps define curves
Smooths rolls and bulges
Reduces and shapes the waist
Can be worn alone or under clothes
Genie Hourglass TV Commercial
The television ad below was posted to the official YouTube channel in April 2015.
Transcript:
Ladies, what's the trending new secret to a perfect hourglass shape? Celebrities and fashion models are tweeting all about it! It's waist training, and now it's as easy as one, two, one, two.

Your perfect body in seconds with the Genie Hourglass! The amazing waist-training belt that instantly shapes, slims, and trains your waist for a perfect hourglass shape.

"I love the Genie Hourglass the most. I can wear it underneath my clothes, I can wear it when I'm working out, and it really works!"

The secret is Genie's double-compression waist-training technology. One, fasten the compression shaper. Two, adjust the slimming, waist-training bands. Hides your belly, shapes your waist, supports your back, improves your posture, slims your waist for the perfect, hourglass shape.

"Baby body? Gone."

All it takes is two steps to look two sizes smaller.

"The more I wear it, the better I look."

"From plus, to perfect!"

Wear it over or under your clothes, at the gym, around the house, work, or a special night out. Everyone will notice, but no one will know your secret!

Plus, your Genie Hourglass is totally adjustable! You can loosen it, or tighten it to define your figure even more. Take the tape measure test and love the difference!

Genie Hourglass will hide a boring baby body and give you a look that's slim, shapely, and sexy. Plus, the more you wear it, the better you look!
Genie Hour Glass Reviews
Genie Hour Glass is a waist training belt, similar to corsets and binders which have been used for centuries. Although waist training has existed for generations, it seems to have made a comeback in 2015. The Huffington Post points out that the hashtag #wasittraining has over hundreds of thousands of photos on Instagram (680,000 as of this February 2016 update). That article also describes waist training as "a scary, painful and potentially dangerous "technique" that women are inexplicably embracing in order to take a couple inches off their midsections…" Others have described it as muscle damaging and organ crushing. A 2014 Boston.com article describes compression waist garments as leading to heartburn, yeast infections, and bladder infections.
Sponsored Links



And yet, readers still want to do if Genie Hour Glass actually works.
From what we have been able to ascertain about the product, it does work generally as advertised, at least in the immediate reduction of the waistline. Strapping it on will give an immediate appearance of a smaller waistline. Does it provide a long-term benefit? The debate rages on, although experts warn about health risks of using such products.
In fact, Genie has included a disclaimer on the product page, noting:
Please use proper precautions when using this product and consult your physician to determine if there are any risks related to your health. This product is not intended for use in lieu of exercise or proper nutritional plans. Results may vary.
Genie is a heavily-advertised brand of women's products, such as the Genie Bra and Genie Slim Jeggings.
Similar Products
Waist trainers in the form of corsets and other products are readily available. A quick search for corsets on Amazon yields over 50,000 results.  They range in cost is anywhere from under $10 to the hundreds.
You may want to shop around, and read up on waist training, before making your decision to purchase.
Epic Conclusion
Genie Hour Glass is an As Seen on TV waist trainer which acts much like a corset. It provides instant slimming, while supposedly creates a smaller waist with long-term use. Although many experts warn about potential dangers of waist training, that has not stopped the craze from taking off in 2015 and continuing into 2016.
Updated February 2, 2016