Red Copper Pan Review: Is it a Good Nonstick Pan?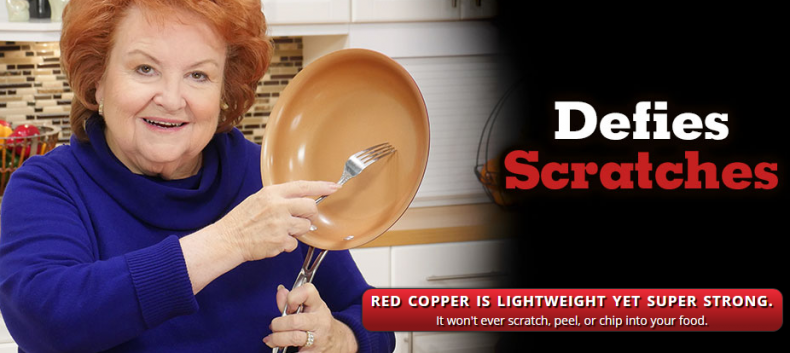 Positives
• Inexpensive
• Dishwasher safe
• Moderate nonstick surface
Negatives
• Not a traditional copper pan
• Lack of information on product website
• Stains easily
Bottom Line
Red Copper Pan is an average nonstick pan at best. Advertisments which promote its nonstick surface seem somewhat overhyped based on the reality of even the best nonstick cookware available.
Sponsored Links




Red Copper Pan
Red Copper Pan is a non-stick ceramic copper pan that won't scratch or chip, and is said to be highly durable.
Sponsored Links




Claims & Features
Lightweight and durable
Won't scratch, chip, or peel into your food
PFOA and PTFE free
Oven safe up to 500ºF
Dishwasher safe
Cost & Availability
Website: The 10 inch pan is $19.99 + $7.99 S&H; You can choose to upgrade to a deluxe offer for $5 per pan, which adds a double layer of scratch resistant coating.
You can add an additional 12″ pan for a total of $39.99 + $7.99 S&H, and add a Red Copper Pan lid for $9.99.
The website Special Offer is $19.99 + $7.99 S&H + $9.99 for two Red Copper 10 inch pans, 2 recipe books, and a Forever Sharp Knife. You can upgrade this package with the same additional options as stated previously for the same prices.
You can find Red Copper Pan in stores such as Bed Bath & Beyond for about $20 for the 10 inch, and $30 for the 12 inch.
There is a 30-day money back guarantee, excluding shipping costs.
Red Copper Pan Commercial
The TV commercial below has been airing as of this writing.
Transcript:
Has food sticking to your pan gotten completely out of hand? Tired of scraping, scrubbing, and all the scratches? Well I've got the solution. Hi, Cathy Mitchell here with my new Red Copper cookware, the revolutionary pan made with non-stick ceramic and super strong copper. Guaranteed to stay scratch free forever. No scratches, no sticking. It's lightweight yet super strong, so it won't scratch, peel, or chip into your food.

Look, biscuits dipped in cinnamon sugar and covered with a sticky caramel glaze, then baked. Red Copper is a baking pan with a handle that goes into the oven up to 500 degrees. And everything slides right out, yum! Cook my healthy crispy chicken fingers with little or no fat or oil.

Red Copper uses 100% pure copper, so durable you can cut steak and onion for melty Philly cheese steak. Absolutely no sticking. Or whisk eggs without a mixing bowl. True time saver.

Red Copper is PFOA and PTFE free, so it's safe for you and your family. You can flambe desserts, broil flaky fish, or bake chicken Parmesan. Everything slides right out. Even caramelize sugar without it sticking. Pour over nuts for an easy breezy peanut brittle. Always a clean pan.

Whisk it, biscuit, sunny side up it, even upside down it. Truly the most versatile pan you've ever used. Plus it's dishwasher safe. Call now and receive my 10 inch Red Copper Pan for just $19.99. Plus get my Quick Meals and Desserts recipe book free. If Red Copper ever fails, we'll replace it, guaranteed. Want more bang for your buck? You can double the offer and receive a second set plus our new Forever Sharp copper knife. Just pay a separate fee. Razor sharp and food slides right off. So durable it crushes this rock to dust and still slices this tomato with ease. An incredible value, call now.
Red Copper Pan Reviews
Red Copper Pan is one of several pans currently blanketing the airwaves extolling the virtues of their respective products. The pan's highlighted benefits include its non-stick surface and copper ceramic construction. Unlike older nonstick surfaces, this pan's surface is said to be PFOA and PTFE free, and will not scratch or chip. It is oven safe up to 500 degrees.
The use of copper in As Seen on TV products has hit a near frenzy level over the past few years. We have seen copper-infused compression wear, copper bracelets, copper brushes, copper braces, copper socks, and copper pans – some of which aren't even made of copper!
While the health benefits of wearing copper seem overstated, cooking with copper is a more tried-and-true tradition. Benefits of cooking with copper include excellent heat conductivity, which reduces hot spots. This allows more precise temperature control. The weight of copper cookware is light enough to handle, but heavy enough to maintain proper durability. Copper cookware is aesthetically pleasing and an attractive part of any kitchen decor.
As you can see from the advertising (and the screenshot below), Red Copper Pan does not resemble a traditional copper pan. The bottom clearly does not appear to be made of copper, thus is would appear that only the inner cooking surface is copper. This is perhaps why the pan is said to be dishwasher safe, when regular copper pans typically are not.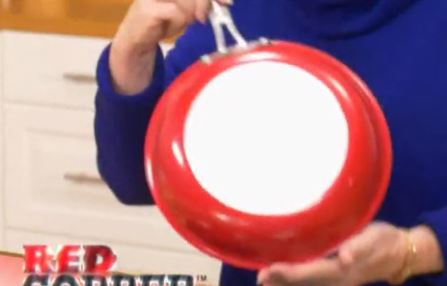 Although we're told that the nonstick surface is free of PFOA and PTFE, no additional details are given as to what coating is used. The Red Copper Pan FAQ offers no additional information beyond a few shipping and billing questions. It has been our experience that nonstick surfaces are not all made the same, and their benefits are often over-hyped in television advertising. Similar claims were made in ads for the older Orgreenic pans that blanketed airwaves back in 2013 or even the more recent Copper Chef, which is already getting negative reviews based on its nonstick surface. In short, any claims regarding a nonstick surface on an As Seen on TV commercial should be taken with a grain of salt.
Despite the dramatic advertising, we have found that Red Copper Pan does not live up to the hype regarding its nonstick surface, provided you are diligent to take extreme precautions in caring for it. The litmus test for any nonstick surfaces is how well it handles an egg without oil, spray, or butter. This is where some reviewers have gone awry. Many reviews toss an egg in there and crank the heat up to high, burning the egg, and proclaiming the product a failure.
First, eggs should be cooked on low heat. Second, nonstick pans such as Red Copper Pan should always use a low flame. That may limit some of the uses you have for the product, but it's one way to ensure its longevity. Other ways to make Red Copper Pan last is the avoid moving it from the burner to the sink without letting it cool a bit first. Going straight to the sink can warp the pan and degrade the nonstick surface.
Rather than using a sponge, try using a paper towel with a bit of dish soap to gently clean the pan. Finally, don't stack other pans on top of it, as it will almost certainly scratch and ruin the coating.
Sponsored Links



There are certainly other options available locally at this price point which you may want to consider first. If you find Gotham Steel locally, you may want to evaluate that product, as they are virtually identical.
Red Copper Pan vs Gotham Steel
A common question among readers is in regards to the difference (if any) between Red Copper Pan and Gotham Steel. The difference between these two products, at least visually is in the packaging and perhaps in the metal used. We could no discernible (visual) difference between the two products, other than in the name and the color of the bottom. Red Copper Pan is said to be made of ceramic and copper, while Gotham Steel is said to be made of ceramic and titanium. Compared side by side, they appear virtually identical, and perform equally. It has been suggested that Red Copper Pan is merely a re-branding of Gotham Steel. We reached out to the company for more information, and they did not confirm any connection between the two products, "Gotham Steel is not a product from Telebrands," they wrote, "and we do not have information whether the pans are similar or not."  Based on how they perform, the surface of both pans appear to be about the same.
Read our review of Gotham Steel here.
Video Review
Check out this video review of Red Copper Pan.
To Season or Not to Season?
Red Copper Pan gives instructions for seasoning a pan before use, and this step may help you increase its effectiveness. It is also commonly recommended by other pans to season them before the first use. To season, you simply spread a light coating of vegetable oil over the surface and place it on the stove over medium heat. Once it begins to smoke, remove it from the heat and then wipe off the excess once it has cooled. You can also place it in the oven at 300 degrees for about 20 minutes and wipe clean after it cools. There is no guarantee that seasoning the pan will work with Red Copper Pan, but it is probably a good idea, especially considering that there are so many complaints about the surface of Gotham Steel and Red Copper Pan.
Cathy Mitchell
Red Copper Pan is touted by spokesperson Cathy Mitchell, who has endorsed a large number of As Seen on TV kitchen products over the years. In recent years, you've probably seen her touting books such as Dump Cakes and Dump Dinners. In years past, she has endorsed such notable advertised products as Snackmaster, Turbo Cooker, Pasta Boat, Minden Anytime Grill, and Red Titan pan. She has appeared on the Rachael Ray show and in a parody on AdultSwim back in 2008.
Similar Products
There is no shortage of products which should be considered alongside Red Copper Pan. A cursory search of Amazon for nonstick copper pans yields a dizzying number of similar products. Many of these alternative products are highly rated and priced anywhere from $18 to $130. It may pay to shop around.
Epic Conclusion
Red Copper Pan has divide consumer into those who believe in its virtues and those who feel that it is without merit. Advertisements which promote its non-scratch surface and durability seem somewhat over-hyped based on the reality of even the best nonstick cookware available. If you are extremely careful with the pan, in the heating and in the cleaning, you may find that it does an outstanding job. It can't, however, live up to the advertising hype.
If you've used Red Copper Pan, please give it a star rating and comment below.